Welcome Sergino Dest – The 19 years old Right Back finally arrives to Barcelona after a long saga this summer. But, is the young prospect ready for the big jump into elite football? Rishav with the Analysis:
It was the summer of transition at Barcelona. The 8-2 defeat to Bayern Munich which followed two previous Champion's League debacles meant that the ongoing cycle at Barca was complete. Certain changes were called upon. Although the change can be considered as minimal with Bartomeu still at his office, the club has been active on the transfer front. Changes can be seen right from the coaching staff to the squad. Several veterans like Suarez, Rakitic and Vidal already left. Pjanic, Trincao and Pedri are the notable incomings.
Right Back Problem
One position which has bothered Barcelona in the recent past is the Right Back position. The club never managed to replace Brazilian legend Dani Alves after he left in 2016. He spent 8 successful seasons in Catalonia but left for Juventus mainly due to the Board's incompetency.
Barcelona signed Nelson Semedo from Benfica in 2017 for around 30 Millions. But the Portuguese could never fill the void left behind by Alves. He was never properly trusted upon by either Valverde or Setien during his 3 season stay. There was also a feeling among fans that he was not good enough to play for a club of Barca's level.
He just could not offer much going forward which is very much essential for a Barcelona full back. In his 3 year spell, he could only manage 2 goals and 11 assists. Finally, he left to Premier League club Wolverhampton Wanderers for 30 Million plus 10 Million in potential add ons.
Now, Barcelona and Ronald Koeman had to find a suitable replacement for him. They have found their solution much closer to Koeman's home in SERGINO DEST.
Welcome Sergino Dest – The 19 years old Right Back finally arrives to Barcelona after a long saga this summer. But, is the young prospect ready for the big jump into elite football?
CAREER OVERVIEW:
Sergino Gianni Dest is a 19 year old Dutch-American right back who Barcelona signed from great friends Ajax Amsterdam. The transfer fee being 21 Millions upfront plus another 5 Millions in add ons. Dest is certainly one of the brightest prospects in his position.
Dest played for the youth academy of Almere City FC from 2009 to 2012.He then made the switch to the youth teams of Ajax. After progressing through the ranks of the club, he made his debut for Jong Ajax on October 15, 2018. Dest impressed over the course of the 2018–19 season, making 17 appearances in the Dutch Eerste Divisie. He contributed to one goal and two assists. He also scored one goal and provided one assist in seven appearances in the prestigious UEFA Youth League.
On July 27, 2019, Dest made his debut for the Ajax first team in an official game. He started the 2019 Johan Cruyff Shield match, a derby against PSV Eindhoven. On August 10, 2019 Dest debuted in the Eredivisie, replacing Noussair Mazraoui. In total Dest appeared in 38 matches for Ajax contributing to 2 goals and 6 assists.
While current Barcelona coach Ronald Koeman was the manager of the Netherlands' National Team, we wanted to have Dest playing for Ons Oranje. But the player decided to make himself available for USA.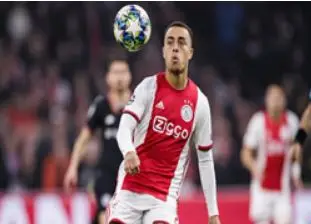 STRENGTHS:
Without any doubt Dest's attacking ability is his biggest strength. In 20 Eredivisie games last season, he registered five assists. That is three more than what Semedo managed in 32 La Liga appearances. The American right-back averaged 1.1 shots per game during the last domestic season. This perfectly highlights his willingness to get into attacking positions. Dest also averaged 0.9 key passes per game. This means he would create big openings for his attacking teammates. This is something that the Barça attackers would love to feed off.
Even though Dest played around 650 minutes less than Semedo last season, yet he created 7 more chances and delivered 5 more key passes. Dest's dribbling and tackling rate are also higher than that of Semedo.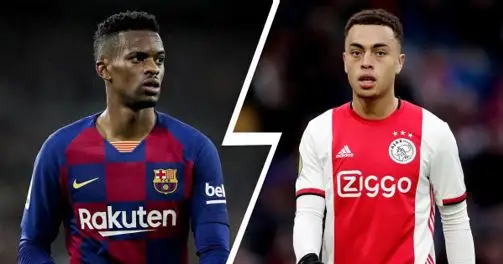 WEAKNESSES:
With attacking being his strength, the young American must work upon his defensive skills. High tackling rate also indicates that he is caught out of position often which leads him to tackle his opponent in order to regain possession.
Another weakness is his sloppiness after occupying the correct spaces. This is something which could improve over time with confidence and experience. In the previous campaign Dest was dispossessed on average 1.2 times per game in the Eredivisie and 1.4 times per game in the Champions League. That compares pretty poorly to Semedo. He was dispossessed on average 0.8 times per game in La Liga last season.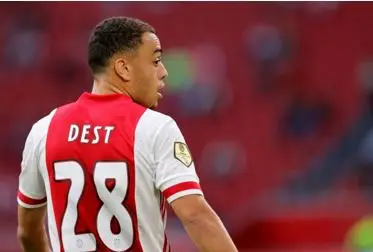 IS HE WORTH GETTING EXCITED ABOUT?
Sergino Dest is certainly one of the most promising and talented right backs. He certainly has immense potential. But the question is whether he can fulfil his expectations or not!
Most of his areas to improve, such as ball control, will become less of an issue with the confidence to play and experience. There is no better place in the world for the young right-back to be than at Barça. The whole philosophy of the club is that every player on the pitch is comfortable with the ball at their feet. Joining from Ajax makes life easier since both clubs follow a similar philosophy.
Visca el Barca!