Club legend Ronald Koeman was announced as the head coach of FC Barcelona on 19 th August, 2020. He replaced Quique Setien who was acked 2 days prior to his appointment, following the club's humiliating 8-2 loss to Bayern Munich in the Champions League. He penned a 2-year contract until But with the presidential elections (then scheduled for June 2021), his long-term future was already uncertain.
Moreover, at that time the club was in a total mess under Josep Maria Bartomeu. When Lionel Messi announced that he wanted to leave on 26th August, the problems went beyond breaking point. He had to get rid of aged players on high salary. This included Arturo Vidal, Ivan Rakitic and Luis Suarez. He succeeded in it. Although, selling Suarez to a direct rival in Atletico Madrid without signing a proper replacement was a huge mistake. Bartomeu's resignation in late October means that the club has been without a president for almost 3 months.
KOEMAN'S PREFERRED TRANSFERS
This certainly makes a bad image of Ronald Koeman. He wanted Barcelona to sign 30-year old Gini Wijnaldum and Memphis Depay. Now, a far better individual and former Barça player Thiago Alcantara was available too. Depay is NOT a natural CF, he is another second striker like Antoine Griezmann. In a squad that already has 4 number 10s, Depay was the wrong profile to chase. Someone like PSV's Donyell Malen would have been a better choice for a cheap price. At one point Ronald Koeman even wanted to sell Dembele to get the money for signing Depay. Well, some say it is because Koeman is biased towards bringing in Dutch players.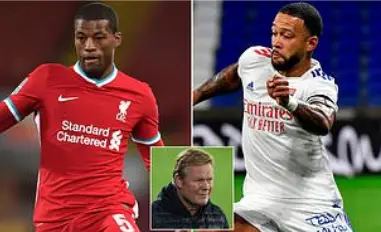 THE 4-2-3-1 FORMATION
After being appointed, Ronald Koeman changed the club's accustomed 4-3-3 formation. He went for a 4-2-3-1. This hampered players who had been at the club for ages. Seemingly, this was meant to benefit Frenkie De Jong and Philippe Coutinho. Lionel Messi was being limited on the pitch. Club legend
Sergio Busquets also failed to perform in the double pivot. Even Griezmann's position was not certain. As a result, the entire team suffered.
DECISION TO KEEP COUTINHO AT BARCELONA?
Personally, I would say this was Koeman's worst decision till now. Coutinho was signed by Barcelona in 2018 for a fee worth 160 million. He has performed nowhere near the price tag. His natural position does not exist at Barcelona. And the central role is already occupied by the best player in the world. Coutinho suffered as a winger under Ernesto Valverde too. In the first 2 matches, Ronald Koeman fielded Coutinho as the central attacking midfielder and he enjoyed his best spell at the club. But once he was forced out to the left flank again, Coutinho was nowhere to be seen. The emergence of 18-year old Pedri combined with Coutinho's injuries meant that the Brazilian went down in the pecking order. And Barcelona have been playing much better now.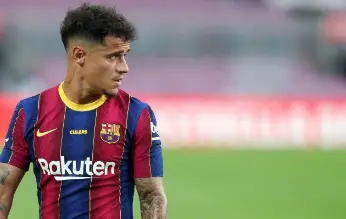 THE TREATMENT OF RIQUI PUIG
Koeman's treatment of young talent Riqui Puig has been a hot topic for discussion among everyone. Just before the Joan Gamper Trophy match against Elche it came into light Koeman had informed Puig that he should leave on loan because he won't have much playing time. Everyone was shocked. Puig insisted that he would continue at the club and fight for his place in the XI. Since then Puig has been left on the sidelines more often than not. With him mustering just 22 minutes in the league. In the Champions League he has played 74 minutes.
Another youngster Carles Alena left recently in search of playing time. Interestingly, Puig managed 5.76 key passes/90 in the UCL. Better than any other player in the Barça squad. Koeman also went on to say in press conferences that Puig does not train well. But, recently we saw Puig take the decisive penalty against Real Sociedad in the Super Cup semi-finals. With a tight schedule ahead, could we see Puig play more often. Well atleast we can hope so.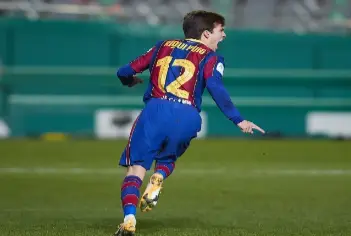 THE EMERGENCE OF PEDRI AND DEMBELE
Koeman's trust on 18-year old Pedri has been note-worthy. The emergence of the youngster has been one of Barça's biggest positives this season. He started in important matches including those against Real Madrid and Juventus. And he impressed on most occasions. Even Messi has been
combining very well with him as well as bringing his smile back. Koeman has even praised Pedri highly in the media.
Another player who is finally finding his best self at Barcelona is Ousmane
Dembele. The French winger has been injured for most of his career at the club. But apparently Koeman has designed a specific training routine for him to help him overcome his injury woes. And yes, Dembele has been firing this season. Also Dembele's decision making has improved a lot this
season. A fit Ousmane Dembele is easily one of the best wingers in the world and looks like he has arrived.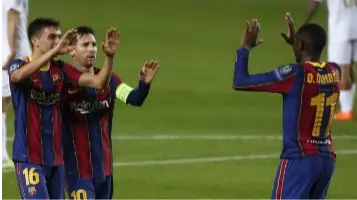 KOEMAN FINALLY KNOWING HIS BEST XI?
For now, Koeman has reverted back to the tried and tested 4-3-3 formation. After he failed with the 4-2-3-1 formation. Considering the injuries to Pique and Ansu Fati. Koeman's best line-up appears to be: ter Stegen, Alba Lenglet Araujo Dest, Pedri Busquets Frenkie, Griezmann Messi Dembele. Alba has been a positive at the left back position and is having a much-improved season. Araujo has been growing with every passing match. Lenglet has been mediocre and the return of Pique in a month will certainly be a big boost. Oscar Mingueza is another academy product who has been performing very well. Roberto's injury means that Dest is the only option at right back. Controversial signing Miralem Pjanic has been in the sidelines with Busquets being preferred. Trincao and Junior Firpo have not played much part either.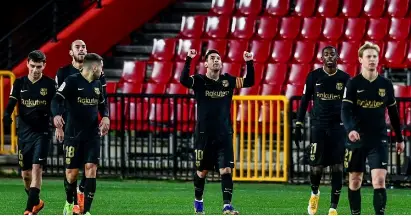 HAVE BARCELONA REALLY BEEN PLAYING BAD UNDER KOEMAN?
With results not coming Barça's way, has the team really been playing bad? In simple words: NO. Barcelona's game this season has certainly been much better in recent years. The team has created the 2 nd most amount of chances in Europe's top 5 leagues this season. The absence of a goalscoring
number 9 is certainly showing.
Moreover, it has been the individual errors costing in the defense costing the teams rather than collective ones. Barcelona have managed far more shots as well as those or target, but have missed those. Goalkeepers have also been at their best while playing against Barça. The team's passes per defensive action (PPDA) value has also improved from last season. From 7.9 to 10.3. This refers that the intensity and pressure on opponents has also improved. Barça have also been finding the net in the recent matches.
KOEMAN'S IN GAME MANAGEMENT
This was certainly an area of concern in the early stages of the campaign. Koeman's game plan was based around scoring an early goal and building on it. Whenever the team trailed, Koeman would bring on too many forward players leaving the team defensively exposed.
This happened in matches including those against Real Madrid, Getafe and Alaves. It took a long time for the team to muster their first win coming from behind. Koeman's choice of substitutions have also been a point of debate. The players coming on have been the same on most occasions without any surprising element. But in recent matches, the team has been on the right path. Barcelona went on to win 3-2 coming from behind at San Mames. Barça also went on to win 4 consecutive away matches in the league for the first time since January 2019.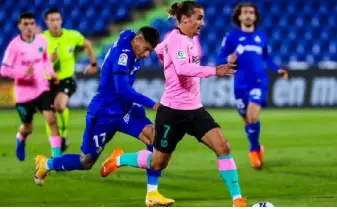 A BRIEF ANALYSIS OF THE MATCHES IN WHICH THE RESULT DID NOT GO Barça's WAY
Sevilla: A clear penalty on Messi was denied. Trincao missed a one vs one chance.
Getafe: Griezmann missed a big chance. Messi hit the post.
Real Madrid: Messi missed a one vs one. Coutinho missed an easy header. Soft penalty given to Madrid.
Alaves: Neto individual error. Barça had 25 shots but scored one goal.
Atletico Madrid: ter Stegen individual error. Lenglet missed an easy header.
Cadiz: Koeman was at fault for playing Coutinho over Dembele. Lenglet individual error.
Juventus: One of the worst matches of the season. The entire team looked flat except Messi and Puig. Another error by Lenglet.
Valencia: Griezmann and Braithwaite missed chances.
Eibar: Braithwaite missed a penalty. Dembele missed a one vs one. Araujo individual error.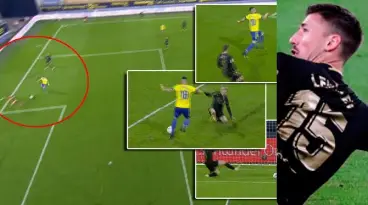 CONCLUSION
To conclude, Ronald Koeman has indeed made some mistakes but blaming him for everything is simply wrong. The team does not have a natural goal-scorer to take the chances created. Braithwaite simply is not good enough to start for Barcelona. Blaming Koeman for not giving youngsters enough playing time is another misconception.
Fati, Pedri, Dest, Araujo, Mingueza, Dembele all have been a pivotal part of Koeman's plans. Barça started El Clasico with two 17-year olds. The results have not come Barcelona's way but the brand of football the club has played has been much better than in recent years. And in recent matches, results have also improved. Slowly but surely the team is getting on the right track.
Don't forget that Koeman joined a team that was in an absolute mess. The work he has done till now is note-worthy. Recently, Messi has also started firing. Barcelona have got bigger matches coming up such as the UCL Round of 16 ties against PSG. With a new president due to be elected soon, Koeman's future will be decided by the team's result and performances in that kind of matches.
Visca el Barça i Visca Catalunya!