It's the middle of the summer, and the FC Barcelona sport management are building the squad for next season. In the next article, Rishav Dey takes a look at every FC Barcelona player, and his future in the club. Moreover, he will explain the recent transfer rumors:
Marc Andre ter Stegen (Goalkeeper):
Although there were some rumors few weeks ago linking ter Stegen with a move away from Barcelona, he is 100% expected to stay next season.  He is considered as non-transferable. The German keeper didn't have the best of seasons and will be looking to improve. Moreover, he signed a new contract last year until 2025. Marc Andre ter Stegen is staying.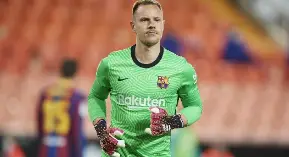 Norberto Murara 'Neto' (Goalkeeper):
Neto wants to leave. He wants more playing time which at Barcelona he has never got. And in the near future he isn't expected to get either. Barça apparently want around €16m for his transfer. Everton were reported to be interested in him. And recently 'Sport' also linked him to Inter and AC Milan. Barça will want to recover as much as they can of the €35m fee they paid to Valencia 2 years ago. Arsenal wanted to sign him in January but Barça didn't allow and since then he has gone on to play just 2 matches. The only problem remains his wages. But barring a surprise Neto is expected to leave Barcelona in the summer.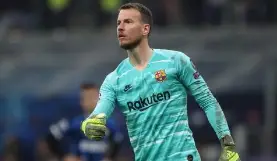 Jordi Alba (Left-Back):
Jordi Alba had a very good last season but like the majority of the squad his wages are enormous. Recently he has been linked with a move to Inter Milan in a swap deal. This was confirmed by ever-reliable Samuel Marsden and Moises Llorens from ESPN. But it could also be a ploy from the club to put pressure on Alba to reduce his wages. Fairly reliable Gabriel Sans added that some directors argue that Alba should be replaced by Jose Gaya. He has a contract until 2024 and has no intentions of leaving Barcelona. Expect the club to meet with his agents soon to discuss a potential wage cut. If he agrees to it, he will almost certainly stay. But if an agreement is not reached, he could very well see the exit door. Will be interesting to see how this evolves.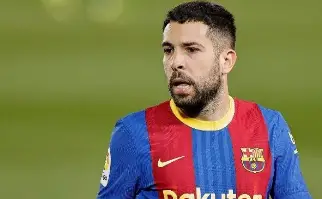 Junior Firpo (Left-Back):
Junior Firpo will almost certainly leave Barcelona in the summer. AC Milan and certain Premier League clubs are interested. Firpo apparently prefers a move to Italy over England. The problem is that Milan want to sign him on loan with a buy option whereas Barça want a permanent transfer as they need instant cash. There will be meetings in the coming days and then a deal suitable for all parties involved will be agreed upon.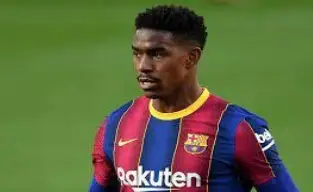 Gerard Pique (Centre-Back):
In the twilight years of his career, the great Gerard Pique is certainly expected to continue at Barcelona for at least another season. In a recent interview he said that the day he leaves Barcelona he will retire. After serving the Blaugrana for so many years its very difficult to see Pique play for another club. Maybe a retirement could follow in the upcoming years but next season he will almost definitely continue. But Barcelona are expected to have a meeting with his agents and propose a wage cut even though he considerably reduced his salary while extending his contract last year.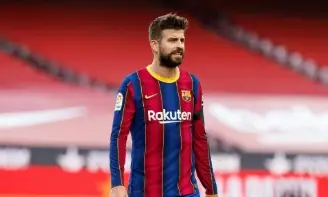 Clement Lenglet (Centre-Back):
Lenglet said in a recent interview that he doesn't intend to leave Barcelona. But it has been widely reported in the local media that the French defender is NOT untouchable. If a good enough offer is received Barcelona will not hesitate to sell him. Another possibility is involving him in a favorable swap deal. His future is up in the air and it will be interesting to see what happens in the coming weeks.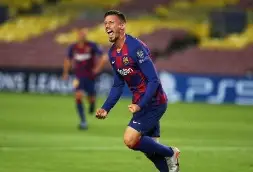 Samuel Umtiti (Centre-Back):
Struggling with constant injuries since 2018, Samuel Umtiti is on the transfer list. He doesn't have the physical conditions anymore to play at the top level. Yet his wages are €12m/year which is astounding. Its almost the same amount as Manchester City pay to John Stones and Ruben Dias combined. Barring a major surprise Umtiti will leave Barcelona. He could leave in a deal similar to those of Rakitic and Vidal. A loan is also not ruled out. Barça want to get rid of the player and more importantly his massive wages. But no club has shown an interest in him thus far. A possible move to Zenit was rumored few weeks ago but it never materialized.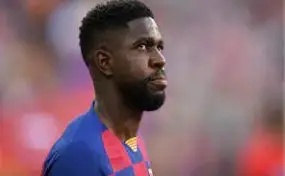 Ronald Araujo, Oscar Mingueza & Eric Garcia (Centre-Back):
Ronald Araujo and Oscar Mingueza will definitely continue next season. The two youngsters were very impressive last season and will be looking to build on that. Mingueza recently extended his contract until 2023. Araujo's current contract ends in 2022 and negotiations for a renewal are expected to follow soon. Having just arrived, young Eric Garcia will 100% be in the squad for next season.
Sergino Dest (Right-Back):
The young American right-back Dest is guaranteed to continue next season. There have not been any kind of rumors linking him away from Barcelona. He would want to build on what was a pretty inconsistent first season. But he is just 20 years old and will certainly continue to improve.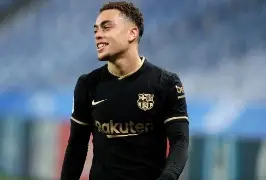 Emerson Royal (Right-Back):
Having arrived from Real Betis, Emerson is expected to at least do the pre-season with the first team. Emerson has always expressed his desire to stay and succeed at Barcelona. Barça also prefer his continuity unless an irrefutable offer is received. An offer in excess of €25m could facilitate his exit. Inter Milan and PSG have shown interest. But with PSG probably signing Achraf Hakimi they can be ruled out. Inter can look at Emerson as Hakimi's replacement. His agent also met with the Italian club. But the priority of all parties involved remains Barcelona. There have also been rumored in the media that Barça could extend Emerson's contract for 2 more years until 2026.
Sergi Roberto (Right-Back):
Sergi Roberto has just one year remaining on his contract and he earns €10m/year. Moreover, his performances have been underwhelming. Barça seem to be more in favor of a way out. Few days ago, it was reported that Barça were looking to propose a 1-year extension but the player wanted at least 2 years. Then it was also reported that the club has scheduled a meeting with his agent to discuss his future. The meeting hasn't taken place yet but it will do so soon. The arrival of Emerson Royal puts his place in the squad in real jeopardy. He has been linked to Manchester as part of a possible swap deal. He could also leave in a deal similar to Rakitic or Suarez. All scenarios are possible.
Sergio Busquets (Midfielder):
Just like Pique, Busquets is another legend of the club. It is very difficult to see him at another club after playing more than a decade for Barcelona. He should continue barring a major surprise. But the club is expected to meet with his agents soon to discuss a wage cut to comply with the financial situation.
Pedri and Frenkie De Jong (Midfielder):
The two young yet shining lights of Barcelona's midfield will certainly continue next season. De Jong extended his contract until 2026 last year. While, for Pedri, there have already been talks in the media that the club wants to improve and extend his contract owing to the 18-year old's stunning display in his first season.
Riqui Puig (Midfielder):
Riqui has found it very difficult to get regular playing time under Ronald Koeman. So, there is a slight possibility of him leaving on loan. But Joan Laporta and the board admire and trust him a lot.They want him to stay. As backed up by reliable Javi Miguel, Riqui has no intentions of leaving and wants to fight for his place. 'Sport' say many La Liga and Premier League clubs are highly interested in signing him on loan and that a meeting could be held next week to make a decision on his future. They add that Riqui is the one who has to make the decision. He perfectly knows that with Koeman on the bench it will be difficult to get minutes.
Miralem Pjanic (Midfielder):
Miralem Pjanic will most probably leave the club. Even more so with Ronald Koeman staying. He has publicly stated his dissatisfaction multiple times. The 31-year old played just over 1200 minutes last season which is relatively low as compared to his previous seasons at Juventus. In the media it is widely reported that he could return to Italy. A return to Juventus is also possible with former coach Max Allegri coming back. Other Italian clubs like Milan and Inter as well as Chelsea have also been linked. But the problem for Barcelona remains the amortization of his transfer fee.
Barça signed Pjanic for €60m on a 4-year contract. €15m (60/4) gets amortised every season. At the end of the 2020/21 season €45m will be left to be amortised. Unless a club offers more than €45m, Barça will make a loss on Pjanic and no club is going to pay that much. A loan transfer, even a 2-year loan, could be on the cards to this amortization factor out of the equation.
Ilaix Moriba (Midfielder):
Young Ilaix Moriba earned Koeman's trust. His contract ends in 2022 and talks over a renewal have already started. Barça want him to stay and the player is committed to the club. All parties involved are optimistic about reaching an agreement soon. Barring a huge turnaround Ilaix is expected to become a first team player and continue next season.
Philippe Coutinho (Midfielder):
Barcelona's record signing, signed for a whopping €160m, has found it very difficult at the club. Often being played out of position which has resulted in consistent poor performances now combined with a long-term knee injury has largely depleted the chances of getting a part of the investment made in 2018. Coutinho is certainly on the transfer list. A loan move isn't ruled out.
Premier League clubs Leicester City and Everton are reported to be interested but nothing concrete yet. Globo reported recently that he is in the final stretch of his recovery and is still in Brazil. He will assess all the options after returning to Catalonia. The most realistic scenario at this point seems a loan move. Barça will at least want to get rid of his enormous wages. Also, Barça will have to pay a big sum of money to Liverpool once he reaches 100 appearances which they will certainly want to avoid.
Carles Alena (Midfielder):
A decision on Carles Alena's future will be made soon. His dream is to succeed at his boyhood club but he will leave to get regular game time. His contract ends in 2022. He spent 6 months on loan at Getafe and they are interested in signing him permanently. Valencia under Bordalas have also shown interest. According to reliable Albert Rogue, new Granada coach Robert Moreno is also keen. Wolves from England have also been linked but Alena prefers to stay in Spain. Barcelona want a transfer fee of €8m. He could also leave on loan but in that case his contract has to be renewed.
Matheus Fernandes (Midfielder):
A typical Bartomeu signing. He arrived for €7.5m but played only 20 minutes in the entire season. Barcelona want to get rid of the player but it's hard to believe that they can recover even a small amount of that money. A loan move is the most realistic option but no club has shown any kind of interest thus far. He said in a recent interview that he is open to leaving for the right offer.
Lionel Messi (Forward):
After some ridiculous sequence of events last year, the all time great is set to extend his contract with Barcelona. He will sign until 2023 with another additional year as an option, as reported in the media. As per Fabrizio Romano, Joan Laporta's being elected as the president has been key. Se Queda!
Ansu Fati (Forward):
Ansu Fati will certainly continue at Barcelona. There could also be a contract extension on the cards. Barcelona think that his contract runs until 2024 while his agent Jorge Mendes believes it is until 2022. Meetings are expected to take place on this matter. After a season on the sidelines due to serious knee injury, the exciting youngster should be raring to go.
Antoine Griezmann (Forward):
Antoine Griezmann's future hangs in the balance. He has expressed his desire to continue at Barcelona but he certainly is not non-transferable. Extremely reliable Matte Moretto stated that Barça would be willing to sell Griezmann if the right offer arrives. Memphis Depay's arrival means that the club has got a player of almost the similar profile. Griezmann's wages are also massive, rumored to be around €30m/year. He is the club's second highest earner. But regarding a transfer the problem in Griezmann's case, like Pjanic, remains the amortization of the transfer fee. €72m is yet to be amortized. Another possibility remains involving him in a favorable swap deal. 
Ousmane Dembele (Forward):
Dembele's recent injury has complicated things more than ever. His contract ends next year, so if it is not extended, he will leave for free in 2022. But it will be a massive risk to offer a long-term contract to a very injury prone player who is already on massive wages. Before the injury the priority was to extend his contract. Juventus have shown a lot of interest in him.
Manchester United and Liverpool have also followed suit. But its highly unrealistic to think that a club will pay a good amount of money to sign a player who will be out until at least October and ends his contract in less than a year. A fee around €50m was reported prior to the injury. Earlier the scene was that either extend or get sold. And if he didn't agree to either he would have been ostracized. But now it will be interesting to see which way the club chooses to go. Another option, which many fans prefer, is to extend his contract by 1 or 2 years and then sell next year. But highly doubt that the player will agree to something such. Let's see what happens with Dembouz, its very difficult to predict anything.
Martin Braithwaite (Forward):
Sergio Aguero's arrival means that Braithwaite's game time will be even more reduced. He is on the transfer list and there is a very high possibility that he will leave. Many Premier League clubs are reported to be interested with West Ham United being heavily linked. Apparently, Braithwaite himself wants to leave in search of game time. Barcelona will want to recover as much as they can of the €18m transfer fee they paid to Leganes.
Francisco Trincao (Forward):
Trincao had a pretty inconsistent first season. A loan move for the 20-year old is possible. Also, Barcelona are open to selling him if a good offer arrives. As reported in the media, they could sell him for an offer of more than €30m. At the same time, it is also rumored that the club maintains faith in him. According to Fabrizio Romano, Wolverhampton Wanderers have shown an interest. His future is up in the air. It could go either way. A swap deal with Wolves involving Adama Traore seems very unlikely at this moment.
Memphis Depay and Sergio Aguero (Forward):
The two new arrivals Memphis Depay and Sergio Aguero are guaranteed of a place in the squad next season. No chance of them leaving.