The transfer of 20-year old Eric Garcia from Manchester City to Barcelona is finally official. After months of the deal being practically done, Eric is back at his boyhood club. He joins Barca on a 5-year contract until June 2026. He signs for free as his contract with the English club comes to an end of 30th June.
Eric Garcia joined Barcelona's esteemed La Masia academy aged 7 in 2008. He stayed and developed there for 9 years. In 2017 his representatives informed Pep Segura, who was Barca's youth coach at the time, that the young centre-back will not renew his contract. He subsequently joined Manchester City.
The journey at Manchester City
During his first season at City, he captained the under 18s and played for the under 19s in the UEFA Youth League. He joined up with the first team during their 2018 summer pre-season in the United States. On 18 December 2018, García made his debut for City, starting in the Carabao Cup quarter-final against Leicester City.
The game finished 1–1 with City winning the tie on penalties He made his Premier League debut on 21 September, 2019 when he came on as a 63rd-minute substitute for Otamendi in an 8–0 win over Watford. In June 2020 after football resumed following the lockdown, Garcia was a regular starter. He played against the likes of Arsenal, Liverpool and Lyon. He ended the season as City's first choice centre-back alongside Aymeric Laporte.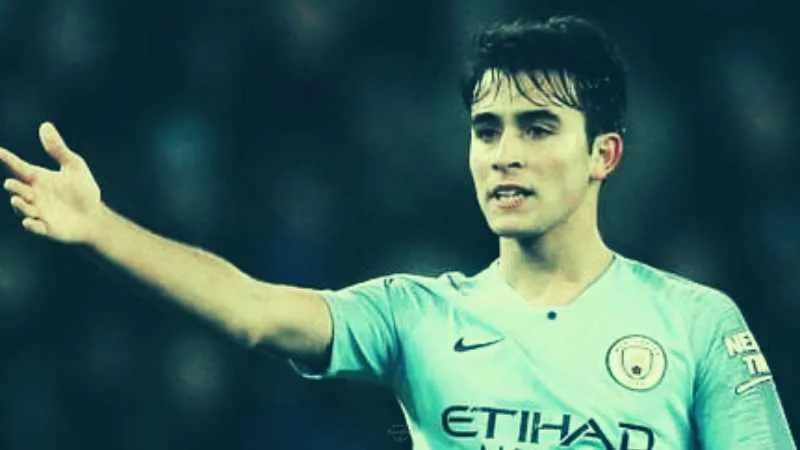 CONTRACT REJECTION AND RETURN TO BARCELONA
In August 2020, Pep Guadiola announced that Eric Garcia has rejected a contract renewal. His contract with City was due to end on 30th June, 2021. Speculations regarding a return to Barcelona started. Barça made a 10m plus another 10m in variables offer for Garcia in 2020 which was rejected by Man City. In January 2021, Barcelona without a club president tried again but failed.
The club's technical secretariat and some presidential candidates were in favour of signing him. But Joan Laporta, who won the election eventually, rejected the idea of paying for his transfer when he would arrive for free in few months. Rightfully so, considering the club's poor financial condition.
Personal terms with Eric Garcia had been agreed since last year. The player had rejected offers from PSG and Arsenal. His dream was to return to his boyhood club. Moreover, the previous Barça board led by Bartomeu agreed him on a higher salary. Laporta renegotiated the terms and Eric agreed to join Barça on lower wages.
DIFFICULT 2020-21 SEASON
Due to Eric Garcia's contract situation it was expected that we would spend most of the games on the side-lines. Moreover, his game time was further reduced when Manchester City signed Ruben Dias and Nathan Ake. John Stones also returned to his past best. Collectively City had a great season. They won the league and EFL Cup, and also made it to their first ever Champions League Final. But Eric struggled for game-time. He made just 12 appearances in all competitions and accumulated only 858 minutes. In his final City match against Brighton he was fielded as a right-back and struggled as they lost 3-2. Perhaps playing after a long time had its effect.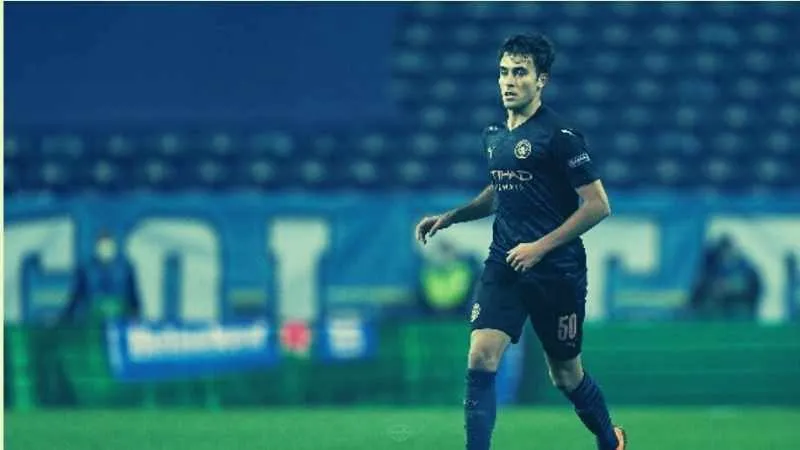 PROMINENT ROLE IN THE NATIONAL TEAM
Despite not playing regularly for his club, Eric Garcia has been in Luis Enrique's Spanish National Team set-up since August 2020. This shows the faith the former Barcelona coach has on the young centre-back. He made his debut for Spain in a 4-0 win over Ukraine in September last year. He replaced Sergio Ramos. Eric Garcia has already played 7 matches for his country and has also been called up for the upcoming European Championship.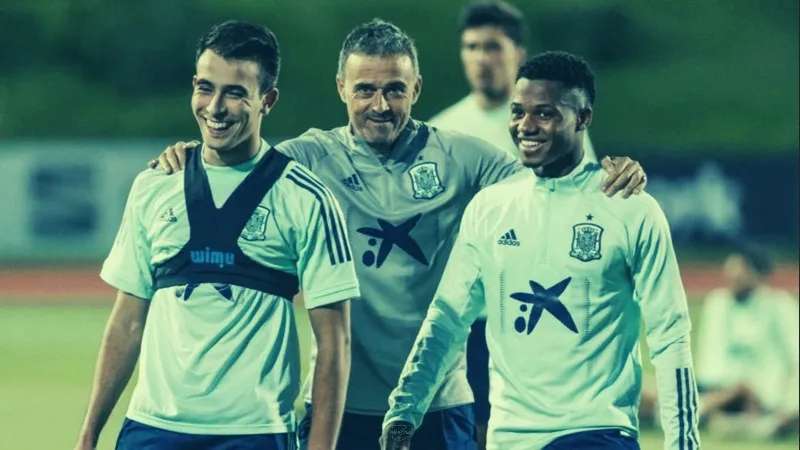 PEP GUARDIOLA'S PRAISE
Luis Enrique is not Eric Garcia's only prominent admirer. The great Pep Guardiola rates him very highly too. When Eric announced his decision of rejecting Manchester City's contract proposal, Pep was reportedly very disappointed.
Pep said in January 2019: "He's so smart, so intelligent. His physicality is not so, so strong, but he resolves the situation by thinking. I like to work with smart people, intelligent people. He is one of them. I can count on him. He has shown me an incredible personality."
In March Pep said: "He is going to play at Barcelona, I think. Barcelona don't sign players because they are average players, it's because they are top players."
Recently he added: "Eric Garcia is one of my favourite players, and I would love to have 15 Garcia's in my team. He has not played recently because I think he is going to Barcelona."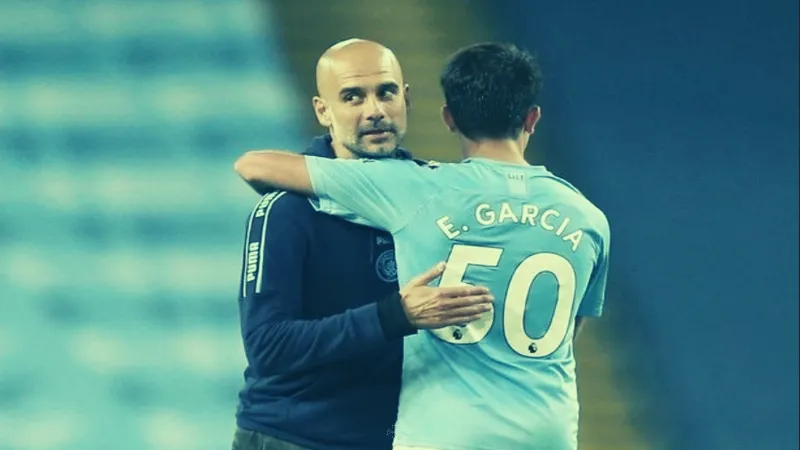 STRENGHTS AND WEAKNESSES
Unsurprisingly for a La Masia graduate signed for Guardiola's City, Garcia is very comfortable in possession. Garcia's maturity is not in question, and he boasts the calmness and positional intelligence of a player far beyond his years. To master the cerebral elements of the game at such a young age, particularly in a position of responsibility, speaks volumes. His positional awareness is his strength.
Garcia is 6ft tall, which means he's not tremendously imposing. He's not remarkably quick either, which might prove a problem when playing as part of a defensive line which could be a problem at Barcelona.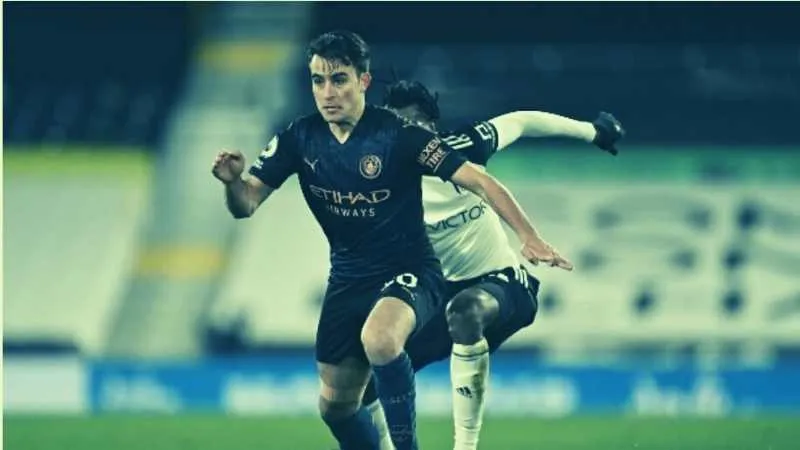 CONCLUSION
Eric Garcia is a bright prospect who seems to have a great future. He may not be an instant solution to Barcelona's defensive issues but in the coming years, with experience and time, he is expected to grow into a solid defender. He is just 20 years old and has time on his side.
With the likes of Garcia, Araujo and Mingueza, Barcelona are building a solid defence for the future. Moreover, the deal is a low risk one. He is signing for free and is very young. Thus, even if the signing doesn't work out, the club can make profit from him.