Last January FC Barcelona signed a Brazilian midfielder whose name is Matheus Fernandes. The defensive midfielder arrived from Palmeiras for 7 Million euros, and Mundo Deportivo called him "the next Busquets". However, people in Brazil didn't know why a player like him, who didn't play for the Brazilian side, arrives to FC Barcelona. But in Barcelona they said this was great business move, so why shouldn't we believe that? Maybe because ALL the recent players who arrived to the club from Brazil, and turned out as flops.
Fernandes left on loan for Valladolid, didn't play and returned to Barcelona, and started the preseason. However, Koeman already told him that he doesn't count on him. Furthermore, the team announced yesterday that Fernandes is injured, so we might stuck ourselves with this player. That's 7 million euros down the drain. And it comes from the board that missed the chance to bring Take Kubo for 1 Million euros last season, yes? However, we wish that is was the first time.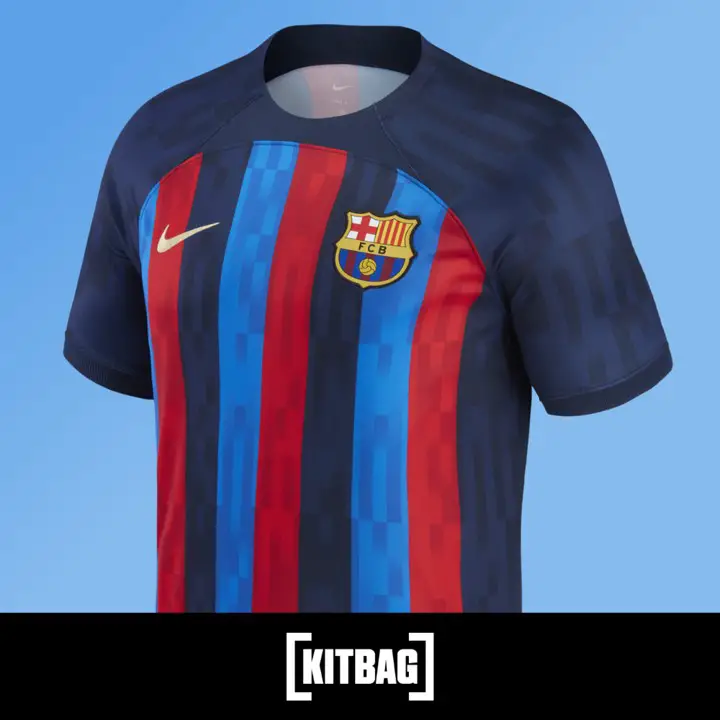 Last month FC Barcelona signed Gustavo Maia, a Brazilian winger from Sao Paolo for 4 Million euros. Amazingly, this is the most expensive transfer fee ever for a player who did play his senior debut. But the FC Barcelona board said, again, that this is a Brazilian bargain. So why shouldn't believe them? Yesterday, Josep Capdevilla reported that the people inside Barcelona B say that Gustavo Maia's abilities are "Alarming" and they can't see him play one minute for the team. Another 4 Million euros down the drain? Probably.
Wanna know why FC Barcelona has such a big debt? Check our history with Brazilian shady deals.
7 years >> More than 55 Million euros paid for NOTHING
[Originnaly posted as a Twitter thread by @CulesofKerala]
In the last 7 years Barça have spent €55M (as far as we know) on players from the Brazilian league. But curiously, they have missed all the great talents that have emerged in that time. Below is a review that makes cold sweats.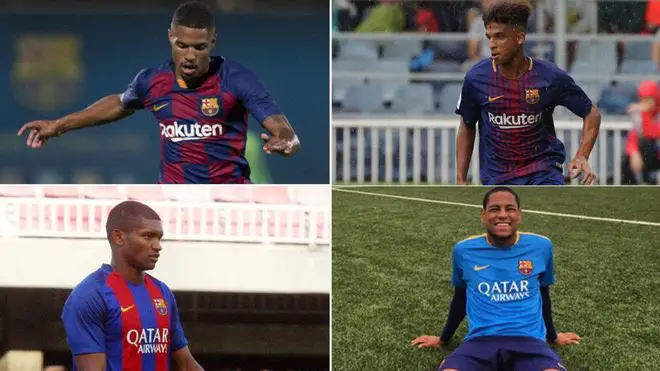 It all started in the summer of 2013, when Barça paid € 7.9 million to Santos for a preferential purchase option over Gabriel Barbosa, Giva and Victor Andrade. An amount that everyone links to the simulated contracts of the Neymar Case. None of the three came to Barcelona.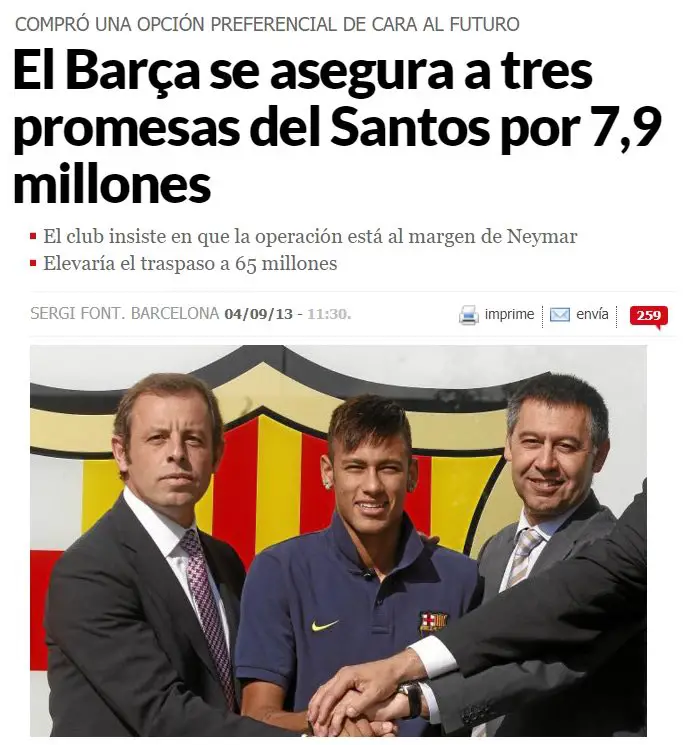 Giva ended up passing through Llagostera and Badalona. He currently plays in the Brazilian third division. Víctor Andrade still plays in the Brazilian first division. Gabriel took an unsuccessful step through Europe and has gone from transfer to transfer until returning to Brazil.
2014/15 – Last season of Rosell
Barça repeats these operations in the 2014/15 season,when it pays € 3.2 million to Fluminense for preferential purchase option over Gerson,Marlon & Kenedy. It was then said that if Barça did not finally buy any of the three,they would return the money.only Marlon came to Barça.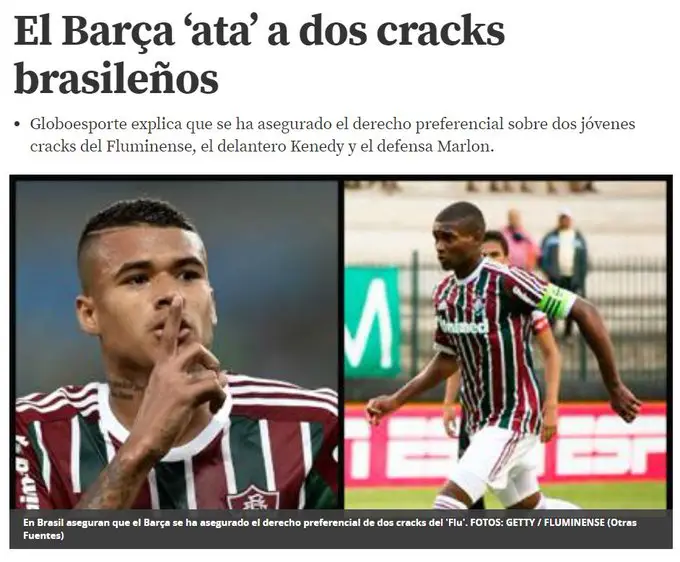 Gerson signed for Roma, where he did not succeed & has returned to Brazil. Kenedy signed for Chelsea and has played for a thousand teams. Last season he played for Getafe & this season he will play for Granada. For Marlon,Barça ended up paying €5M after going through subsidiary.
In the same 2014/15 season, Barça paid € 5.5 million to Sao Paulo for Douglas Pereira, an operation that even the Brazilians found incomprehensible. He played 8 games with Barça in two seasons. He is now in the Turkish league.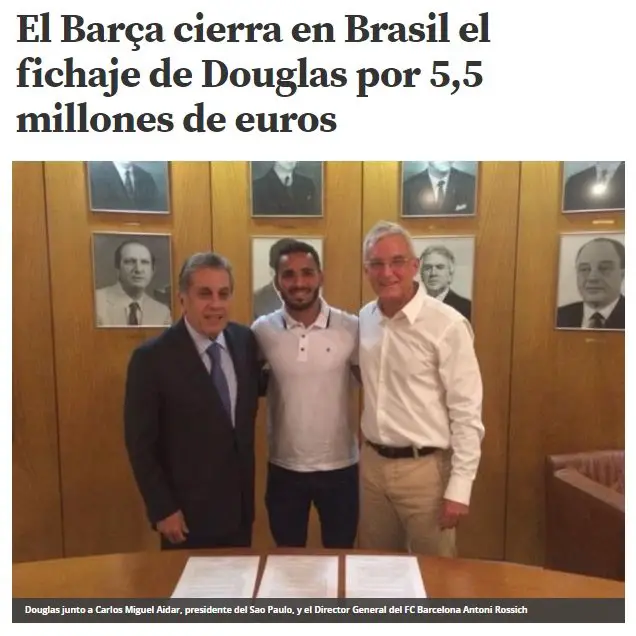 2015/16 – Bartomeu resumes those shady deals
In the 2015/16 season,strange things began to happen at Barça B. It is not known when was Fluminense paid transfer fee of R Gonçalves, but he only played 30 minutes with B team in the Copa Catalunya. He is now 23 years old and is without a team after going through the HK league.
2017/18 and 2018/19
In 2017/18, Vitinho arrived on loan to Barça B from Palmeiras with a € 15M purchase option which we never exercised. Interestingly, it is the same year that Barça signed Yerri Mina from Palmeiras for € 11.8 million. The following season they were both out of the club.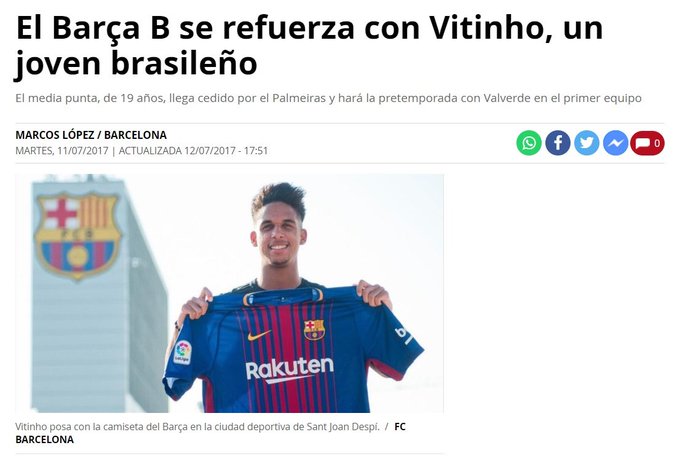 In 2018/19 the winner is Gabriel Novaes,who arrived on loan from Sao Paulo for a 1.5 year with a "mandatory" purchase option of €5M. Barca wanted to give him to Nastic. But bureaucratic problems prevent it. 6 months later returned to Brazil. He now plays in Brazilian 2nd division.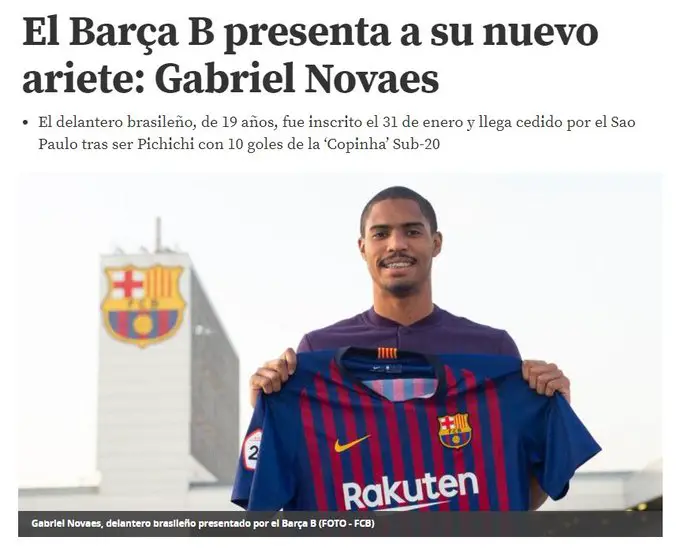 Since 2019/20
In 2019/20,€12M was paid to Atlético Mineiro for Emerson Royal. He was immediately transferred to Betis until 2021. But if FCB want to get him back,they have to pay €6m to Betis. Once they get him back and sells him to a 3rd team, they have to give 50% of the transfer fee to Betis.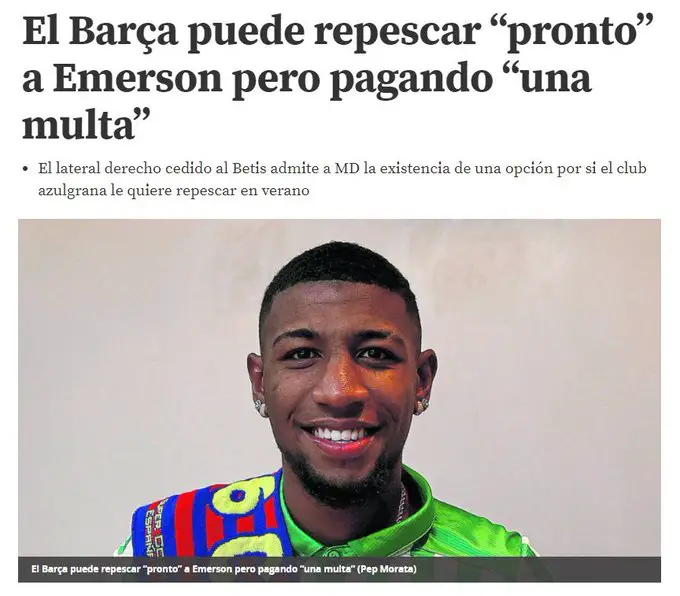 During the last winter market, Barça paid € 7m to Palmeiras for Matheus Fernandes and transferred him to Valladolid, where he played for 166 minutes. He is currently doing pre-season with Barça's first team.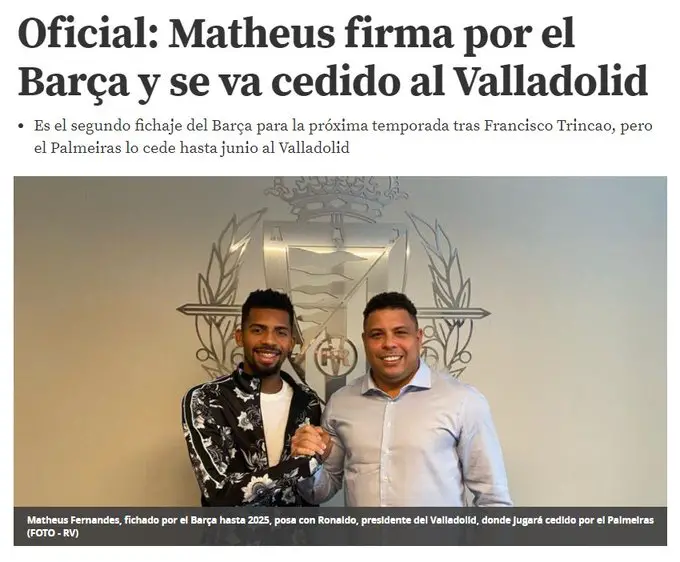 This summer, €4.5M was paid to Sao Paulo for Gustavo Maia, who have a record with Barça B.he is not the only Brazilian who has signed for the B team this summer,as the €8M for the purchase option on Matheus Pereira have already been paid.Although in this case he comes from JUV.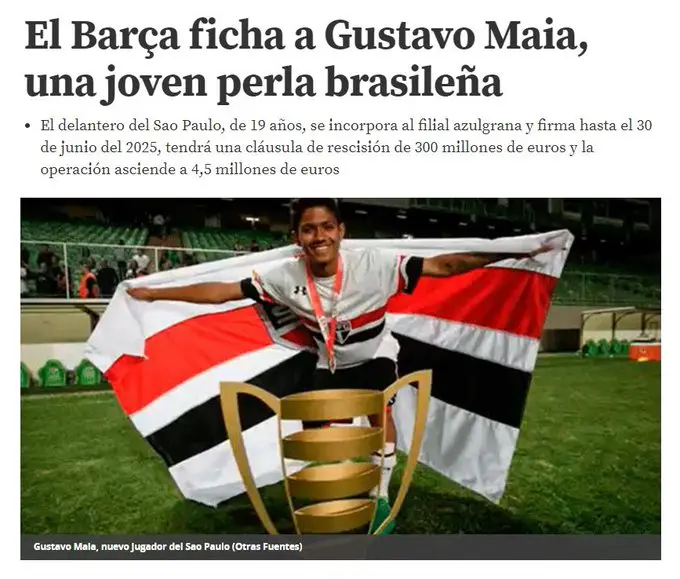 Weird deals FC
Coincidentally, Juve paid € 8.2m last January for Alejandro Marqués, a Barça striker, and now charges € 8m for Matheus Pereira. The same team that supposedly bought Arthur from us for € 72M and sold Pjanic to us for € 60M.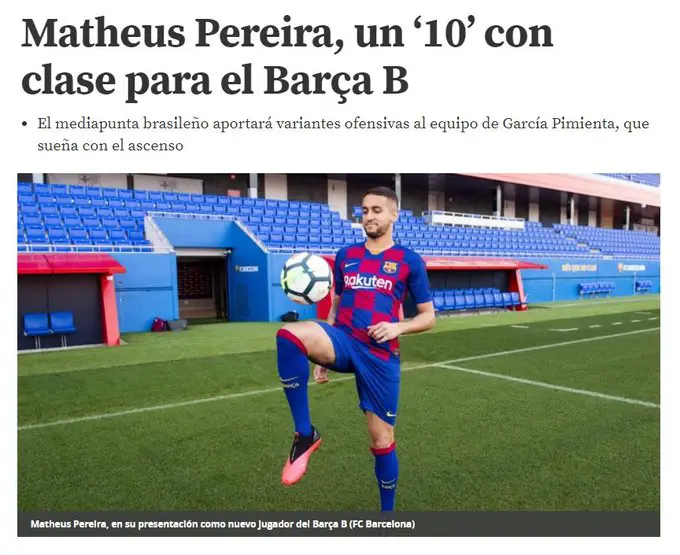 It also coincides that Barça's operations in Brazil are always with same teams: suddenly we are interested in 3 players from Santos, then 4 from Fluminense, then 3 from Sao Paulo, and now 3 from Palmeiras. Curious,right? And it could be that they are the clubs that Barça control.
The Brazilian Connection didn't help with goid talents
But somehow all the good ones have escaped from us.Neither Felipe Anderson or Rodrygo from Santos,nor Richarlison,or Joao Pedro from Fluminense,nor David Neres, Eder Militao or Antony from Sao Paulo, nor Gabriel Jesus from Palmeiras. All of them sold in this same period of 7 years.
And despite the infinity of operations carried out and the coves spent in Brazil, we have not been able to detect Bruno Guimaraes (Lyon), nor Gabriel Martinelli, who came specifically to be tested at Barça, we rejected him and now he is at Arsenal), or Gabriel Magalhaes…
…nor Vinícius or Renier(Madrid), nor Lucas Paquetá (Milan), nor Pedrinho (Benfica), nor Paulinho(Bayer Leverkusen), nor Luiz Felipe (Lazio).In short, that we have not detected all the outstanding under-23s in Brazil,Only those who have recommended Traffic and André Cury to us.
Credit to @Boncopdefail