We needed to end off this year on a positive note, yet we could not do so. Yesterday's 1-1 draw against Eibar pretty much summed up this year for Barça. 
Eibar started well and pressed us man-to-man, which made it extremely tough to find passing lanes and space in general. Yet we were awarded a penalty early on when Ronald Araújo was brought down inside the box. Braithwaite missed from the spot, which kept the game wide open. We struggled to create half a chance, let alone a proper opportunity. There was no cutting edge, no spark in this Barça side.
Second Half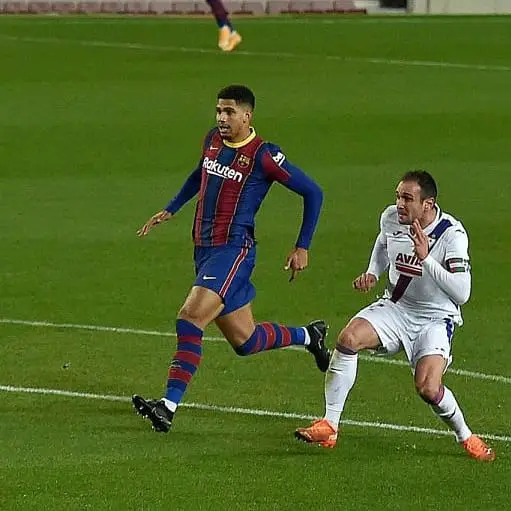 At half-time, Ronald Koeman replaced Sergiño Dest with Ousmane Dembélé and switched to a 4-3-3. That's it. He had no idea how to beat Eibar's press. That resulted in the opener, when Ronald Araújo was robbed of the ball which saw Kike beat Ter Stegen 1v1. Araujo was just partly at fault, because there was no passing option at all.
Pjanic didn't offer himself between the centre-backs, while Griezmann showed no movement between the lines. Barça was able to find the equaliser through a great combination between Coutinho, Trincao and Firpo, who eventually found Dembélé at the far post. We got a few opportunities before the final whistle, but those were based on the sole class of our players. It's fair to say that Ronald Koeman lost his battle with José Luis Mendilíbar. 
Sergiño Dest, Frenkie de Jong, Miralem Pjanic, or practically everyone had a poor game. Pedri, Firpo, Dembélé and Trincão, those are the only players that lived up to the expectations. The whole team disappointed as a whole.
Bottom line
My ratings: Ter Stegen 6; Araújo 6; Mingueza 5,5; Lenglet 5,5; Pjanic 5; Frenkie 6; Dest 5; Firpo 7; Griezmann 5,5; Pedri 7,5; Braithwaite 6; Dembélé 7,5; Coutinho 6,5; Trincão 7; Busquets, Puig N/A.
This is the way we round up this year.
This game vs Eibar was the actual representation of the whole mess that Barça has gone through this year. The chances of 2021 being a breakthrough year for us are slim, but hoping for the best is the only thing all culés can do at this point.