Well. It was a fun game to watch. After the win last Tuesday, Koeman's players needed this win to move up in the La Liga table. Moreover, it was a good occasion for the Camp nou to say it's final goodbye to Diego Maradona, who dies few days ago. If only there were fans in the stadium today. However, these are the main things to take from the match between Barcelona and Osasuna today:
Good points
Leo Messi with a stunner gave an emotional tribute to his childhood hero, while wearing his shirt from him days in Newels. Moreover, the TV chose him as the Man of the Match, so let's hope that he's back on form.
Griezmann with a Golazo and another dance celebration for the second time in a row. Although many of us gave up on him, he's still an amazing player. Hopefully he will keep up his good performances.
Oscar Mingueza continues to play well. However, he had 2 mistakes that almost cost us goals. But that's the thing with young defenders – they sometimes make mistakes. But overall another great performance for the young defender. With Pique and now Lenglet injured we might need him to play a lot more.
Trincao came in and played well. I often say that I think he needs a lot more work to do to get to the right level in Barcelona. But today it was a good start. He needs to adjust to the pace of the game in Barcelona, and that might take a while. But his talent is enormous, so hopefully he'll keep on improving.
The fact that Koeman preferred Alena in the second half and not Pjanic in encouraging, I have nothing against the Bosnian, but Alena looked great on Tuesday and he deserved to play.
Braithwaite is far from the level of striker that we want in Barcelona, but he managed to score vs Osasuna. It was the second game in a row that he's scoring, and that's a good sign. Although it's not a sign that the Danish is in the level of Barcelona, it shows our potential with a proper striker.
Bad Points
Lenglet injury means our main center backs will be 2 guys who were Barcelona B players not long ago. However, I really believe that Araujo and Mingueza can play well together. However, having 2 young center backs might mean lack of experience. They might make mistakes like those of Oscar today.
Playing Pedri as a Pivot for Barcelona vs Osasuna was not a good idea at all. He looked lost, and no wonder Koeman replaced him. If you play with De Jong as the only real defensive midfielder, it's fine. But wouldn't it be better to try a 4-3-3 formation and actually play with the players in their natural positions?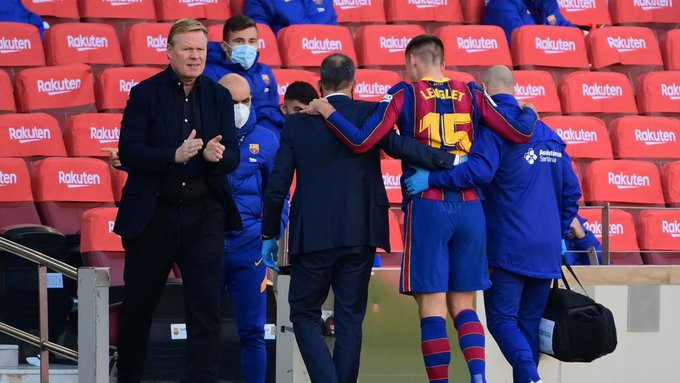 Bottom line
Barcelona returns to the winning ways, and hopefully we'll see the club heading to the better half of the table. It was nice to see Griezmann play better, and there were some great combinations in attack. However, Legnlet left the field in pain and we hope that he's not another lost in this short squad.
Leo Messi's tribute to Maradona was the most memorable moment in this game. It's so great to see the amount of respect that Leo has towards his childhood hero. Leo once told that when he was a 6 years old boy, he went to see Maradona. It was when Maradona was in the last days of his career, and played for Newels. Newels, as we all know, was Leo's childhood team.