It was on July 12th, 2019, when the Antoine Griezmann big-money move to FC Barcelona from Atlético de Madrid was official. The Catalan giants eventually succeeded in scrambling to collect and pay the French International's release clause of €120 million. This finally put an end to yet another summer transfer saga.
This transfer announcement certainly met with heaps of excitement, relief, and confusion as well. On one hand, Culers all around the world didn't know why the Barcelona board went out of their financial capabilities to sign a player who didn't fit their style of play. Furthermore, The French dramatically rejected them a year ago through his documentary, "La Decision".
Despite the questions and concerns raised surrounding Griezmann's signing, Culers were still excited. They wanted to see what role the Frenchman would play and which qualities he would bring to the squad. It was no secret that the 28-year-old – at the time – was a heck of a player. He is both tremendously hardworking and intelligent, who had steered France to their 2018 World Cup victory. Also, he was Atleti's magic man during his time with Los Rojiblancos, scoring 133 goals in 257 appearances.
Now the only thing that Barça fans could do was to patiently wait and see how Antoine would fare during his first season with the Blaugrana… So what has happened? Has he lived up to his hefty price tag and the huge expectations?
One year later
Nearly a year later and unfortunately the situation for those invested in Griezmann is the same; they need to continue to be more patient and see how his dilemma progresses with time. After catching an injury during
the clash against Real Valladolid and with only 2 more games remaining till the end of the season, it looks like Griezmann's first La Liga campaign with FC Barcelona has come to an end.
During the course of the current La Liga season, the French International has started 35 out of the 36 games played so far, with him scoring a disappointing low of 9 goals and assisting 4. At first glance these stats may
seem decent, considering it's his first season with a club where his role has varied throughout the season;
however, taking the €120 million price tag into account along with his colossal talent, it's simply discouraging and a huge blow to his confidence as well. Where did it go wrong? Do the stats tell another story than his in-game performances?
From the moment Antoine Griezmann signed for the Blaugrana, everyone expected it to be difficult for him. To settle in and adapt to their distinct style of play is tough for every new play. But it's especially hard when his preferred position is being occupied by Lionel Messi.
With these factors in effect, for the majority of the season, Griezmann has played in positions. Under both Ernesto Valverde and Quique Setién, where he has looked incredibly uncomfortable and lost.
Adjusting to a "new" position
Under Valverde's management, the 2018 World Cup winner played on the left-wing from the get-go. He did not play in that position since his days with La Real. Giving Griezmann the responsibility of staying out on wide and holding the much-needed width, isolated him from the game and prevented him from contributing to play; besides doing the impressive donkey work of pressing and defending.
Moreover, from the majority of his performances, it was evident that playing Antoine on the left-wing was not going to get the best out of him. Especially when it's known that he's a player who thrives centrally and likes to drift in and play near the goal,
making quick combination play and get as much as of the ball at his feet. Regardless of repeated signs of struggle under Valverde's tenure, the left-wing had become his position in the starting eleven. It seemed as if that wasn't going to change any time soon.
New coach, new optimism
However, things began to look bright and hopeful for Griezmann when Valverde left and Quique Setién took over. Furthermore, Luis Suárez was reportedly out for the season with a knee injury as well.
This made Culers believe that this was Antoine's time to flourish; however, it wasn't all sunshine and rainbows like many hoped it would be. Despite the absence of Luis Suárez and a new coach at the helm, Griezmann had to play in a new role and system by taking charge of the front line and playing the #9 role.
This was yet another an unfamiliar position for him, as throughout his career he has played with a second striker, whether it be Diego Costa with Los Rojiblancos or Olivier Giroud with Les Bleus. Playing alone up top
once again his contribution dropped and the result was his teammates overlooking him.
In spite of the lackluster and frustrating performances Griezmann has put on throughout this year's La Liga campaign, there have been glimpses of magic and outstanding play as well. The team's set up was the main issue that prevented the Frenchman from consistently playing with rhythm and confidence. Moreover, his lack of understanding regarding the role he has to play; however, when given the perfect conditions and structure he steps up to the occasion.
There's potential there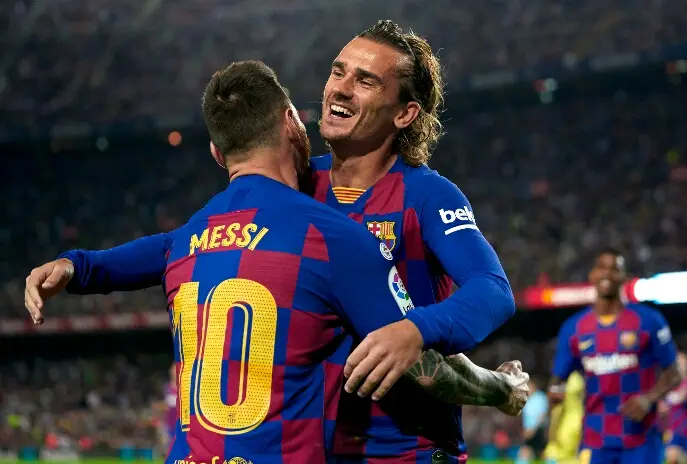 A clear example of that is the show Antoine put on during the second La Liga fixture of the season against Betis. In that game he scored 2 and assisted 1. That was when both Suárez and Messi were out. That gave him the freedom to play where ever he wanted and dictate how the team played as well.
That doesn't mean that Suárez or Messi are limiting Griezmann's success. It's the question of how the coach is using trio.
A perfect example of this is during the 4-1 win against Villarreal in which Setién employed a new system, which Barça fans hadn't seen before. It was effectively a 4-3-1-2 with Griezmann and Suárez up top as the two
strikers, while Messi played in behind them. This was truly one of the first times where it was evident that "MSG" can productively combine, smoothly interchange positions, and get into scoring positions.
This system is new and has proved to be relatively ineffective against low-blocks, like in the game versus Espanyol. However, it gave everyone including Griezmann some hope that he can thrive at Barcelona, though it needs to be seen more consistently.
Antoine's injury blow does sadly mean that Culers will have to wait longer to see how his situation develops. Wishing to see Griezmann thrive in this new system during the upcoming Champions League fixtures in August.

[Other impressive Griezmann performances: Leganes in Copa del Rey, Eibar Away, Valencia Home, Dortmund Home, Mallorca Home.]