It wasn't pretty, and it was even ugly for many parts of the game. But at the end of the day Barça gets the crucial 3 points vs Dynamo Kyiv, to keep them alive at the Champions League. Moreover, the fact that Benfica lost 4-0 to Bayern made that night better, as Barcelona are now just 1 point behind The Portuguese team. So we can't Relax, especially after playing so bad, but at least we're still alive. However, looking at 'El Clasico' this weekend, we have a lot of work to do.
Good Points
As always, the fact that we won makes us start with the good things to take from the game.
Pique scored the first goal of the season both in the league and in the Champions league. The Barça legend scored the only goal vs Dynamo Kyiv, doing what players like Luuk de Jong and Dest couldn't – Convert the cross to a goal. Overall good performance for the veteran legend, especially when you consider him playing with Lenglet for the first time this season. But the match on Sunday will be a whole different thing.
Jordi Alba played great yesterday vs Dynamo Kyiv, proving that he still can contribute for Barça. However, his real test will be on crucial games, where he failed in the last years.
The best news we got yesterday, of course, was Ansu Fati finally signing his contract renewal. Barcelona made sure that the wonderkid will be part of the new and exciting project that is starting now. Alongside Pedri and the other upcoming contract renewals, it's fair to say that the "Dream Teen" team is here to stay! Hopefully, Laporta and his board will build a great team around these youngsters, and then the sky will be the limit.
Bad Points
The first half gave me Granada vibes. In a crucial match vs Dynamo Kyiv, Barça starts with Luuk de Jong and just play 80's english football of cross & pray. You can't make these things us. Luckily, this time Pique did score the goal, and Koeman made some good changes at half time. But if you want more fans in the stadium, you gotta play more attractive football. And this time you can't say "this is what we have", because it would be a lie.
The fans are not coming right now. I know, there are less tourists and the ticket prices are very high. But still, this is the worst attendance ever for Barcelona in a Champions League match (excluding Covid restriction times of course). I'm sure that better football would bring better attendance.
Looking at 'El Clasico', I think we're the clear underdogs, although we play at home. It's not that the rivals from Madrid are that good, and their coach is also older and not innovative. But he's still a great tactician and I expect him to exploit the weaknesses in the game of Barcelona. Sadly, I can't expect Koeman to do the same. I would gladly be wrong here.
Fantasy League
After Matchday 3, this is the Top-10 in our UCL Fantasy league.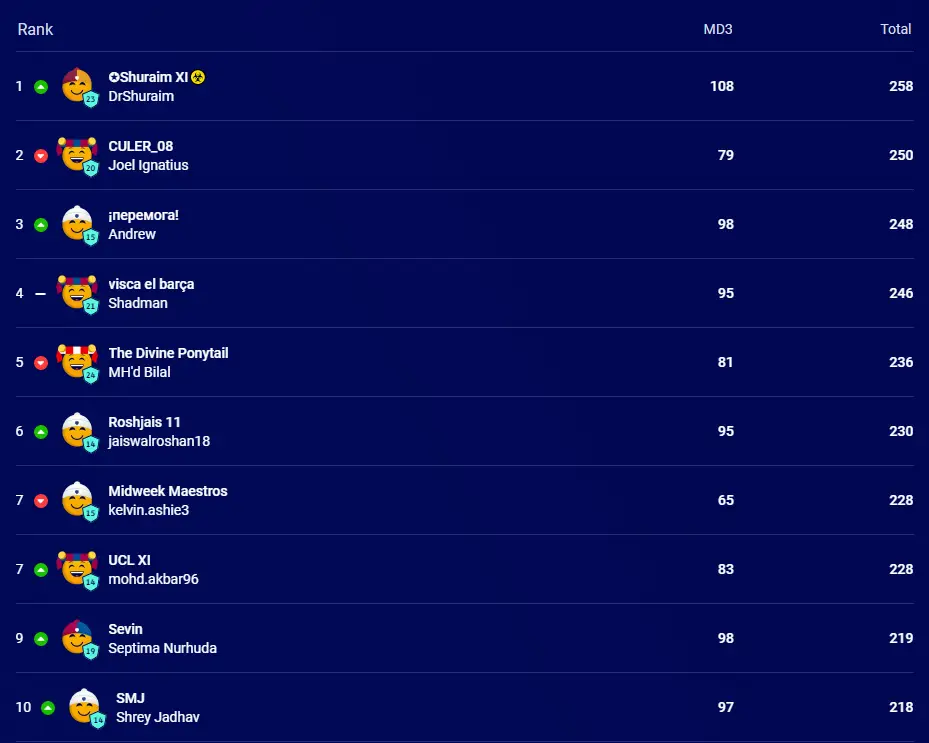 You can still join the league, just click here:

LEAGUE CODE: 55D6KAWP04
Good Luck!