Well, yesterday we finally saw the Barcelona we expected to see this season. On one hand, conceding 2 goals as the defense didn't get the proper strengthening. But as for the attack, playing wide and fast helped us score the goals. Moreover, most of our chances came from the wings. As we said before, playing with proper and wide wings are a must in this formation. Barcelona win in style again vs Betis, and as always, it was an entertaining match. However, the injury of Ansu Fati kind of ruined our good morale after this win. Here are the main points on that game:
Good Points
Dembele on the right side can cause the opponent real harm. It's really hard to defense against him, and let's hope that he stays fit and keeps on gaining confidence.
Sergi Roberto and Jordi Alba both with great assists. With this formation, the attacking mind of the fullbacks is critical for it to work. Yesterday both of them did a great job.
Leo Messi keeps on extending his record on scoring as a substitute. The all-time best goal scorer as a sub did it again. Given that he's almost never sit on the bench, this record is not human. But the most important thing is that he scored a brace, including a goal from open play. It was vital, and I hope that many more will come. Therefore, he only has to score 4 more goals in order to break Pele's record of goals in a single club.
Griezmann did miss a penalty, but overall a good game for him. Moreover, he scored a goal for the second match in a row, and let's hope for more to come.
Barcelona finally wins after 4 matches, so let's hope that the players will come back stronger from the international break. Playing with a combination of young guys and older players with trauma, we're bound for inconsistency. But the talent is there and they should win a lot more.
Bad Points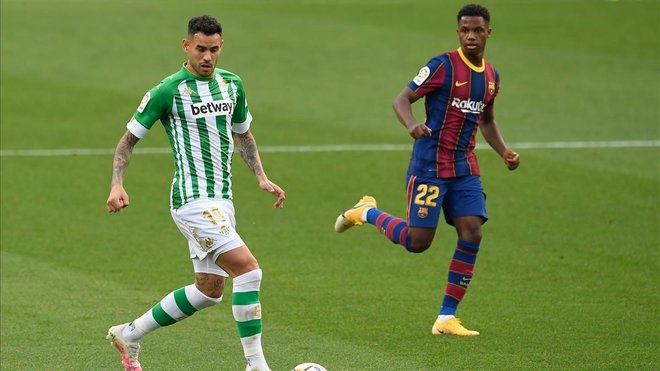 The injury of Ansu Fati looks like a bad one. Let's hope it's not too serious, but it looks like he's about to get an operation. He's very young and let's hope he'll get back stronger.
Trincao again shows his talent, but he has a lot of work to do. It seems like he's mind works slower than his buddy, and he still can't keep up the pace of the game in La Liga. However, he's very young and he needs time. I'm sure that he will improve that aspect, and then the sky is the limit for him.
Conceding 2 goals in a game that we control and win is so Barcelona in 2020. This defense looks so bad that every attack against the teams is dangerous. Hopefully, there will be new faces in our defense next January.
Braithwaite playing more than Alena and Riqui. The only reason for that in my opinion is to show other clubs that he exists. Hopefully another team will buy him in the winter market.
Bottom line
Barcelona win in style vs Betis, and that's great. But as always, Barcelona has it easier to play against clubs that play open football. The problem is against clubs that play compact football with score on transition. This is the main issue that Koeman still didn't find solution for. Therefore, the international break is also a good time for him to sit and think about a solution for that aspect. Most teams won't play like Betis or Villarreal, and Barcelona should have a plan for that.