Ansu Fati torn the meniscus in his knee. Moreover, tests will be done in order to see how long he's out for. However, we need to see whether there is any need for a surgery or not. There are many contrary reports on this. Let's see! According to @esport3, in the case of Ansu Fati, if his knee responded to the treatment, then he may be back from his injury within 3 weeks.
But in a case that he needs an operation, he will be absent for 3 months. Last season, Luis Suarez did an arthroscopic surgery on his meniscus that left him out for 149 days.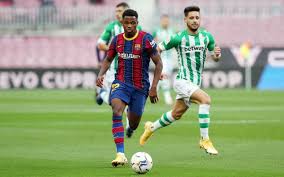 However, according to @diarioas, everything indicates that Fati will undergo the operation and will be absent for 3 months at least.
It all depends on the degree of the tear, and the response of the knee to the treatment. It is NOT the same injury like those that ruined the career of Samuel Umtiti. However, this is an injury that must get a proper treatment in order to avoid future injury problems for Ansu Fati.
Right treatment is the key
The Meniscus Cartilage is placed in the middle of the knee. Symptoms of a meniscus tear include, Pain in the knee and Swelling. Moreover, many experience A popping sensation during the injury. Others feel difficulty in bending and straightening the leg. Furthermore, players feel a tendency for your knee to get "stuck" or lock up.
At first, the pain may not be that bad. You might even play through the injury. But once the inflammation sets in, your knee will probably hurt quite a bit.
In the case of Ansu Fati, the fact that he's young might help him recover faster from his injury. But like I said before, it all depends on the degree of the injury. The bigger the tear is the larger the chances that he will have an operation.
Without operatio we will see him back in the start of the next month. However, with an operation we will see him back in 3-4 months. Let's hope for the best and stay strong Ansu Fati! #AnimsAnsu!