It was a tough week for Barcelona B. With many absentees Pimienta's players suffered 2 losses this week. There were some good signs, but at the bottom line Barcelona B is in the wrong side of the table so far. Therefore, things need to change and fast in order to even think about promoting this season.
CE L'Hospitalet vs Barcelona B:
Line-up: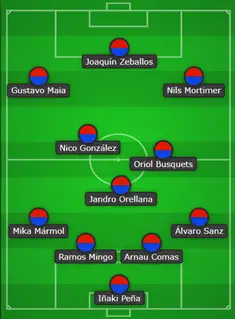 Barça B lost yet another game this season, which sees their consecutive defeats this season reach up to 2 games in a row. Barcelona B lost to L'Hospitalet 2-0 despite creating dangerous chances the entire game. In the first half, Barça B was dominant in possession and playing good football, just not able to finish their opportunities. A great chance came in the first minutes with Ramos Mingo passing to Zeballos, who had his long shot easily saved by the goalkeeper. A few moments later Barcelona B was denied a penalty when Zeballos was clipped inside the area.
Barcelona continued to dominate the game and in the 19th minute of the game a chance created by Mika Marmol for Gustavo Maia, whose effort was too weak to put Barca B ahead in the game. In the 21st minute, Inaki Pena stopped a massive chance for the opposition to open the score within a corner. A goalless first half came about thanks to an amazing save by Inaki Pena, the goalkeeper denying what would've been a clear goal for Salinas. Before the half ended O.Busquets was subbed off, as he suffered an injury.
Second Half
In the second half, Konrad came in replacing Gustavo Maia, who wasn't able to offer anything going forward. Konrad de la Fuente was electric after coming on as a sub, Nico González and Zeballos all were close to scoring in the first ten minutes of the second half. With Barcelona B losing control and dominance in the second half. L'Hospitalet Cristian Gómez scored the first goal with from a rebound, which Inaki Pena managed to stop.
And in the 80th minutes, while Barcelona B tried to equalize by putting players in the opposition half. Opponents managed to counterattack the Catalans, with Miquel Ripoll chipping both Arnau Comas and Inaki Pena to put the game to bed finishing the game 2-0. Another loss to Barcelona B sees them lose for the second game in a row this season. Despite creating multiple chances, Barcelona still lacks a goalscorer, who will manage to score goals for the team.
As both recent Barcelona B signings Rey Manaj and Zeballos haven't shown anything proving they can be useful to the team. Jandro Orellana was spectacular during the game, as well Nico showcasing good bits of skill and entering opposition box, however his decision-making needs improvements as with all the chances he had, he wasn't able to deliver it to the other players.
Barcelona B player of the match: Jandro Orellana
UE Olot vs Barcelona B:
Line-up: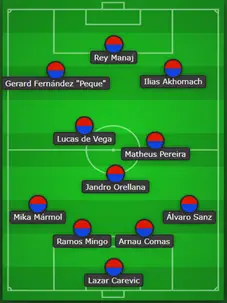 Barça B took the lead early on in the game, thanks to a penalty scored by Rey Manaj in the 9th minute. The penalty was won by Matheus Pereira, who nutmegged Barnils who fouled in the box. Olot was dominating most of the first-half, and in the 31st  minute, Barnils headed the ball into the net from a corner. The goal was counted despite the foul from UE Olot Delgado, who pushed Matheus Pereira in the box. Matheus almost put the visitors back in front again with a long shot but it was saved by Olot goalkeepers, ending the half 1-1.
Second Half
In the second half, Lucas De Vega provided a clear chance to Peque, who took to long to take shot making it an easy save for Batalla.
A few moments later a corner from Matheus reached Comas who heads just over the bar. The first minutes in the second half Barcelona B was dominating, controlling the ball and creating chances. Lazar provided a long through ball to Peque, with a great opportunity to score. Peque passed to Rey Manaj, with a clear chance, but wasn't able to put enough power and accuracy to his shot, shooting straight at the goalkeeper. Olot made it 2-1 in the 70th minute through Xumetra header, with a beautiful flick assist from Delgado.
Collado came on for Barça after being out for a while and instantly created a good chance for Zeballos to score, however his shot was easily saved. Despite Barça B's best efforts, Garcia Pimienta's men weren't able to get back in the match ending the game 2-1 to UE Olot. 3rd consecutive loss in a row sees Barcelona drop to second last position in the table. Barcelona creating a lot of chances, however can't able to finish, due to poor quality upfront.
Barça B defence was not at the best against Olot with some sloppy defending that lead to 2 header goals. Barcelona B has all the players with a crazy amount of talent, however, we can see that they are still a "new" team, not used to each other. Collado first minutes is one of the positives in the game. Hopefully, the captain will be able to help the team to come back to the top of the table with his creativity and goals.
Barcelona B player of the match: Lucas De Vega
Juvenil A – Mallorca:
Line-up: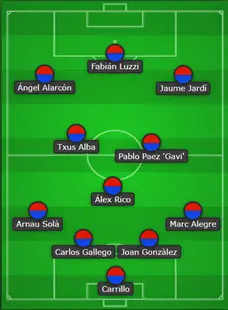 After seeing another draw against Penya Arrabal during the weekend, suffering 3 consecutive draws in the previous matches. Juvenil A finally wins their first game of the season with a spectacular game, which ended 4-1. Youngsters started strongly against Mallorca with Angel Alarcon proving a stunning cross from left side reaching Gavi who headed the ball into the goal putting Juvenil A ahead in the 10th minute of the game. After conceding Mallorca looked dangerous and wanted to equalize, what they managed to do in the 20th minute of the game.
With Mallorca scoring a header from a well-put cross. It didn't take long until Juvenil A took control as in the 30th minute of the game a well put shot to the bottom right corner from Txus Alba saw his effort going in, with an assist for Gavi.
Before the end of the first half, both teams had great chances to score with Mallorca hitting the post and a well-put cross from Txus reached Luzzi, whose header was saved by the goalkeeper. Juvenil A went into the second half with the 2-1 lead over Mallorca.
Second Half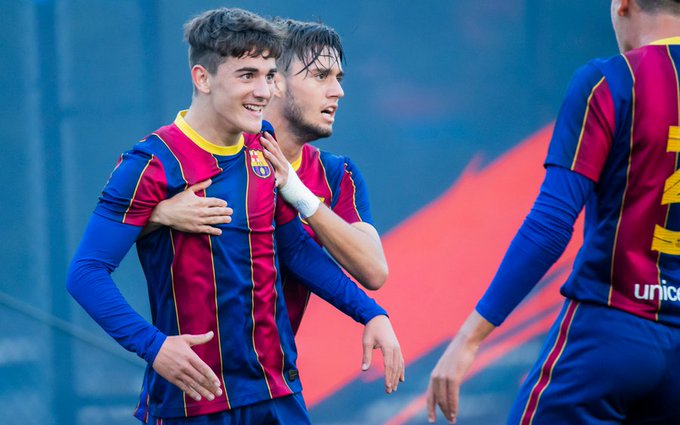 Angel Alarcon, showed brilliant speed to lose his marker and had a great shot, with goalkeeper managing to save it, however, the rebound reach Gavi who scored his second goal of the match. Juvenil A didn't stop there, as they wanted more. In the 60th minute of the game an astonishing cross from Txus Alba, which he did from his halfway line, reached Joan who headed in yet another goal. Juvenil A managed a great game against Mallorca. Hopefully, they will keep this form against Damm on Sunday. Juvenil A also saw yet another amazing talent debut for them. Aleix Garrido, born in 2004 being part of very talented La Masia generation, is a great talent to watch.
Juvenil A player of the match: Gavi
Juvenil B – Nàstic:
Line-up: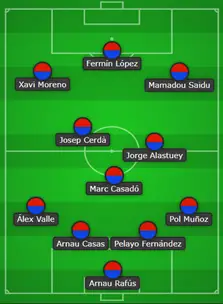 Juvenil B started the game strongly dominating possession and creating clear chances to score. It didn't take until the team scored their first goal. A great lob pass from Jorge Alastuey reached Fermin Lopez, who played as false nine, put the ball in the net with an outstanding finish. A few moments later Saidu put in a great cross, which reached Alastuey, who finished it off, putting the team 2-0.
It looked like Juvenil B will finish the first half with 2 goal lead. But Nastic equalized in the 37th minute of the game with a great goal. In the second half, Juvenil B didn't slow down with a great ball from Marc Casado. It went over the entire Gimnastic defence and reached Saidu, who showed his incredible speed. He lost his marker and finished his chance in the 57th minute. Just after 10 minutes, Juvenil B won a penalty. Josep Cerda took it and scored with a fashionable panenka. Juvenil B started their season well winning all of their 3 games while scoring 8 goals and conceding only 2.
Jorge Alastuey played very well against Gimnastic Tarragona scoring and assisting. Jorge is another talented midfielder La Masia is famous for producing. After suffering a long-term injury, which saw him out of the game for almost a year. He came back this season and will be playing with Juvenil B. Moreover, he will look to get promoted very soon, as he back to his best this game. Another player who played well was Mamadou who scored a great goal. If Juvenil B will continue playing like that they will win the league this season.
Juvenil B player of the match: Jorge Alastuey