The world of football says goodbye to Diego Armando Maradona, who died today and he's 60 years old. For people who saw him play live he's one of the best ever at least, and many say that he is the GOAT. But like him or not, Maradona became a legend inside and outside the football world. Although his journey as a Blaugrana was pretty short, he will always be one of the best players to ever wear the FC Barcelona shirt.
Barcelona chased Diego since he was 17 years old. At first it was a Catalan Cule who lived in Argentina who spoke about the wonder of this kid who plays in Argentinos Juniors. Later on the agent Jose Maria Minguella sent his report to Barcelona. Years later Minguella said: "Diego was different than anything I ever saw. When I asked the Argentinos Juniors president about him he told me that people will kill him if he sold Diego".
In the scouting report of his NT coach César Luis Menotti, he wrote: "He is a very good player. He has strength, and very good shots. He knows how to control the pace of the game, his passes are a wonder and he knows when to release the ball".
In 1978 Nunez became the president of FC Barcelona, and things started to move with Maradona. But at that time Argentina was under a military regime, and they didn't want to see him leave before the World Cup of 1982. It took 4 years of on-and-off negotiations led by Minguella to finally sign Diego Armando Maradona for FC Bacelona.
Arriving to Barcelona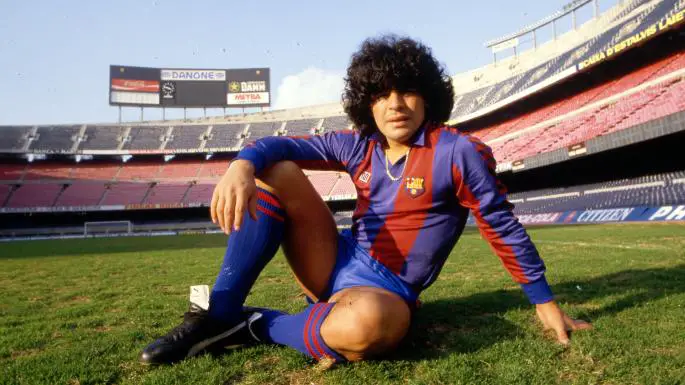 Diego Armando Maradona arrived to Barcelona right after the World Cup of 1982. It was the first World Cup for Maradona, and the national team looked bad. Maradona himself had a disappointing tournament, playing twice in Barcelona.
In his first 13 games as a Blaugrana, Maradona scored 6 goals. However, Diego had a bad relationship with coach Udo Lattek. Furthermore, before one match Diego was late for the bus and the coach decided to leave without him. Years later the German coach told that he had to leave in order to not lose the respect of the other players.
Afterwards, Maradona had a Jaundice desease that kept him out for 3 months. By the time he came back in March 1983, Lattek already left and the coach was César Luis Menotti himself. Menotti led Argentina to a World Cup win in 1978 without Maradona, who was 17 and didn't get the call.
Under Menotti, things started to look better for Maradona. One change that the coach did once he took the job was to change the hours of the trainings to the evenings. His explanation back then was that training in the evening is better because these are the hours of the games. Later on, Menotti confirmed that the real reason for that was to let Diego sleep in the mornings.
The first season of Maradona ended with two cups, and a win vs Madrid in both finals. Maradona was the hero on these wins.
Second season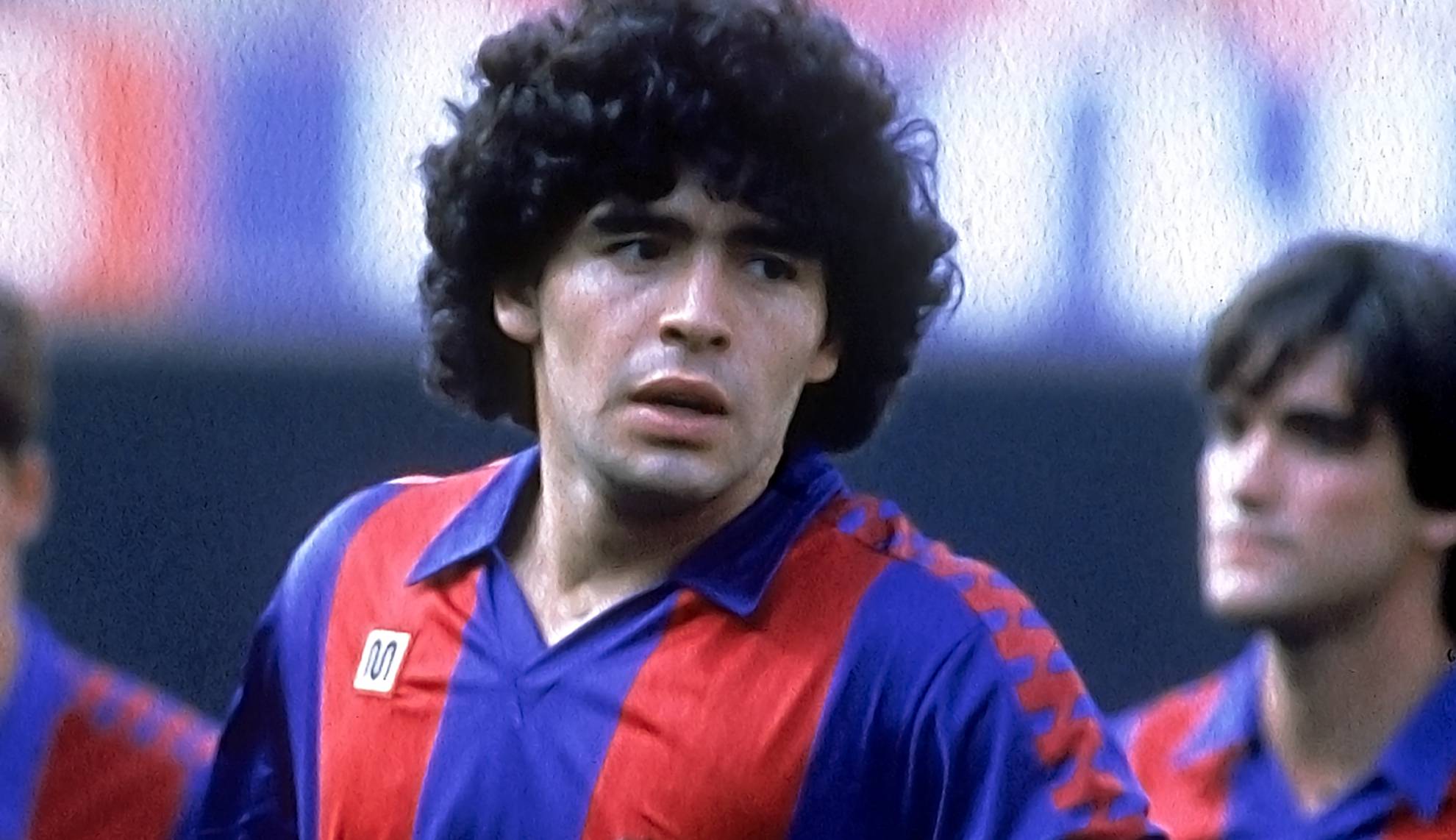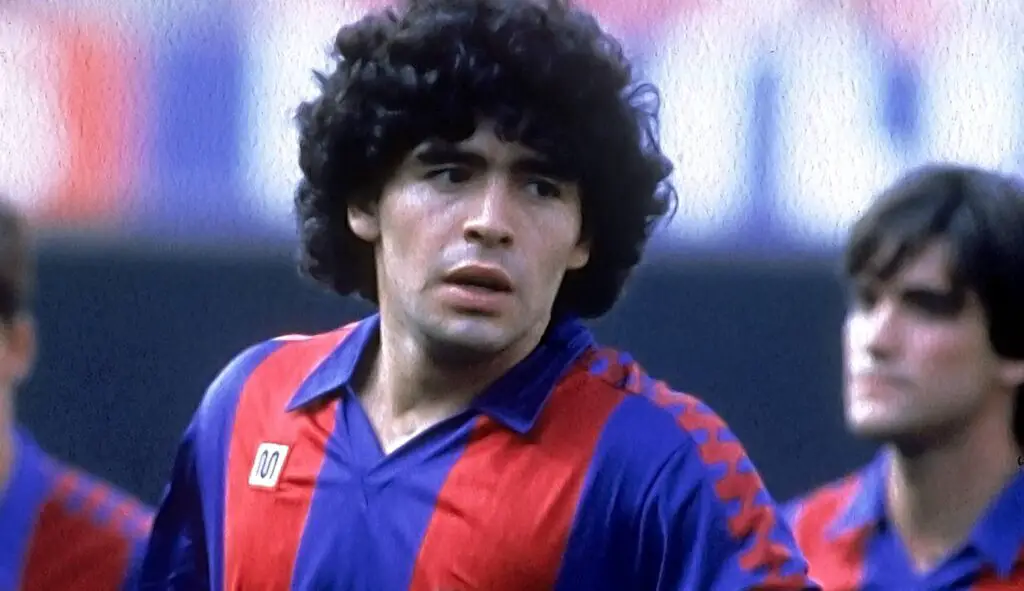 The second season of Maradona was full of scandals, and turned out to be his last in the Camp nou. In a game vs Athletic Bilbao, Diego was a victim of a brutal tackle by Andoni Goikochea that injured him for 3 months. However, Maradona came back in January 1984 and scored a brace vs Sevilla.
The last match of Diego Maradona in a Blaugrana was in May 5th 1984, at the cup final vs Athletic Bilbao. The violent Bilbao side kicked and punched him all the game, until Diego felt it was enough and started a big fight between both teams. It was one of the shameful and iconic scenes that was ever seen in a foolball field in Spain.
The Spanish Football Federation sent him off for 3 months after that fight, but in the summer Barcelona decided to sell him to Napoli. It was only in Italy that Maradona reached the level that Barcelona wanted him to reach.
Maradona finished him Journey in Barcelona with 38 goals in 58 matches, 2 cups and 1 Super Copa.
Iconic figure
In Italy and in Argentina Maradona became the legend that he is now. And today is the day that we say our final goodbye to Diego Armando Maradona. His journey in Barcelona was short, but it was part of who he was. His legend will live on for eternity.
RIP Diego