Yesterday's deadline day, saw a multitude of football players coming in and out of their respective clubs. One player who left the Blaugrana club, after being there for 14 years was Rafinha Alcantara. Brother to ex-Barcelona starlet Thiago Alcantara, Rafinha left to Paris St Germain for 3M in variables. Ferran Martinez from Mundo Deportivo was the first to advance this operation. Then it became official in the closing minutes of the transfer market. In this article, we shall be giving an overview of Rafinha's career, being the latest Blaugrana to fall under Bartomeu's mismanagement.
Assessing Rafinha's time in Barcelona
At the young age of 13, Rafinha joined Barcelona's youth ranks. He started his footballing career in the Barcelona B team, spending two seasons there and recording an impressive 20 goals. At the time, the club considered Rafinha as a future prospect. And in 2013, he moved to the first team. Despite this promotion, Rafinha was later loaned out to Celta De Vigo in order to gain experience and minutes under his belt.  In his first spell for the Galician side, he proved to be an influential player. In 32 appearances, the Brazilian midfielder managed to get 4 goals, scoring vital goals against clubs such as Espanyol and Granada. His first spell at Celta was so successful, that he was voted the league's breakthrough player of the year, ahead of Jese and Saul Niguez.
In 2014, after his successful spell at Celta, Rafinha made his debut with the Catalan club in a 3-0 win against Elche. His first assist came in the champions league group stage, where he placed the ball to Messi in a 4-0 victory against Apoel Nicosia. Throughout the year, Rafinha impressively progressed as a player. He scored vital goals against teams such as  Huesca and Villareal,  as well as providing a number of assists. In the 2014/15 season, he played a part in helping Barcelona secure the infamous 'triplete', and consequently was kept at the club for another season.
Extremely unlucky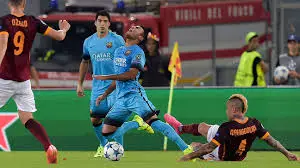 Rafinha's 2015/16 season however, proved fatal for the young Brazilian international. He had a successful start- scoring against Sevilla in the UEFA Super Cup. But then, Rafinha suffered a tear in his right anterior cruciate ligament. After surgery, along came the bad news – he's out for at least 6 months. Therefore, thus ended his 2015/16 in the worst way possible. In the following season, despite scoring  six times in only 18 appearances, Rafinha once again suffered another fatal injury.
In his final seasons, he had continuous loan spells in clubs such as Inter Milan and again, Celta De Vigo. The injuries that plagued him, meant that he fell down the pecking order in the club. Moreover, the club didn't count on him anymore. After being with the blaugranas for 14 years, the Catalan club now saw Rafinha as a burden. He did not play, he is prone to injuries and has a big salary. Therefore, it was in the interest of both parties to come to an agreement, and to secure his exit. Rafinha on the one hand wanted to play, but knew that he would not get chances in Barcelona. It is with this, that Rafinha therefore joined Paris St Germain on deadline day, with ex-Barcelona teammate Neymar Jr waiting for him with open arms. Thank you and good luck!