After Pimienta's Barcelona B missed out on getting promotion to second division, they are ready for another successful campaign to fight for the promotion once again. However, with all of the promotions to the first team such as Araujo, Riqui Puig and Inaki Pena and some other departures like centre-back partnership of Chumi and Cuenca, Dani Morer and of course the hear of the promotion team Monchu, who single handedly almost earned them a spot in second division. After all the departures the team has become weaker, and Barcelona managed to sign new profiles, as well promote players from Juvenile A to help them this season. So let's have a look of the new players Pimienta has this season.
New signings:
Alex Ruiz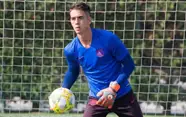 Date of Birth: May 19, 2001
Country: Spain
Age: 19
Position: GK
Alex joined FC Barcelona B this summer on a free deal from CF Damm Juvenile A team, to compete with Arnau Tenas and Lazar Carevic for the main goalkeeper position. On 20th of August he signed his contract for 1 year + 1 year. However, in the last day of the transfer window he was loaned out to l'Hospitalet, who play in Segunda B, in the same group as Barcelona B. Therefore, we will definitely see him against Barça B at some point this season.
Joaquín Zeballos

Date of Birth: Nov 13, 1996
Country: Uruguay
Age: 23
Position: ST
Zeballos joined FC Barcelona B on a 1-year loan deal from Girona after playing only 6 official games for them and not getting on a score sheet once. He spent most of his time playing in Uruguay managing to score 48 goals and assisting 10 in 131 games. He was supposed to be replacing Rey Manaj, who looked like was leaving the club this summer. In the pre-season game against Cornella, he looked dangerous and almost scored to draw the game, as well managed to create goal scoring opportunities on three occasions. He is a typical number "9", who likes to occupy both defenders and is always looking for scoring opportunities. Hopefully we will see him help Barcelona B to earn promotion with his goals and contributions.
Andrés Solano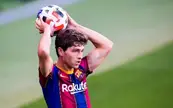 Date of Birth: Feb 24, 1998
Country: Colombia
Age: 22
Position: RB
Solano came to FC Barcelona B on a 1-year loan deal from Atletico Madrid B on 2nd of October. Andrés made his official debut for Atletico's first team in 2019 against Leganes. On that match he played as a LB for 45 minutes. Solano debuted with Barcelona B in a friendly game against Badalona. Moreover, he had a positive start to his loan spell with good defensive contributions. His intelligence, good passing and dribbling were the positives from that game, however he needs to improve his attacking aspect of his game, as he looked very sloppy on the attack and providing accurate crosses. Meanwhile, against Cornella his lack of awareness on the opponent's player let them score the winning goal. Solano showed positives signs to play in this team and be able to replace Dani Morer on that right-back position who left this summer.
Gustavo Maia

Date of Birth: Jan 22, 2001
Country: Brazil
Age: 19
Positions: LW, CF
Gustavo joined Barça B for €4.5m and signed his contract until 2025 with his release clause being at €300m. Maia joined Sao Paulo at the age of 14 after three trials with the club. In 2018 he had his best individual performance scoring 30 goals in 36 games for the youth teams. He spent of his time playing for Sao Paulo's B team and not making a single appearance for their senior team before signed by Barcelona.
Gustavo is right-footed left winger, who is fast, great dribbler and has a powerful shot. After he arrived to Barça B, there were reports that Maia is not good enough for the B team, however in the pre-season game he managed to pick 2 goals and 1 assist. His defensive contribution also can be admired as he always comes back to help the team. Let's see how Pimienta will manage to develop him in a few month-years.
Promotions from Juvenil A:
Konrad de la Fuente

Date of Birth: Jul 16, 2001
Country: USA
Age: 19
Positions: LW, RW
Konrad joined La Masia back in 2014. He already played with Barcelona B last season, but officially was registered only this season. In 6 matches (377 min) he appeared in he managed to score 3 goals and get 1 assist. Konrad made his debut for Barça B on 1st of December 2018, while scoring his first goal for the team against El Prat in Segunda B in 2019/2020 season.
After a good campaign this season received number "11", while he managed to impress Koeman that he was called up to the first-team and played in the pre-season with them. Konrad is an explosive winger that likes to dribble and good at one-on-ones, as well managing to be dangerous at goalscoring opportunities. I'm expecting him to be the key figure in Barcelona B, when he is not called up for the first-team. However, we could see him even get his official debut for the first team this season.
Ilaix Moriba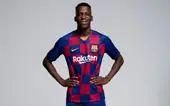 Date of Birth: Jan 19, 2003
Country: Spain
Age: 17
Positions: CM
Moriba joined La Masia back in 2010. He is another player who already debuted before getting registered officially for B team this season. Ilaix Moriba will be playing with number "30" this season. He managed to impress that much that he was starting the playoffs game against top oppositions.
Moriba is a typical box-to-box midfielder, who is good with his passing, vision, tackling, heading, ball control and has a very good long shots from which he managed to score multiple goals in the youth teams. When Koeman was appointed Moriba was training with the first team, however was sent back to Barcelona B training after a few weeks. Therefore, most of his time he will be playing with Barca B and trying to develop his game even further, however we could see him debut for the first team very soon in Copa del Rey against weaker teams.
Gerard Fernández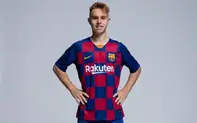 Date of Birth: Oct 4, 2002
Country: Spain
Age: 18
Positions: CF
Gerard also known as 'Peque' left La Masia to join Cornella, where he spent 2 seasons, before coming back to Barcelona's Juvenile A team. In 2019/2020 season for Juvenile A he managed to score 20 goals and 2 assists in 26 games for the team, which makes him directly involved in a goal every 82 minutes. Peque made his debut for Barcelona B against CF La Nucía and scoring his first goal against Villareal B. Peque is a fast right footed centre-forward with a great goal-scoring ability, off the ball movement, agility and technique. He will be playing with a number "29" and will be a back-up for both Rey Manaj and Zeballos. Peque's contract expires in 2021 summer, and hopefully he will be renewing it soon.
Arnau Tenas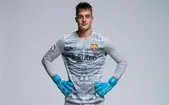 Date of Birth: May 30, 2001
Country: Spain
Age: 19
Positions: GK
Arnau Tenas belongs to the family full of goalkeepers, his grandfather was a goalie at Sant Andreu, while his father was a keeper at Espanyol. He made his Barcelona B debut on March 31st 2019 in league match against Teruel. As Spain's international for youth team, he won the European championship in Armenia with the Spanish U-19 team, where he was included in the best 11 of the tournaments.
For the past year he has been training with the first-team as well being called-up to league matches as the third goalkeeper, however without any minutes so far. Arnau Tenas signed a new contract this summer until 2023, which can be extended for 2 more seasons. Tenas is goalkeeper who is calm with the ball, has good reflexes and has amazing ball distribution. I believe he will be fighting for the main goalkeeper position with Carevic until Inaki Pena is still with the first team.
Álvaro Sanz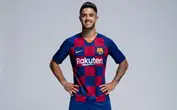 Date of Birth: Feb 14, 2001
Country: Spain
Age: 19
Positions: CDM, CB, CM
Alvaro joined La Masia in 2015 at the age of 14. In 2019/2020 season he played for Juvenile A and managing to score 1 goal. Alvaro was one of the players for Spanish U-19 team who became European Champions in 2019 along with Arnau Tenas. Alvaro still haven't made his official debut for Barça B up to this moment.
Sanz was about to leave Barcelona, when he had a change of hear and signed a new contract until 2023 with the release clause being 10 million euros. He was registered as a number "18" and will be playing as back-up option for Jandro Orellana, who occupies the same position. Sanz is a very promising defensive midfielder with good tackling, defensive workrate and passing ability.
Nils Mortimer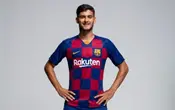 Date of Birth: Jun 11, 2001
Country: Spain
Age: 19
Positions: RW, LW, CF
Nils Mortimer joined La Masia in 2013, where he played in all Barcelona youth teams. Nils managed to get 22 goal contributions in 23 games, which 13 of them were assists, shows what a creative player he is. He made his official debut for Barça B on March 24, 2019 against Ebro, and managing to get 119 minutes with the second team in 2019/2020 season.
Nils can play in all attacking positions from winger, to centre-forward and even a false-9. His versatility is one of his strengths, including his creativity. Nils might have been one of the most creative players in Juvenile A players. Despite lack of acceleration as a winger he has been impressive with his dribbling, amazing vision and line-breaking passes.
Nico González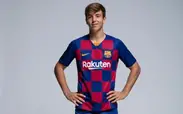 Date of Birth: Jan 3, 2002
Country: Spain
Age: 18
Positions: CM
Nico joined Barcelona at the age of 11 from Montañeros. He made his debut at Barça B at the age of 17 in the game against Castellón during 2018/2019 season. Nico was playing in all midfield positions during his youth from defensive midfielder to attacking midfielder.
He is a tempo-controlling midfielder, who is very agile, despite of his high height. Nico was one of the most intelligent midfielders in Juvenile A team, his vision and his through balls are astonishing for a player his age. Nico contract expires in summer of 2021 and hopefully Barcelona will offer him a contract as he has a lot of potential to be special in a few years, if he will develop correctly by a good coach.
Igor Gomes

Date of Birth: Mar 6, 2001
Country: Brazil
Age: 19
Positions: CB
Igor joined Barcelona in 2019 from Coimbra for a fee of €350k. He made 18 appearances in Artiga's Juvenile A team, where he looked as a solid defender. He is very fast and an agile defender despite being very tall. Gomes is good in the air and at reading the game, his tackling, speed and technique are one of his main strengths, however he needs to work on his ball distribution. Despite being called up to Brazil U20 teams, he hasn't been able to debut for them. He signed his contract until 2022 and will be fighting for a spot in Barcelona's B defense this season.
Sergi Rosanas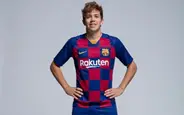 Date of Birth: Jan 29, 2001
Country: Spain
Age: 19
Positions: RB, CB
Sergi arrived to Benjamin B from Vilassar. Despite all the injuries in his earlier years, his progress as a player wasn't halted at all. His strong mentality, helped him to play throughout his career as well captaining various youth teams in Barcelona. He is capable to play as CB, however prefers playing at a RB position, where he flourishes. During the game in the UEFA Youth League, he got a deserved praise from PSV U-19 coach Ruud van Nisterlooy.
It looked like Sergi would become the main RB for Barcelona B. However he suffered an injury in the middle of July and he will be out until December. Therefore, he didn't get a number as a Barcelona B player. This summer he signed a new contract to keep his at the club until 2023. After he recovers from his shoulder injury, I'm expecting him to join Pimienta's team and fight for a squad position.
Mika Mármol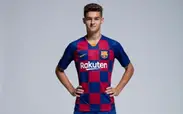 Date of Birth: Jul 1, 2001
Country: Spain
Age: 19
Positions: LB, CB
Mika joined the club back in 2006, however after a few seasons he left and continued his development at another clubs, only to come back to Barcelona in 2018. After playing 19 games with Juvenile A, he was called-up to Barça B and already made his debut. Mika is a regular in Spain U20 team, where he has played 5 games and debuting for them in 2019. Mármol is a LB who can also play as CB, when needed. As a LB he can deliver pinpoint crosses, his attacking and defensive intelligence helps him to make that position as his own. However, he is expected to be the starting LB for Barcelona B, especially after Balde picked up another injury this summer.