Quique Setien was appointed as the Manager of FC Barcelona on 13th January this year. He succeeded Ernesto Valverde who led to the club to 2 La Liga titles and 1 Copa Del Rey. But he had failed miserably in the Champion's League failing to go through to the next round twice even after having led by 3 goals on both occasions. But it was his defensive, pragmatic approach which was heavily criticised. Barcelona was always praised for their attacking philosophy but it seemed to dwindle under Valverde. The 3-2 loss to Atletico Madrid in the Spanish Super Cup Final spelled the end of his 2 and half year tenure. New leadership was called upon!
He was replaced by former Real Betis coach, Enrique 'Quique' Setien Solar. The 61-year-old Cantabrian was famous for his intense pressing strategies at Heliopolitanos. He helped Betis finish in the top half of the table in both of his seasons and qualify for the Europa League. In the 2018-19 season, Betis under Setien managed to beat both Real Madrid and Barcelona away from home. He presented himself as a staunch Cruyffista who believed in possession based attacking football. Moreover, Quique Setien emphasized the importance of keeping the ball, the midfield of a team in his first press conference. He also mentioned that the youth of Barcelona would play a significant role in the team. Fans believed again. The former glory days for the Blaugrana Club were bound to return.
Trying to make changes at first
He played with a depleted squad in his first few matches. Luis Suarez and Ousmane Dembele were key absentees in attack. In his first match in charge against Granada, he used a pseudo back 3 system. A 4-3-3 transformed into a 3-4-3 in transition. Barcelona attempted more than 1000 passes and won the match 1-0 courtesy of a Lionel Messi goal. Youngster Riqui Puig, who did not receive enough chances under Valverde, came on as a substitute and played a vital role in the build up to the goal. Barcelona then went on to defeat 3rd Division side UD Ibiza in the Copa Del Rey Round of 32 through 2 late goals from Antoine Griezmann.
The next match against Valencia away handed Setien his first loss. Barcelona lost the match 2-0 but missed a lot of chances. From the next match onwards Setien changed the formation to the accustomed 4-3-3 of the club. Two comfortable victories over Leganes (CDR) and Levante (La Liga) followed. Barcelona then faced Athletic Bilbao in the Quarter Final of the Copa Del Rey. They created and missed many chances again but a Busquets own goal in 2nd Half added time eliminated the club from the tournament. Wins over Real Betis, Getafe and Eibar followed. Barcelona then faced Napoli away in the Champion's League and came up with a 1-1 draw. A 2-0 loss to Real Madrid even after dominating the match and a 1-0 win over Real Sociedad were Barca's final matches before the enforced Coronavirus lockdown.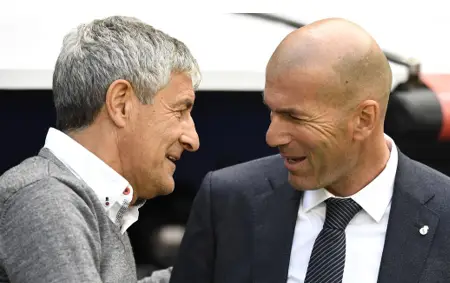 Coming back from the Covid-19 break
Upon returning to action nearly 3 months later the whole squad looked refreshed. The 4-0 win over Mallorca showed the same. After the lockdown Barcelona managed 7 wins, 3 draws and a loss in 11 games. They finished on 82 points but the lost the league to Real Madrid, finishing 2nd.
The number of passes they exchanged per game witnessed a rise. The early signs looked promising but it didn't take time before familiar problems began to resurface. Despite enjoying a lion share of possession, the Spanish outfit couldn't translate it into regular creation of chances. They lacked natural width and progressive passing. As usual they were overly-dependent on the ingenuity of Lionel Messi to bail them out. The lack of cutting edge or enough dynamism in the final third or in midfield made it increasingly difficult to open up low blocks. Opposition teams comfortably sat deep with two low blocks and would patiently wait for their chances on the counter-attack. With an aging squad and lack of genuine speed on the wings, they struggled to create width. Hence, predictable and easy to contain if you somehow managed to smother the threat of Messi.
Squad turning against Quique Setien
To make things worse, there was a bit of friction growing between the manager and the squad in the dressing room. It is understandable when new methods don't result in instant success; doubts develop in the minds of the players. This was visible at Barca where the team members began to question the decisions of their boss.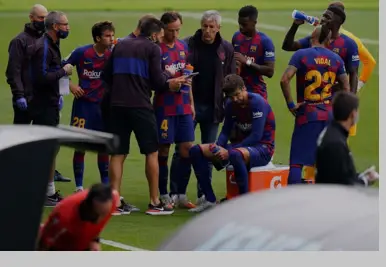 Besides dropping points in a 2-2 draw against Celta Vigo in a vital away game, Luis Suarez appeared to take a dig at his manager. He stated that, "I think that's why coaches are there, to analyse those situations. We're there to do our best on the pitch. Away from home, we're dropping important points that we didn't usually drop in other seasons." Quique Setien quickly downplayed those comments.
Suggesting that the players and the coaching staff might not always see eye-to-eye on every matter but they share a good relationship. During the cooling break in the match, video footage showed Messi twice ignoring the instructions of assistant Eder Sarabia. This further fuels rumours that the players aren't happy with the tactical decisions made by the head coach, leading to mounting tension in the side. Sarabia was early scrutinised by the players for being too vocal from the bench. This happened against Real Madrid earlier in the season.
Moreover, his questionable substitution in terms of the timing and change in personnel has baffled the supporters whilst the slow, pedestrian, and predictable gameplay has irked countless fans. This was his first assignment of such stature in his managerial career. And the Spanish coach has found it testing to manage the big egos that tend to occupy the dressing room of gargantuan clubs like Barcelona.
Impossible environment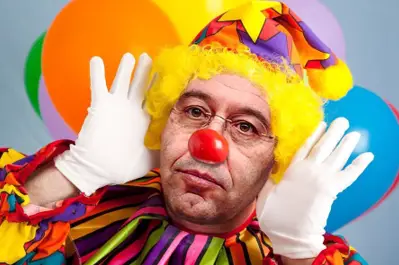 It would have been incredibly naive to expect him to bring about an immediate transformation. This is even before considering the political fiasco at boardroom level at Barcelona, the horrendous transfer activity in recent years and the decision-making in general. Following the resumption of football, Setien provided playing time to talented youngsters like Ronald Araujo and Riqui Puig. This highlighted his willingness to give youth a chance.
The 8-2 humiliating loss to Bayern Munich in the Quarter Finals of the Champion's League was the final nail in the coffin of his Barcelona career. Barca's approach in the match was completely reciprocal of what they should have done. He went in with a 4-4-2 to contain Bayern's attack. But the plan badly backfired. Bayern's pace, high press and hunger to win were just too good for Barcelona to contain. Barca required pacy wingers and creativity in midfield to break down Bayern's high line of defence.
None of them existed. 120 million summer signing Griezmann and 105 million winger Dembele started on the bench. Semedo and Roberto on Barca's right flank were mauled by 19 year old left back Alphonso Davies. But apparently 21 year old Puig, who was Barcelona's best midfielder post lockdown, could not be risked and was not ready to play in a match of such high importance. To make matters even worse, Barca's most expensive signing ever Philippe Coutinho scored 2 and assisted 1 in just 15 mins against the Blaugrana. It was the club's heaviest defeat in European football. The cycle was complete.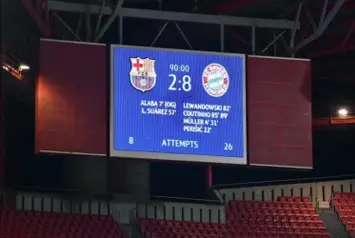 What next?
Quique Setien has already been sacked. He will most probably be replaced by club legend Ronald Koeman. It would have been a wise choice to give the manager at least one more season to sign the players that he requires to make. For once, the decision-makers at the club need to come to a decision keeping the long-term benefits in mind rather than the short-term gains, and whatever call they ultimately make will highlight where their priorities genuinely lie.
Visca el Barca!