Ronald Koeman will get the job of rebuilding the squad, and will have to do it fast. The humiliating 8-2 loss against Bayern Munich​ in the CL quarter-finals showed the world that Barcelona's cycle is truly over. Much like the defeats in Paris, Turin, Rome, and Anfield, this embarrassment highlighted the numerous issues this Barcelona squad and club have. Besides disappointing Culers, the loss sparked players like Piqué and Ter Stegen to admit the need for immediate structural changes. Even though the club's downfall should be blamed on​​theboard's mismanagement​, Bartomeu already had his ​scapegoat​ fixed. Thus, it wasn't surprising when it was announced that Setién, who was appointed in January, ​had already got the sack​. 
With Setién out of the picture, many have wondered who will take his place as the Barça manager. The names of Mauricio Pochettino, García Pimienta, and Xavi have been floating around social media and in newspapers. However, the front-runner for the position is the former Barcelona player, ​Ronald Koeman​. Despite having pledged allegiance to coach the Netherlands in the upcoming Euros, Koeman's announcement is imminent.
Who is Ronald Koeman? What's his past with Barça?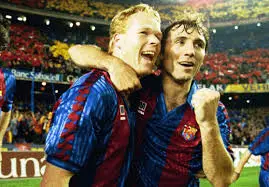 Ronald Koeman is a well-known and respected retired footballer who was born in Zaandam, Netherlands in 1963. Before becoming a part of Cruyff's 'Dream Team' in 1989,​ ​he played for FC Groningen, Ajax, and PSV​. With the Blaugrana, Koeman played in defence, as a 'Sweeper', and ultimately cemented his name in the history books. He helped the club obtain its first European Cup in 1992, scoring ​that​ ​iconic winner​ in the final.
In addition to the European Cup, the Dutchman earned​​multiple, prestigious honours​. He won the European Super Cup, Copa del Rey, 2 Copa Generalitats, 3 Spanish Super Cups, and 4 Spanish League Titles.
During his time with the Catalan giants, from 1989 to 1995, he made 350 appearances. Despite being a defensive player, Koeman always provided a goal threat – either through his penalties or incredible free-kicks. He scored 106 goals in his 6 years with the Blaugrana – the highest in the club's history for a defender.
What about Koeman's managerial career and success?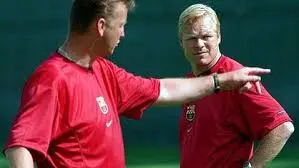 Unlike Koeman's successful playing career, his time as a manager has been relatively rough and unconvincing. He first started as a member of Guus Hiddink's coaching staff for the Netherlands during the 1998 World Cup. Shortly after, he started working as Barça's assistant manager. After playing second fiddle to Van Gaal and Hiddink, Koeman made the next step in his managerial career.
In 2000, the Dutchman accepted his first job at SBV Vitesse. Soon later, he took charge of AFC Ajax. Despite winning two league titles and a domestic cup, the team's failures during the 2004/5 season caused Koeman to resign. After leaving Ajax, he was appointed by Benfica in the summer of 2005. Then in 2006, he joined PSV and the following year, he joined Valencia.
Despite winning Valencia their first Copa del Rey trophy since 1999, Koeman was sacked in 2008 due to poor performances. The Barça legend left Los Che only 2 points above the relegation zone, in 15th place. Much like at Valencia, his time at AZ ended in disappointment too. After only being 6 months in charge, AZ announced that Koeman was no longer with the club.
Nearly 3 years later, in 2011, Feyenoord appointed Koeman as the first-team manager. After no real outstanding success, he left the club in 2014 to coach Southampton. During his first year with The Saints, his team finished in seventh place. In his second season, Koeman's men came in sixth place, the club's highest ever Premier League finish. Additionally, they also concluded the campaign with 63 points, their highest ever Premier League tally. At the end of the 15/16 season, Koeman made his move to Everton. After approximately two years with the club, Koeman left when the team fell into the relegation zone.
After short, disappointing spells as a manager at club level, Koeman decided to try something different. As the Dutch National Team suffered from a lack of success, failing to qualify for the 2016 Euros and 2018 World Cup. The KNVB appointed Koeman as the new coach, hoping to see a 'revolution' in Dutch football – at an international level. And to be fair, he did well so far. With the integration of youth and veterans, Koeman's team has a 55% win rate, scoring 43 and conceding 18 in 20 games. He also led his team to a second-place finish in the 2021 Euros Qualifiers and the UEFA Nations League. Despite all this success, Koeman seems ready to quit his job and fulfil his life-long dream of coaching Barcelona. 
What should Culers expect from Koeman? 
After dissecting through Koeman's playing and managerial career, there are many conclusions which can be made. The positives​ are that Koeman has vast experience, both as a player and​     manager. He knows the club's principles and values very well. Moreover, he's aware of what it's like to coach a squad with big egos on the big-stage under pressure. Besides that, he trusts the youth, knows how to perfectly utilize De Jong, and is willing to get rid of the ageing legends within the squad. However, on the flip side, there are negatives​ as well. As mentioned in​ a previous article​, Koeman's style of football is not aesthetic. It is pragmatic and can be quite boring, despite playing under Cruyff and his philosophy. 
Although, there's one more thing. Regardless of Koeman and how he sets up his teams, the main disadvantage ​- which can't be overlooked – ​is the board​. It is key that Culers don't set any expectations for Koeman and the 2020/21 season. Even though some of Koeman's ideas and intentions for the club are exciting, their implementation will be hard due to the board. Koeman's appointment is just a political plot to calm down and distract the enraged fans and socis from all of the dirty politics and noise coming from the Barcelona hierarchy. Don't forget who the real enemy is! #BartomeuDimision #BartomeuOut