It took a lot of time to write this article. As a fan since the 1996, I can honestly say that I never felt so ashamed about how our team looked. Although I remember bad times, and awful times as well, this club never looked like no one is running it. But didn't we finish seasons in the 4th and even 7th place in La liga? Didn't we play in UEFA cup after not advancing from the UCL group stage? Yes, but it was without the best player ever. We actually have Leo Messi spending his best years in this club, but Bartomeu and the board isn't building the proper team for him.
The fault of Quique Setien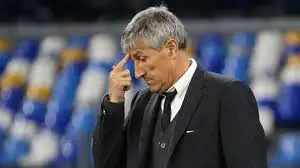 We all wanted Valverde to leave the club. It seemed like the change was something that we needed since the Rome fiasco, let alone Anfield. However, bringing the proper coach is a must, especially when you make this move in the middle of the season.
Setien was not the right man for the job, and he will pay the price. Although he sold us the dreams that he's a "Cruyffista", in the most important game of the season he did just what Valverde did. Unfortunalely, we saw it happening, but we didn't know how bad it's gonna get.
Setien never coached in these levels, and he didn't have the support of the locker room. However, even someone like me who doesn't coach football, but is a fitness trainer, know how important it is to practice new methods properly. Changing everything in the "Money Time" without a good preparation, might cause fatal results.
Barcelona is a team that can't play defensive football, and they never could. Pep and Lucho didn't have a much better defense than the team has now. Yes, they did have Abidal, Puyol and Alves, but the "defense" of Barcelona is always to dominate games.
Take a look at Lyon against Manchester City. An inferior team know their strengths and uses them in order to make life harder for the other team. Although Manchester City is a better team, they didn't know how to hurt Lyon, who did what they do best – defend and transition attacking. It worked perfectly for the French team, because they knew what they did. They did it against, Juventus and against PSG.
Barcelona, as a team that can't defend, couldn't do it all of a sudden against Bayern. Just like against Liverpool last year, and Roma two years ago.
The fault of the players
Playing for FC Barcelona is a privilege and it's not for everyone. Although the club had many many legendary players, most of them didn't arrive to their late 30's playing for the club. Although players like Puyol, Iniesta, Xavi, Pep and others were like gods to the fans, they had the honor to say "I'm not good enough" and leave.
Right now, Barcelona is having the biggest wage bill in the world, and it got to the point that the club just can't spend any more money on new players. But most of these players know that they will not earn anything close to what they earn today, won't leave easily.
According to the recent reports, all players other than Messi, De Jong and Ter Stegen are on the market. To them you can add Ansu Fati, Riqui Puig, the new signings and maybe Lenglet. ALL the other players might leave.
However, considering how bad this board is in selling players, it will be hard to get rid of players and get proper replacements. However, players like Suarez, Rakitic, Vidal has one last year in their contract, and they might leave for practically nothing. Remember that the new season starts in less than a month. So we can just mark next season as a transition phase, and don't expect anything.
But blaming the coach and the players is the easiest part, but the problem is much, much bigger than that.
Bartomeu and the board should take most of the blame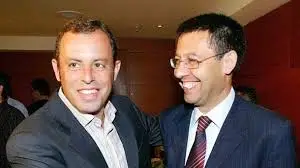 In the summer of 2010, the Rossel-Bartomeu administration took control over the best team in the world. They just needed to take the club and don't break it. However, this is exactly what they did. We published an article about the dark Bartomeu era here.
But just from the top of my head:
Making it harder for a person to become a socio. In that way they gave more power to the old local people who read their newspapers. Those oldies care only on good results and their ticket pricing. Rossel and later Bartomeu focused on that, and with prime Messi with us it's always easier.
Taking the "president of honor" title from Johan Cruyff, a disgrace that can't be forgotten.
Selling Thiago Alcantara for peanuts and tossing La Masia players down the road.
Buying useless players in weird deals. Although we all remember a player like Douglas, let's not forget 49 players the club signed for Barcelona B since 2015. Araujo MIGHT be the first one to get a proper place in the first team.
Buying players that don't fit for almost a BILLION euros. However, we're still looking for a replacement for Xavi, Iniesta, Neymar and Dani Alves.
In the match against Bayern 7 players played against the same Bayern in 2015. That means that the team didn't renew the squad.
No real proper plan to make this team great again.
Arriving to the UCL QF as the oldest squad in the history of the Champions league.
The Arthur – Pjanic deal. Even if the Bosnian will become a club legend, it will still be a stupid deal to save their asses.
Using the newspapers to throw sand in the eyes of those old Socios. For them, Arthur left because of his bad behavior, and the players are to blame for the colossal loss against Bayern.
Now what?
On Monday, Quique Setien will get the sack from Barcelona. Moreover, Eric Abidal and Ramon Planas will probably leave as well. But without a close date for elections, I see a big problem for this team to work, starting the next season. Furthermore, without a proper long term plan, I see Leo Messi leaving the club at the end of his contract – next season.
Victor Font and Joan Laporta might offer long term plans for this club, and I hope that one of them will get the mandate to lead as soon as possible. Otherwise, for the first time in his career, I can see Messi considering leaving the club.
There won't be time for a new administration to plan next season properly. But the new administration should get to the job as soon as possible, in order to start working on next summer and the rebuilding to the team.
As someone who follows the team for more than two decades, I can honestly say that Barcelona is in the darkest spot possible. But it's not only me, because almost 80 years passed since Barcelona conceded 8 goals in one match. Moreover, they never conceded more than 5 goals in Europe.
With all been said, the club need drastic changes, and they need them now.
Personally, I would keep Messi, De Jong and Ter Stegen. To them you can add youngsters from Barcelona B, the newcomers and release anyone you can. However, with the money that you save from selling the older players, we could bring youngsters like Eric Garcia, Dest and other long term players. Therefore, the new board would have a young team to start rebuilding from.
Visca Barça, always!