Valverde and the coaching staff staying is a big problem for Barca. However, he wouldn't stay if there was another president in charge. Therefore, in the next article we will talk about the bigger problem of Barca – the president. The corruption of Sandro Rossel continue under president Bartomeu. This is the biggest problem of club, and it slowly kills every aspect of our team. In the next article @elfraniky will tell us just how.
Step 1: delete what the former president did, no matter how good it was
Bartomeu came to Barça with Sandro Rosell, inherited the best Barça in history. However, from that moment, the club has become a meme. They arrived with the intention of erasing everything that smelled like Cruyff. Moreover, two years later, Pep Guardiola, the best coach that Barça has ever had in his history, left the club.
Thus they thanked the services rendered to Pep, appointing his successor in the same press conference leaving Pep with this face. The respect to a legend of the Barça, shone by his absence.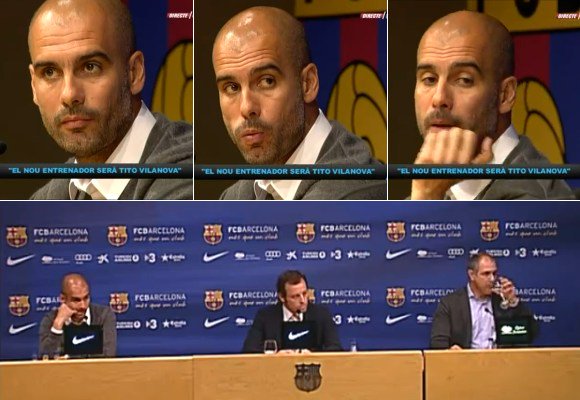 Pep was charged, and Cruyff was also charged making him return the badge of honorary president that gave him @JoanLaportaFCB.
As if that were not enough, the Abidal case arrived. Having overcome the cancer, they broke the promise they made to renew him as soon as he played 30 seconds, and ended up showing him the exit door.
Step 2: Making Barca a corrupt club, far from the Barca historical values and DNA
Years passed and the model that had been so successful for Barça was diluting like a sugar. La Masía, the hallmark of FC Barcelona, is a shadow of what it was.
They also destroyed the second most important section of the club. Like Barça football, the basketball club lived its best times until they arrived leaving it in rubble.
And the grotesque of the signing of Neymar arrived. We still do not know what really cost. They wanted to be clever and what they really got was condeming the @FCBarcelona name to save their butt.
Not content with that, they are squandering the BEST PLAYER OF THE HISTORY, signing proactive coaches, who have nothing to do with our philisophy. Therefore, leaving the games in Messi's feet, to see if he saves our ass. This every day looks more like Argentina than Barça.