Barcelona visited Celta Vigo today in a crucial match to keep pace with Real Madrid atop the league table. Setien sent out the following starting XI: Ter Stegen, Alba, Umtiti, Pique, Semedo, Rakitic, Vidal, Puig, Fati, Suarez and Messi. Fati and Puig look to cement themselves in the starting lineup as Messi continues to search for his 700th goal.
The first half was full of intensity from both sides as Barcelona dominated possession but Celta looked to threaten on the counter attack. Barcelona first warning shots early as Pique's header hit off of the crossbar. Minutes later, Messi found himself in prime position to score his 700th goal, with a free kick just outside the area.
But instead he decided to chip it to Suarez who's header was too strong to keep out. Barcelona led 1-0 in the 20th minute. Celta was dangerous after Barcelona's first goal, they hit the post and made Ter Stegen work to keep them off the scoresheet. Barcelona kept up the pressure and was unlucky to not add another goal. The first half ended 1-0 in favor of Barcelona.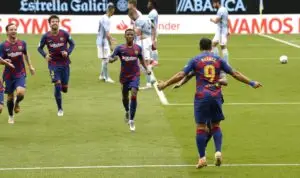 Second half
The start of the second half was nothing like the first half. Sloppy play from both team caused a boring opening 10 minutes. Shortly after, Celta broke the Barcelona back line and they were able to equalize.
The equalizer only lasted a few minutes as Suarez once again found the back of the net to restore Barcelona's lead. Unfortunately with only 5 minutes to play. Aspas scored from a set piece and the teams had to settle for 1 point a piece. Barcelona are atop the table by only 1 point as Madrid must drop points now in order for Barcelona to have a chance to reclaim their title.