Four days after the 1-0 home win against Bilbao, FC Barcelona are set to face Celta Vigo away from home, after troubling reports of Arthur's possible departure, according to the majority. Nonetheless, this match is no joke and Sétien's men have to get the three points, and this is without Sergio Busquets, suspended after his fifth yellow card. Sétien has also hinted at Puig possibly starting: "Now could be a good time for Riqui Puig to start". This match could also be key to rest Leo Messi, who has played all games since the restart. 
Celta Vigo's last 5 matches: DLDWW
Getafe-Celta Vigo: 0-0
Celta Vigo-Villarreal: 0-1
Real Valladolid-Celta Vigo: 0-0
Celta Vigo-Deportivo Alavés: 6-0
Real Sociedad-Celta Vigo: 0-1
Position in the league:16th
GD: -6
Pts: 33
This season has been a tough ride for Celta. Fighting against relegation has been a tough fight, but it seems as they are back on track now, in the most crucial moments. In fact, when looking at the personnel, one might wonder how a team consisting of Rafinha, Iago Aspas & Denis Suarez can struggle to score goals. However, a 6-0 win against Alavés with a brace of La Masia raised Rafinha has warned Barcelona: They are there to fight and ready to give us a tough time. 
Current form
Barcelona's last 5 matches: WWWDW
Barcelona-Real Sociedad: 1-0
Mallorca-Barcelona: 0-4
Barcelona-Léganes: 2-0
Sevilla-Barcelona: 0-0
Barcelona-Athletic Club: 1-0
Position in the League:2nd
GD: +39
Pts: 68
Tough ride for Barcelona. Following the goalless draw against Sevilla, the Blaugranas have lost the first place to the worst rival possible: Real Madrid. With only 8 games left, Sétien's troops are forced to win every single match, and this every third day. It's fair to say the pressure is higher than ever, and Arthur's possible transfer along Frenkie's injury haven't helped. For Barcelona just like for Real Madrid, every game is a final, a step closer to the trophy or a possible trophyless season.
However, this will have to be done with possible rotations. Vidal has failed to impress in the last games and it's clear the Chilean midfielder needs rest, having featured in each game since the restart. Besides him, it may be time to give rest to Luis Suarez, who has played the last two full matches but failing to impress as well, seemingly still unfit. This could mean chances for Fati or even Alex Collado, perhaps in the backline as well, with Firpo or Araujo rotating with the usual starters in respectively Alba & Piqué.
The last 5 matches saw the Blaugranas win thrice, however, it also saw Vigo winning 2-0 in May 2019 and a 2.2 draw in April 2018. We have to go back to 2017 to see the Blaugranas win against Celta away from home. In other words, it is no easy task.
Squad list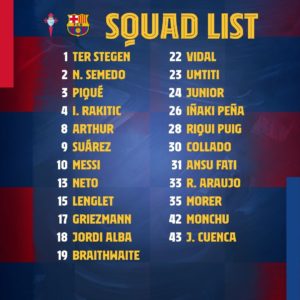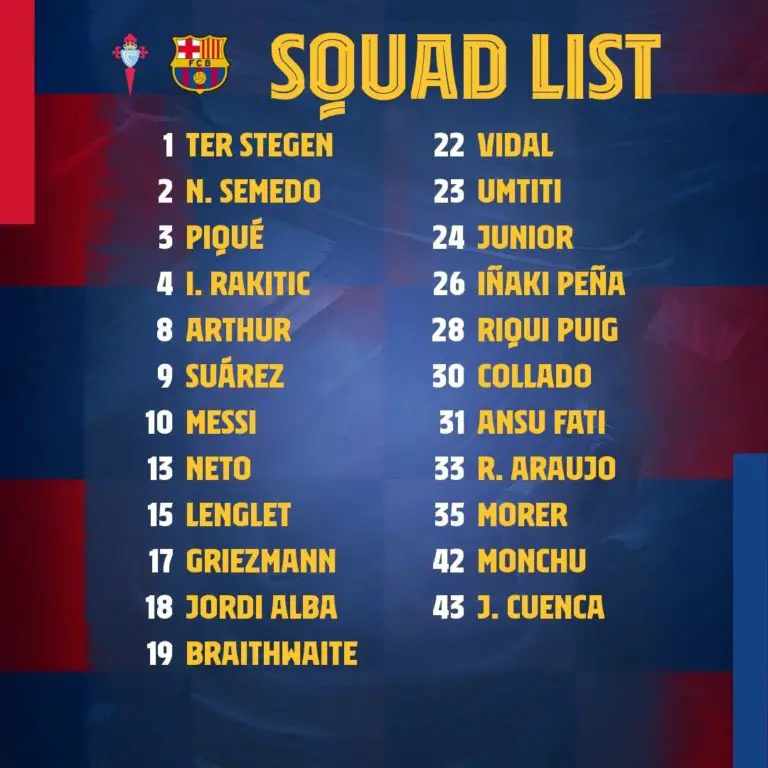 Nothing to comment. It's the exact same squad list minus Sergio, suspended-Which I view positively. Probably means Puig will get to play. Maybe even start.