Tonight is a huge night. A vital evening for our Europa league future. After struggling to score at home vs Galatasaray, Barça now travel away to the NEF Stadyumu in Istanbul. Where one of the most intimidating atmospheres in world football awaits us. Additionally, the home of Galatasaray holds the world record for the loudest atmosphere ever recorded.
It's going to be a huge test for our young stars. And an even bigger test for the mental strength of our veterans. We'll be expecting our experienced players to pull the younger ones through. Regardless of the fact that we are in the Europa League,this game feels huge. After finishing 0-0 in the first half, and with no advantage on away goals. It's all to play for in the second leg. And we're hoping to see a performance like how we played away in Naples.  Both teams are coming into the game fresh off of winning on the weekend.
Confidence is high on both sides. And considering the impact of Gala's home support, this makes for a very intriguing game. Starting off on the front foot is vital. We can't afford to be behind in the game. So we need to ensure that we are the ones who score first, just like in Naples.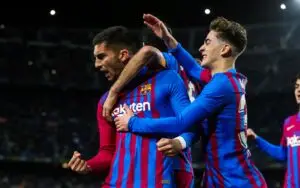 Lessons from the last game:
After the first leg, we come into the second leg with more knowledge on how they will set up. And most importantly how they will play. At the Camp Nou, they had no will to come out and get a goal. All they wanted to do was keep the score levelled. Which is exactly what they ended up doing. They sat back in a very low block and came out on the counter attack.
However, for the majority of the game, they were happy for us to have the ball. In front of their defence. We always struggle to break down teams who sit back in a low block. It's something that we have always had difficulty with. Due to this, we resulted to just crossing the ball in to the box. Hoping for someone to get on the end of it.
Unfortunately for us, nothing went right for us in the first game. We were a little more sloppy on the ball. When we were crossing the ball in, it was either too high or behind everyone. Meaning that no one could get on the end of it. The most frustrating thing was the lack of intensity. Xavi was quick to point that out at half time and after the game.
Lacking the intensity
The pressing wasn't as effective as usual. Which all adds to why we really struggled to break Galatasaray down. One thing to keep in mind is momentum. After an incredible  month of football in February, an off game was always going to happen. The positive thing about it is that we reacted really well on Sunday. Playing some wonderful football. Xavi even claimed that it was the best game we'd played since he took over. So we're going to hope to keep that momentum going into El Clasico.
In contrast with the first leg, Galatasaray will have to come out a lot more than they did at the Camp Nou. Seeing as the result is 0-0, they can't sit back as deep as they did previously. Meaning that they will have to attack more. This could play well into our hands. As we should be able to exploit the spaces that they'll leave in behind. Which is totally the opposite of how it was in the first leg. When there was no space at all to take advantage of. At the Camp Nou, Ter Stegen didn't really have much to do.
All the action was happening in-front Barça Loanee, Inaki Peña's goal. Whereas tonight, they're expected to attack more. So we need to ensure the concentration of everyone is at the max. Like mentioned previously, the mental strength of the veteran players will be hugely important in how we perform. 
Predicted Lineup: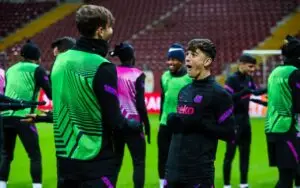 Defence:
With one eye on the second leg tonight, and the other on El Clasico on Sunday. The lineup for this evening is key. Xavi is expected to choose his best available eleven. So we need to hope that we get the job done in the 90 minutes. There may be one or two changes from the team that beat Osasuna. However, ideally I don't think we should change much. Ronald Araujo is expected to come back in, after he was rested on the weekend. The question is, will Xavi elect to start him or keep him completely fresh for Real Madrid. Personally, I think he will come back in to the lineup. Dest will replace the unregistered Dani Alves. But apart from that, I really wouldn't change anything.
Midfield and attack:
Furthermore, Gavi might be rested for the game on Sunday. But after such an incredible performance against Osasuna, it's hard to not play him again. Also, his intensity and relentlessness  is something we missed in the first leg. And in a stadium like this, those aspects will be crucial. Does Xavi want to save him for El Clasico? If that's the case, he will probably be rested. And Frenkie will come into replace him. Finally, In terms of the front three, I wouldn't change anything at all. Ferran, Aubameyang and Dembele were excellent on Sunday. Additionally, the characteristics they all have individually is a perfect blend. And if it isn't broke, don't fix it.
Visca BARÇA! 
My prediction
Ter Stegen 
Dest- Araujo- Pique- Alba 
Pedri- Busi- Gavi 
Dembele- Aubameyang- Ferran