After over 50 days, we finally return to the Camp Nou in a competitive game.  Kicking off what is going to be a very tough and intense month for Barça, we  face Atletico Madrid this afternoon at home. Close to full capacity is  expected for the game today, and we're going to need every single bit of the  fan's support to pull us over the line. Not only is this a tricky game on paper  already, but it an absolutely crucial fixture in our battle for the top 4  positions. We currently find ourselves in 5th place, just one point behind the  team in 4th place. Which just happens to be the opponent of Barça today, Atletico  Madrid. We are also going through our best spell of the season so far,  remaining unbeaten in our last 5 league games. In contrast to Atleti, who  have lost 2 of their last 5 games.
Despite all the difficulties there are, there are still a lot of things to be excited  about in the game. Most specifically, watching our new signings in action! A  positive result today is vital for our top 4 aspirations. And with our  abundance of new options in attack as well as the fact that the majority of  the squad have had 2 weeks off. There is no excuse why we shouldn't be  competing well today, against an Atleti side that have been very inconsistent  this season. Nothing less than a win is acceptable, so let's go and get it!  
New faces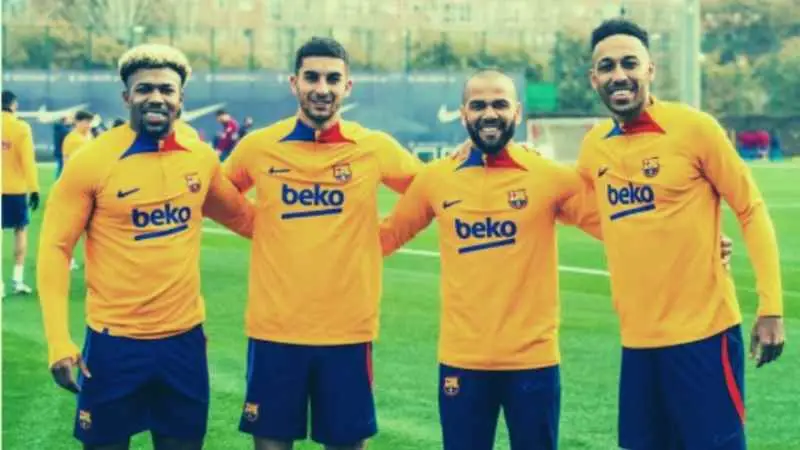 One of the most intriguing and exciting parts of today's game is to see our new signings in action. With the  injuries to Ansu and the uncertainties behind Ousmanne Dembele, it was  important that we reinforced that position in the January transfer window. Of  course, our defence is still the area which needs drastic improvements, but  having a lot of quality and depth upfront is massive for us right now too.  When you consider the amount of chances we create per game, we needed  to get players in who could help us put them away. And thats when we move  on to the new arrivals.
First came Ferran Torres, who of course came early on in January so we already saw him in action. First signs  have been very exciting from him, so he's gonna be hoping to keep building  on that today. He was then followed in fairly quick succession by La Masia  graduate Adama Traore, who returns to the club he grew up in.
And lastly, Pierre Emerick Aubameyang who arrived on a free transfer from  Arsenal on deadline day. Not only have these players come in on very  reasonable deals, with low wages too, but they all give us something  different in attack. Things that we haven't seen at Barça for a very long time.  Adama is an absolute speed machine on the wing. Strong, fast and creative.  Someone who is an out and out winger and can give us some much needed  width on either wing.
And then you've got Aubameyang who is able to make  lighting quick runs in behind. And also finish off chances clinically, which we  are not used to and is something we've been lacking this season. All 3 of our  new forwards, combined with the players we already have, gives us so many  different and exciting options in our attack. I genuinely can't wait to see how  we lineup! 
The return of a Legend:  
Not only does this afternoon mark a crucial game in our battle for the top 4.  But it also the day when the greatest number 9 in our club's history returns  to the Camp Nou. For the first time infront of the fans. Luis " El Pistolero"  Suarez is coming back home! Of course he has played against us a couple  times since leaving Barça for Atletico Madrid, but they all haven't been infront of  the Barca fans. The last time we faced Atleti was at the Wanda  Metropolitano, where in fact Suarez scored against us as we fell to a measly  defeat to them away from home. And obviously the time before that was at  the Camp Nou, unfortunately though it was behind closed doors.
It's always great to see such a huge Barça legend like Suarez return home. I hope the Camp Nou gives him an incredible reception. For what he did for Barça and the fact that we couldn't give him a proper farewell 2 years  ago, he deserves to be applauded today.
What's at stake?  
Like mentioned previously, today's game is absolutely vital in our battle for  the top 4 positions. Nothing less than a victory would be acceptable at this  point in the season. Especially when you consider that our opponents have  
been as inconsistent as we have this season, despite having by far and away  a much stronger squad. We find ourselves behind Atleti by only 1 point. So a  positive result today would mean that we'd leapfrog them into 4th place.  However, when it comes to Atletico Madrid, no game against them is easy for Barça.  And despite all the problems they've been having, they always turn up against us on the day. It's a huge test for Xavi's  developing Barca, and it's a test we have to pass. At home infront of our fans  for the first time in almost 2 months. A win is vital. All we can hope for is that our players turn up for the big occasion and give it everything they've got!  
My prediction for the lineup: 
Formation – 4-3-3 
 Ter stegen 
 Alves- Araujo-Pique- Alba 
 Gavi- Busquets- Pedri 
 Adama- Ferran- Dembele 
---
Make sure to download "Sportening" and join us for the live chat room of todays match. To download the app click HERE