This coming Sunday. At 4:15 (CET), live from the Camp Nou. It's the big one. It's El Clasico. The first one of the season. And you could  possibly say this comes at a point where both Barcelona and Madrid are struggling for consistency. Madrid have been up and down since the  appointment of Carlo Ancelotti. Winning big in some games and disappointing in others. And as we all know, for Barça, things haven't  been so rosy either. Only recently winning back to back games for the first time this season. Koeman's future at the club is still under a  lot of scrutiny.
Performances haven't really improved either. And as fans, we really can't predict what type of Barça we're going to see from each game to the next. One thing that looks like a guarantee however is the attendance. A turn up of around 80-85,000 spectators  are expected for the game on Sunday. Which is a massive increase from what it was like in midweek. This team desperately needs the  fan's support. The atmosphere in the stadium should be buzzing. As regardless of recent form or results, El Clasico always brings that  unique sense of excitement.
Many Questions Before The Match
Will this finally be the game where Koeman's Barça win a "Big Game". So far under the Dutchman's reign, we haven't turned up in any  significant game. Be that against one of Europe's Elite, or an important game in the league. We just haven't performed well enough. But  will this be the game where we finally turn things around? We're just going to have to wait and see. One things for sure though, for Koeman's sake, he can't afford any slip ups. A big or humiliating defeat could spell the end of his time at the club.
So he needs to get the team setup perfectly, in order to prolong his time here. Our opponents haven't been invincible either. They've suffered embarrassing  defeats so far this season under their new coach. And Carlo Ancelotti is under a lot of pressure too. This is definitely a team that we can  beat, but we have to show up for it. It's imperative that we start the game on the right foot, and continue like that for the 90 minutes. We  witnessed in midweek how we easily let opponents grow into the game. And if we do that to Real on Sunday, then they've got players  to punish us. 
Recent results in Clasicos: 
When you look at Barcelona last 5 meetings against Real Madrid, it shows for grim reading. We haven't beaten Real Madrid In La Loga since the 2nd March 2019. When at the Santiago Bernabeu, a lone goal from Ivan Rakitic was enough to seal the win for Barça. Since then,  we've lost 3 times and drew once against them. Having failed to beat Real Madrid at the Camp Nou since match day 10 in the 2018/19  season.
Where a stunning hat trick from Barça legend Luis Suarez helped Barcelona beat Madrid by 5 goals on the day. We were also without  Messi on that day due to an injury. However this time, we are going to be without Leo, full stop. Following his heartbreaking departure  from the club during the summer. Which of course, makes this game even more difficult for us. The current tally between the two clubs  sees Real Madrid edge infront with a total of 75 Clasico wins. Barça on the other hand, are on 72 .. We really need to start establishing  some dominance in this fixture, as clearly over the years, Barcelona have simply been inferior to Madrid. And as a Barça fan, that is just  unacceptable.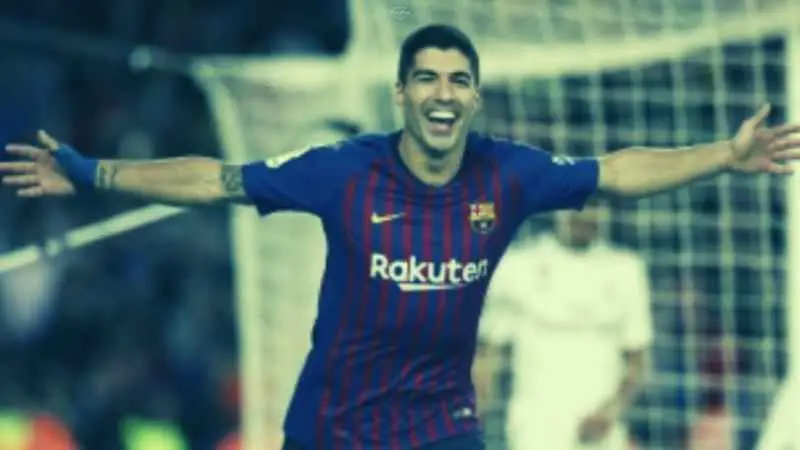 Lineup Prediction
Much like in midweek from our game against Dynamo Kiev, we still have a few important players out injured. Most specifically, Pedri and  Ronald Araujo. Both are recovering from their respective injuries, so we will be without them tomorrow. Which of course is a massive  blow in such a crucial game. One other doubt for the game is Jordi Alba. Since coming back from a relapse ,he has performed  extremely well. And has proven how much we still need him as LB. However in midweek, he picked up a sprained ankle injury. Which isn't a serious one, but the only way he would be able to play tomorrow is by using infiltrations.
Aguero is slowly racking up the minutes  in the team. Same goes for Ansu Fati, who started against Valencia last week. Aswell as coming on at half time the other day against  Kiev. Personally, I feel the team will remain quite similar to what we started with against Dynamo. One player though who has to be  dropped, is Luuk De Jong. He played 45 minutes in midweek and gave us absolutely nothing in attack. He missed several clear cut  chances and headers to put us in the lead. And to me, our attacks always break down when he gets the ball upfront.
He didn't do  anything in the game to deserve starting in El Clasico. And considering we have both Ansu and Aguero back in the team now. There  shouldn't be a reason why Luuk starts infront of them.
Dest as Right Winger again?
The other question would be, is Dest going to play at RW again. Or is he going to  go back to his natural position at RB. In the last few games, Koeman has used him as a RW and he hasn't disappointed. Defensively  too, he has seemed to improve. Ranking 4th overall in La Liga, with a 93.8% tackle success rate.
The midfield kind of picks itself. Riqui Puig of course, is an option. But we all know that it very unlikely. And considering we are going to be without Pedri, we don't have many  other options. Gavi has to remain in the team. No question about it. He has constantly proven that he is ready to play in big games.  And it would be an incredible moment for him if he was to start his very first Clasico.
One player who I don't want to see is Sergi Roberto. For some reason, it seems that in every single game he has to feature. Be that as a substitute or as a starter. Regardless of  how poor he continues to perform. Koeman has to get the team perfectly right. With the players we have, FC Barcelona can 100% beat Real  Madrid. Add the home support on top, and we can beat them well. But like I said, Koeman has to get it right. It's going to be a tough  game, like always. But let's hope we can finally perform in a big game. Something we haven't yet seen from Koeman's Barça. 
Predicted Lineup:
Ter Stegen- Mingueza- Pique- Garcia- Alba 
Gavi- Busquets- Frenkie 
Dest- Ansu- Memphis