After another away league game, Barça couldn't rest because the Spanish Super Cup semifinal was very close. Ronald Koeman's team had to play against the strong and young Sociedad side. Lionel Messi couldn't participate because of some discomfort, so Griezmann, Braithwaite, and Dembele were the ones who started from the beginning. The defense was a different lineup as well compared to the Granada match. Dest was on the bench this time. Therefore, Mingueza took his place vs Real Sociedad alongside Araujo, Lenglet, and Jordi Alba. One of the most outstanding performance vs Real Sociedad was undoubtedly from Ronald Araujo. Let's see why he was one of the best in the match!
Since Gerard Pique's injury, he is the best center back on the team, and he showed that against Sociedad as well. It's safe to say he controlled the defense and acted as a leader.
The match started very intensively, so the defenders had to concentrate from the very beginning of the game. The opponent was dangerous and a big threat to Ter Stegen's net in the whole game. However, thanks to mostly Araujo and Ter Stegen, Barcelona didn't get an action goal.
The Uruguayan once again showed how fast he can be. There were many times where his interceptions and tackles from behind saved the team from a potential goal. He helped Mingueza a lot in defending, and he corrected Lenglet's few mistakes as well. Araujo had lots of clearances too, and of course, his head game was crucial.
He also improved in his forward play. He seems much more confident and ready to make great long passes to the midfielders or the attackers.
In the past few months, he improved amazingly, thanks to Pimienta (Barcelona B coach). If I'm being honest, I had doubts about him and Koeman's decision of sending away Todibo in the summer and keeping Araujo instead. He probably proved every doubter wrong, and I'm hoping to see more of him.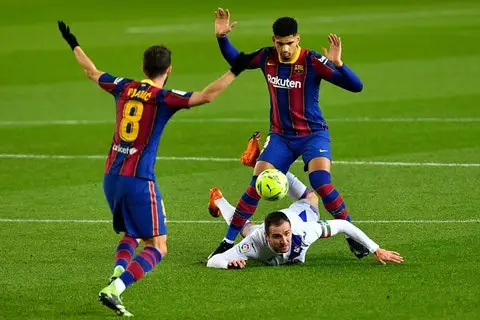 • accurate passes – 92%
• 6 clearances
•2 interceptions
• 1 tackle
• 2 ground duels won
•1 key pass
• 4 long balls
My rating: 10/10