Ter Stegen is out of this world. Normally, he is incredible. When on form, he's magnificent. On his day, however, he's simply unbeatable. After a bit of an unconvincing first few weeks following his return, Marc-André Ter Stegen is now well and truly back. 
During his absence, we struggled all over the pitch. Not only did neither of our attack or midfield perform, we were extremely leaky defensively too. Maybe the selection of the back four was quite questionable, yet it was the lack of faith in the goalkeeper that truly caused us issues. Neto did a great job, but with all due respect to him, he's just not that trustworthy. We needed that presence that would fill the defence with confidence.
Ter Stegen finally came back, and he's never been replaced ever since. At the start, however, he was quite prone to mistakes. It was understandable, to be honest. He often misjudged his capabilities, being unable to get out to the rescue as quickly as he used to. It's a knee surgery that he underwent, let's not forget that. Maybe he didn't have much confidence either, internal confidence, to be precise. In any case, that's left in the past. For the past 5-8 games, Marc-André has been unplayable. He's once again leading the backline, whilst also saving us all the time.
On Wednesday he was stupendous, absolutely outstanding. There wasn't a thing he did wrong. He kept his composure throughout the 120 minutes and helped us limp around till the penalty shootout. And that's where Ter Stegen flourished. He saved two penalties, one from Mikel Oyarzabal, who'd never missed a penalty before.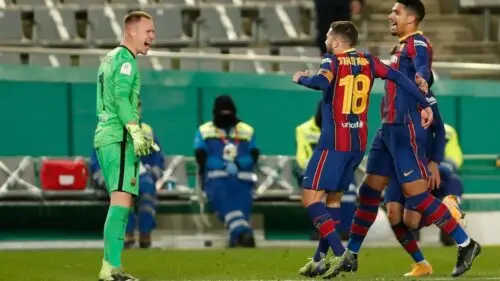 A wonderful trait of Marc's is his arrogance. Off the pitch, he's a humble lad, but he's a different man between the sticks. He just has that feeling of superiority, and those dances before the penalties indicate that. It's not the saves that make a keeper special. Everyone can make those. It's the consistency that truly matters, and Ter Stegen has been literally flawless for the past few months.