Today FC Barcelona received the bad news that we expected since the loss last night: The injury list took two more victims, with Pique and Sergi out for a long time. Meanwhile, Sergio Busquets has NOT yet recovered from his injury and will miss Barça's Champions League match against Dynamo Kiev on Tuesday. Moreover, Ronald Araujo has almost recovered from his injury. But he will still miss the match against Dynamo Kiev. Perhaps he could be fit to face Osasuna in La Liga next weekend.
Gerard Pique has a knee sprain of grade 3 along with partial damage to the cruciate ligament of his right knee. Sergi Roberto has a tear in the femoral rectus of his right thigh. He will be out for approximately 2 months.
Assumptions on the time Pique will miss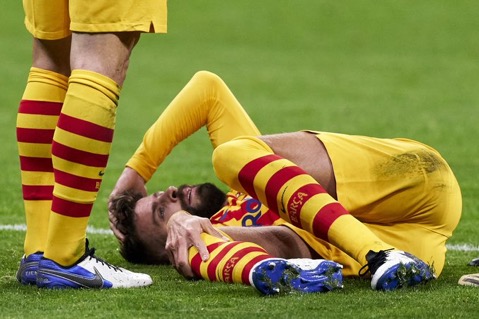 Today, @SiqueRodriguez reported that Barça is considering on consulting the opinion of a doctor outside the club like Ramon Cugat, on how to treat the injury of Pique. Cugat is the one who operated Ansu Fati just two weeks ago.
According to @fansjavimiguel, if there is no operation, then Pique might 3 months out with his injuty. Otherwise, it can take 4 months or even more to heal.
Later on @SiqueRodriguez said that Dr. Ramon Cugat will decide the treatment that would follow for Gerard Pique. The normal thing would be to operate upon and it'll rule him out for 6 months. However, at his age it might take longer for Pique to heal from such operation. Furthermore, a bad recovery might mean the end of his career. So it's risky.
Who can replace them?
Well, it doesn't look good. For the match vs Dinamo Kyiv we will only have Lenglet as a natural Center Back. Therefore, we might see De Jong starts as the second center back on that match. But next weekend we hope to see Araujo coming back to the starting lineup. Him returning should be good news for Koeman and his players.
In Barcelona B we can see three main options: Mingueza, Comas and Mingo. Mingo is a left footed center back, so he's the less probable option. So I guess Koeman will choose between them. Oriol Busquets? He just left the field injured so I guess that he's not an option for the Dutch coach, at least for now.
The right back position is even worse. It seems like the only option that the team has right now is Sergino Dest, as both Barcelona B right backs are currently out with an injury. The team of Garcia Pimienta play with Alvaro Sanz, who isn't a natural Right Back as well. That means Sergino Dest playing on every game in the next 2 months. Hopefully he'll stay fit during that period.