After nearly a month, Barça played their first pre-season friendly of the season against Nástic de Tarragona. As expected, the Blaugrana came out on top – scoring three and conceding one. It was the €400 million trio who got on the score sheet, but surprisingly, they weren't the ones who impressed the most.
First-Half XI: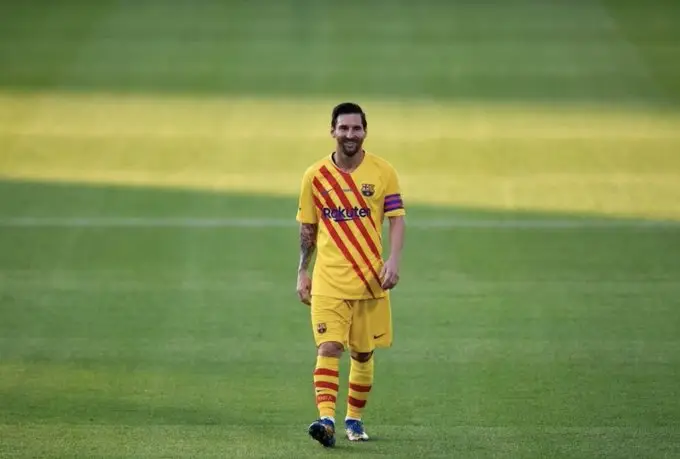 Neto;
Sergi Roberto, Piqué, Lenglet, and Alba;
Busquets and Aleña;
Messi;
Pedri, Griezmann, and Dembélé
The defense
Neto: Didn't have much to do, but he still managed to show how poor he is. His lack of leadership, ball-playing abilities and overall quality just shouts mediocrity and uncertainty.
Alba & Roberto: They yet again displayed that they're levels below the likes of Alphonso Davies, Kimmich, TAA, Robertson, etc. The two were culpable for leaving spaces for the attackers to take advantage of, which shouldn't be the case when playing a Segunda B team.
Piqué & Lenglet: It's becoming more and more evident that Piqué is ageing and Lenglet just does the job. Even though they didn't have to deal with any major attacking threat, things looked shaky. If Barcelona really want to compete for major European titles, a defensive overhaul is a must
The midfield
Busquets: Struggled in this new system. Didn't play well and was quite slow to react. He could've done more to close down the opponent to prevent the first goal from going in.
Aleña: It was exciting to see him start, especially after his return from Betis. He looked energetic and solid in the pivot position, even though it doesn't really compliment him. His overall performance was somewhat encouraging but nothing otherworldly.
Messi: Looked relatively rusty, which is not bad when compared to other players. He played more centrally this game and as expected, he had the majority of the ball at his feet – trying to unlock the defence. More game time and training under Koeman is needed.
Attack
Griezmann: Besides scoring the goal from the penalty spot, he didn't contribute much to the game. He played as the main striker, which limited his ability to drop back and get involved. And ultimately, that hindered his game. We'll have to see how and if he adapts to this role.
Dembélé: Against Nástic, Dembele played his first game for Barça after 290 days and opened the scoring as well. He offered the much-desired width, which was lacking throughout last year, and showed how he can be key to Barcelona's success. However, he still needs to provide more threat. His constant desire to tuck in was a huge problem and will continue to be if he doesn't stop doing it.
Pedri: He was the best player of the half. He shined brighter than players like Messi, Griezmann, and Dembélé, which tells a lot about him. The 17-year-old showcased his talent and made an impact on the game, influencing the first goal. Besides that, his positional awareness is incredible. He was interchanging positions with Messi, making runs in behind the defence,
taking on players one-on-one, and making those defence opening passes as well.
Second-Half XI: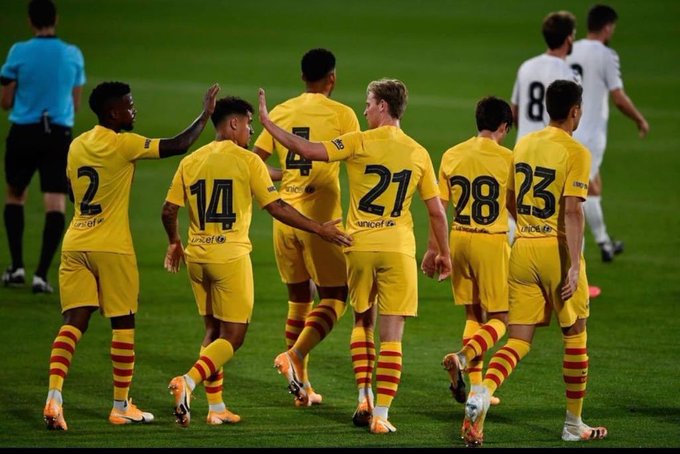 Iñaki Peña;
Semedo, Araújo, Cuenca, and Firpo;
De Jong and Riqui Puig;
Coutinho;
Trincão, Braithwaite, and Konrad.
The Defence: Pleasing to see Iñaki, Araújo, and Cuenca getting minutes. They didn't have much to deal with and when they did, they did it decently. Firpo and Semedo didn't have to deal with anything serious either. But they didn't offer anything going the other way as well. That pretty much sums up Barça's full-back situation.
The midfield
De Jong: He was great. This system perfectly suits him and today it definitely allowed him to control the tempo and pace of the game. With more match fitness, training, and a fixed team set-up, he'll definitely thrive under Koeman's management.
Riqui Puig: Brilliant. Even though playing in a pivot role alongside De Jong is not where he belongs, he still managed to own that position. He was bursting with energy and made key passes to unlock the defence on the counter. One of the best players of the half.
Coutinho: He scored the third goal of the game from the penalty spot. The position in which played allowed him to freely move across the pitch and do what he wanted to. However, he still needs to be more adventurous and that'll be rightly judged when he plays in a more fixed set-up.
The attack
Braithwaite: Had multiple chances to score and was a more significant attacking threat than Griezmann today. But we'll see how this situation develops.
Konrad: We witnessed his talent with Barça B at the end of last season and today vs Nástic he showcased it again. He was a menace to the opposition. He constantly made darting runs in behind the defence and had a couple of shots on goal too.
Trincão: He was incredible and definitely the best player of the half. He constantly challenged the opposition and made it hell for them. Always looked to thread passes to others and run at the defenders with bolstering pace and energy.