After the disastrous match against Bayern, We had some time to think about the future, especially the next season. I won't comment on what happened the past week so I'm trying to think about what the transfer window holds for us this summer. Considering that the Barcelona squad will probably face many of departures, believe or not, I am positive in some ways. I hope the new coach, Ronald Koeman, will be good for our youngsters and can control the dressing room. That's the two most important things for the team right now.
Firstly, I'm going to tell you about the departures and arrivals that I would like to happen this summer.
Departures
Like many of us, I would like most of the heavyweights out of the club. That means, Suarez, Rakitic, Vidal, Jordi Alba for me. Busquets and Piqué still have a place in the club, but they shouldn't be irreplaceable starters anymore. Furthermore, I don't want to see Semedo, Umtiti, and Braithwaite in Blaugrana colors. Ousmane Dembelé's situation is a bit complicated because I like the guy but if a very good offer arrives I would consider selling him, however, only if we sign a world-class winger.
Furthermore, there are players like Rafinha, the new Brazilian signing Matheus Fernandes, or Alena whom I don't know what will happen. I really like Rafinha, but he surely won't stay so from the three of them, I consider him a departure. As much as I would have loved to see Coutinho succeed at Barca. He can't do it as long as Messi plays in his position so he should leave too. I would love to give Firpo another chance, but with Miranda being back on the team, I prefer the La Masia talent.
Departures: Vidal, Jordi Alba, Rakitic, Suarez, Braithwaite, Semedo, Rafinha, Coutinho, Firpo, (Dembelé), Oriol Busquets on loan.
Arrivals
There will be a lot of new players in Barcelona, that's for sure. We need a new striker, potentially a new winger, fullbacks, and a center-back. For the new striker position, Lautaro is the chosen one. I have few doubts but I also think he's a deadly striker who's similar to prime Suarez. The next position is the fullbacks. We need to get rid of Semedo and Jordi Alba as soon as possible and I have few players in my mind who would do a much better job than them. Álex Grimaldo from Benfica who's a former Barcelona B player and doing very well at his club. The other one is David Alaba whom I don't have to introduce. Both of their pace and attacking abilities are very needed at the team. Sergino Dest and Emerson would easily do a much better job than Semedo and they don't cost much money for the club.  For the center-back position, I would like to see Eric Garcia or if we don't sign him this summer, definitely keep Todibo.
The winger position is a bit complicated because there is Dembelé who can be world-class when he's fit but we didn't see this most of the time. However, this team desperately needs a reliable winger who can make the difference match by match. For me, it has always been Neymar. I'm aware that PSG wouldn't sell him but since Barcelona put the half squad on the market, I think a player exchange plus money would be good for both parties.
There's a reason I didn't write any midfielders. Barca already signed Pjanic and Pedri so signing another one wouldn't be too vise because it would take away playing minutes from players like Riqui Puig. Although, I know about the Donny Van De Beek rumors.
Arrivals: Lautaro, Grimaldo/Alaba, Dest, Emerson, Eric Garcia, Neymar.
For the next step, I'm going to show my versions of the attacking section, midfield, and defense. I'm going to use the 4-3-3 formation in every case.
Attacking
My attackers: Messi, Ansu Fati, Dembelé/Neymar, Griezmann, Lautaro, Trincao, Collado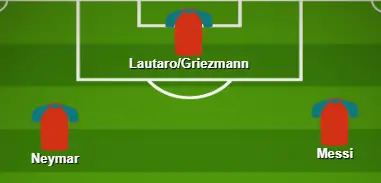 This front three would be probably the deadliest one, especially with Lautaro on the striker position. It reminds me of MSN. Neymar would be a winger again and when needed he would occupy Messi's position. However, this is the most unrealistic scenario, no doubt.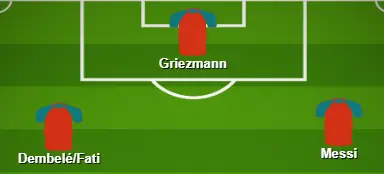 This one is a very realistic trio, with the Dembelé-Griezmann connection, it can be exciting because they played together in the national team and it was a joy to watch them.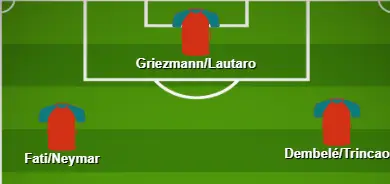 If Messi is resting, I would love to see Ansu with Dembelé or Neymar on the two wings. It's a pacey, fresh trio that looks very exciting for me. Trincao is also an option, though.
Midfield
My midfielders: Riqui Puig, Busquets, De Jong, Pjanic, Pedri, Alena, Roberto, and Matheus Fernandes, Monchu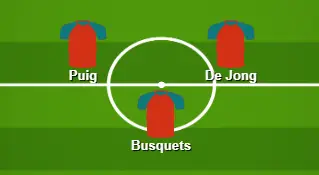 This midfield should have been regular last season. Riqui and De Jong's connection is what we need. Both of them are very creative, world-class playmakers. It's a shame that the world doesn't know Puig's name as much as they should.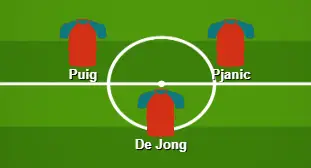 With Pjanic's arrival, there will be a lot of competition on the midfield but if he can show his best form, I would love to see him as a starter few times. Koeman being the coach, we will probably see a different De Jong, hopefully, the one we need the most.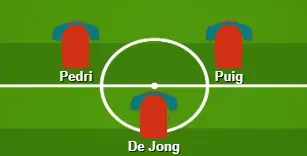 This midfield is very young but also filled with very talented players. Pedri and Riqui Puig could be an interesting duo, considering both of them are playmakers and can make the difference. With De Jong, I think this trio is very promising, however, first, we need to see how they play together in the pre-season.
Defense
My defenders: Piqué, Lenglet, Grimaldo/Alaba, Miranda, Dest, Emerson, Araujo, Garcia/Todibo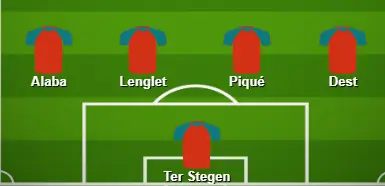 The fullback position is very important for Barcelona and they should have solved this problem a long time ago. Alaba and Dest are two very creative, fast, and reliable fullbacks, we need those desperately, no doubt.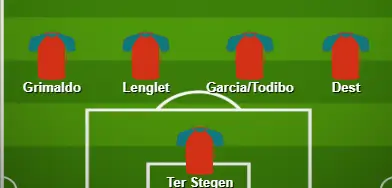 The other version of my defense is without Pique. I'm not sure what will happen in the summer, but we need to look at that scenario too. The other Jordi Alba replacement I would choose is Grimaldo. He has the Barca DNA and he would fit in perfectly. His attacking abilities are very needed for us.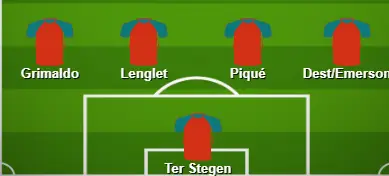 This version is with Emerson who would be also a very good replacement of Semedo. If it's up to me I would sign him and Dest too.  It would be interesting to watch two very talented left-back competing for the starting spot.
Summary:
– 24 first team player
7 attackers
9 midfielders
8 defenders
– 11 La Masia players
The transfer window is very long, but I hope there will be changes and We will have a younger squad filled with talents and potential.

Thank you for reading my article!