Following a small break, Barcelona are back, this time for the second leg against Napoli. Without a doubt, this will be one of the most important matches of the season. Having lost the league to archrivals Madrid, only a UCL win can prevent a trophyless season. However, the Holy Graal isn't given: Should Barcelona go through tonight, they will probably meet Bayern, who are amongst the favourites of the tournament. For Sétien, a loss tonight might translate into a sack. For the players, it would be the third failure after , Roma (2018), Anfield (2019) and 2020. All will be motivated in order to avoid further humiliation. 
Unfortunately for Sétien, he will not be able to count on Vidal & Busquets, both out with suspension. Dembele, on his side, has been judged too risky by Sétien to be included in the squad list. In total, 9 players from the subsidiary are part of the squad list, including those that have never appeared on the pitch with the first team: Mingueza, Konrad, Jandro: The list is long.
Current form
Last 5 Napoli matches: WLWLW
Napoli-Udinese: 2-1
Parma-Napoli: 2-1
Napoli-Sassuolo: 2-0
Inter-Napoli: 2-0
Napoli-Lazio: 3-1
League stats: 7th| 62 pts| +11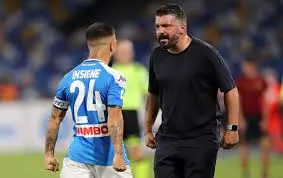 So far, Napoli has enjoyed  a fairly good season in the UCL, but the reverse when it comes to the domestic league. If they are only 7th in the Serie A, they can boast about a win against Liverpool. With a 1-1 at the Camp Nou, everything is open. Especially considering the different plans. Napoli have adapted a classical counter attacking style, revolving around a low block out of possession and quick transition on the balls. With Koulibaly in the defense, Ruiz, Demme & Zielinski in the midfield, the front three often receives good opportunities. In fact, Insigne, who was uncertain, has been called up as well. In other words, the qualification shouldn't be taken for granted. 
Last 5 Barcelona matches: WWWLW
Villarreal-Barcelona: 1-4
Barcelona-Espanyol: 1-0
Real Valladolid-Barcelona: 0-1
Barcelona-Osasuna: 1-2
D.Alavés-Barcelona: 0-5
League stats:2nd| 82 pts|+48
Barcelona, on their side, have lived through a nightmare in all competitions: In the Supercopa, elimination against Atletico. In the Copa Del Rey, elimination against Bilbao. In the league, they lost against archrivals Real Madrid. The UCL run hasn't convinced much either. More than problems on the pitch – mainly due to injuries – institutional problems off the pitch have murdered the team. For Barcelona, there are little hopes for any trophy this season. Whilst Napoli did have 60,000 supporters in their stadium, Barcelona won't be due to health safety measures.