The 4-3-1-2 system against Villarreal convinced the majority of the fans. The result ended 4-1 in favour of Barcelona. Sétien tried it against Espanyol, which turned out to be a huge error. Yesterday's display was far below the expectations.
As expected, Espanyol lined up in a 5-4-1 formation. A defensive approach which is the approach Espanyol has adopted since the second half of this season, despite changing managers. Unsurprisingly, what was supposed to be a walk in the park quickly transformed into a nightmare. 75% possession, as always. The Catalans found themselves dominating on the ball but clueless. A lack of width translated to no chances. In Sétien's 4-3-1-2, the fullbacks are the ones who bring width and depth at the same time, compensating the winger's absence. But in Semedo and Alba, Sétien can't afford to do so against low blocks.
Semedo didn't do well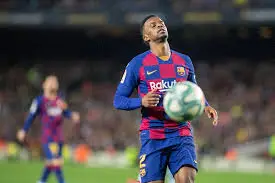 Semedo showed once again his limitations in the Barcelona play. Espanyol left plenty of space open in the wide areas in the right wing. They vacated the space as if it wasn't important. And rightly so. Semedo has plenty of space in front of him, but rare were the moments he decided to go forward and overlap. Messi tried to take advantage of it, but he often found himself locked by Espanyol's players once he drifted centrally. Semedo didn't overlap, Rakitic was okay but far from enough. Espanyol neutralised the right hand side by vacating it. A common pattern.
Semedo's counterpart was barely better. Whilst Alba is used to this role since Neymar left the club, he found himself trapped. Espanyol locked the space to make sure Alba wouldn't get to cross from dangerous spaces. The 31 year old saw himself forced to pass back to Lenglet, or more often, to Roberto. As such, the leftwing was innocent as well. Alba eventually had a few occasions to cross, but they were too hasty and were far too inaccurate to trouble Espanyol. With virtually no threat in the wide areas, the main battle occurred in the central areas. And unlike in most of the cases, it wasn't a won battle either, to Barcelona's dismay.
Not the same opponent as Villarreal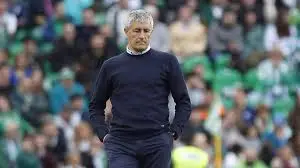 Sétien aligned virtually the same midfield against Espanyol as he did the last game, consisting of Busquets, Roberto and Rakitic, who replaced Vidal. Unfortunately, Barcelona didn't have the right interior in Roberto or in Rakitic. Sergi, who impressed against Villarreal, couldn't benefit the collective unlike last time. This is due to Sergi's nature, who takes advantage of space. However, Espanyol gave no space. In other words, Sergi couldn't serve the collective given the situation. Rakitic, who didn't play badly either, wasn't aggressive enough on the ball to worry Espanyol's defense. What was worrying wasn't their performance, but Setien's substitution.
There was little he could do concerning the wings, but he could have spiced up the midfield. Which never happened. What Barcelona lacked were players who take on, audacious enough to dribble in order to hopefully tear apart the opposite block. Whilst Frenkie wasn't available, Riqui Puig & Alex Collado were. But they never came on. Instead, Vidal came on in the 70' whilst Rakitic was subbed off for Araujo, a defender.
Sétien's mindset has become worrying. The more the matches go by, the more it seems as if he's inflexible, to not say stubborn. He surely knew Espanyol's gameplan. Expecting them to play defensively doesn't require Einstein's genius. But still, he went for the same gameplan. It's as if he plays the same and expects it to work, despite knowing the problems. This, to me, is the most worrying. Not the results, but his inflexibility. Sétien will have to show better in the next matches and in the UCL if he wants to keep his job.