A large majority of the FC Barcelona fanbase had a negative mood seeing Sétien's XI, with the surprise of seeing Roberto in the midfield. Without Riqui Puig nor Ansu Fati starting, the fans thought that the midfield was 'dead.
Roberto's inclusion had surprised and many had been sceptical of his inclusion in the midfield. The last time Sergi played there, Barcelona went on to lose 2-0 in Granada, back then under Valverde. However, the fans were wrong. In fact, Barcelona's first goal (4'Torres, OG) had been a pre-assist of Roberto. Deployed as a LCM who operated in the left half space vertically, Roberto displayed an encouraging show. If it is true he was sometimes slow, it is fair to say Roberto did well considering he usually is plays as a right-back, which eventually occured after Semedo was taken off. One thing seems clear: Roberto can play in the midfield. The only obstacle? The number of midfielders available.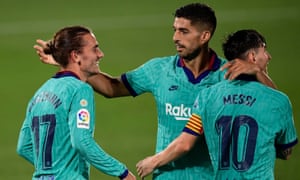 The attcking trio looked very good
The other key to remember is the MSG. Under Valverde, we had seen Griezmann struggling as a left winger, but yesterday might have been the proof that the three superstars can start together. With Suarez scoring one, Griezmann another, and Messi assisting twice, it seems as the bond is finally settling. Instead of the conventional 4-3-3, Barcelona played in a 4-3-2-1, where Suarez was the striker and Messi & Griezmann both exchanging positions as a sort of SS. Could this be the solution? Of course, it had setbacks, which included a lack of width that was solely provided by Alba and Semedo, the latter hesitant to take advantage of free space on the right wing.
Nonetheless, I doubt this trio could start week in week out. This trio worked due to Villarreal's emphasis on the wings which left holes in the centre. As a consequence, these gaps were exploited by the MSG trio. I doubt this set-up could have worked against teams like Atlético Madrid or Athletic Bilbao 'who park the bus'. However, theres is now a certain sense of positivity after all the gloom. It may be too late, but why not sit back and enjoy?