Few days after the worrying 1-0 home win in the derby against Espanyol, the Catalans were set to face 14th placed Real Valladolid away from home. Quique's men ended up winning 1-0 without necessarily convincing.
If Quique's tenure at Barcelona has been a chaotic one since his appointment in January, a regular face of the Blaugranas has reappeared throughout the matches: A bipolar and inconsistent Barcelona. One of the main criticisms of this version of Barcelona's has been the enormous difference between the first and the second half. The last game against Valladolid is emblematic of these critiques.
In the first half, Barcelona seemed to take its destiny in its own hands. A pressing on point, a goal in the 15' by Arturo Vidal & an obvious 75% domination on the ball. After all, what could go wrong? The first half represented what the fans want to see week in week out. Even better, the highly critiqued Semedo played well. Often under fire for his lack of use of depth, Semedo was amongst the best performers in the first half. Deployed as a wing back in what seemed to be a 3-5-2, Nelson almost acted as winger, leading to more chances created from the right side.
In fact, Barcelona's main play came from the right side and not the left side, contrary to the usual scenario. Whilst Semedo did deliver accurate passes that could have converted, there was one main problem of Semedo's: Roberto's presence.
How it looked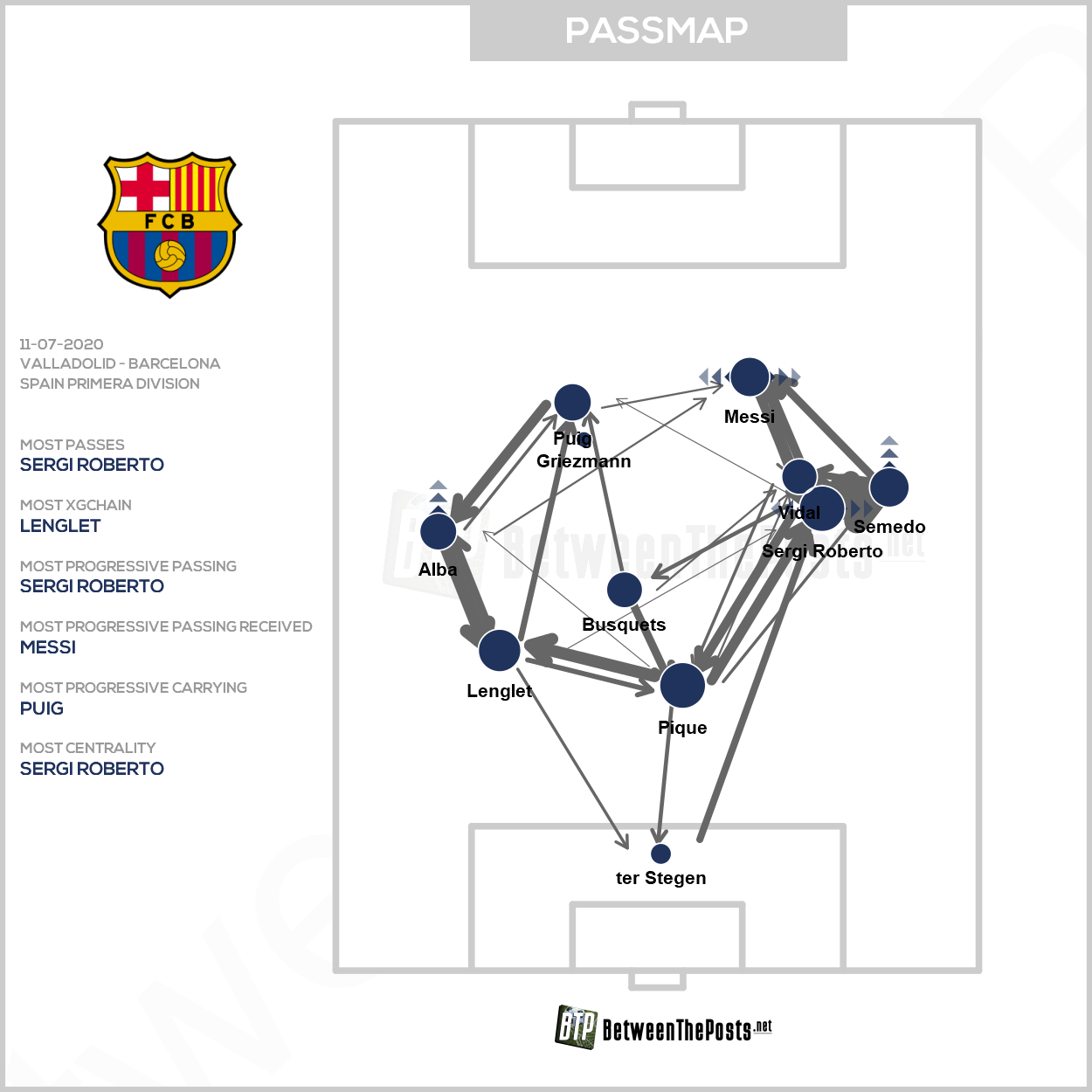 As shown above, Roberto's & Semedo's presence are very close. Ideally, this shouldn't be the case. Two individuals occupying the same zones not only restrains the individuals from expressing themselves. Whilst Roberto didn't play bad, the 28 year old was far more impressive as left midfielder. Usually deployed as right back, it's no surprise he invades the usual spaces he occupies as right back. Semedo is there as well, and two RB's aren't great. This is why Roberto has been better on the left. Saying Roberto did badly would be a liability, though. Roberto executed the role well as he played across that right half space. Him joining the back three in order to create a 3v2 majority allowed Busquets to stay high up as well.
Without any left winger following Ansu's red card , there was only one actual player on the left hand side: Alba. However, seemingly exhausted, the Catalan left back could barely do what he normally does. Rare were the moments where he actually managed to get into a favourable position to cross centrally. More importantly, he had little support, adding to him being sloppy. Most would expect Puig to support him. This was close to impossible as Riqui Puig saw himself often isolated. Instead of operating in advanced areas, the young midfielder saw himself forced to drop deep in order to link up with Roberto or Vidal, often too distanced.
Players don't know what to do
Foolishness it is to expect fluidity when multiple players are isolated whilst others clash with zones. This could explain the lack of chances , where Barcelona players were able to pass to each other, but rarely led to chances. Only Vidal's first goal saw themselves scoring. 
Quique's first half was a dominant version of Barcelona's but also a lack of effectiveness in the final third, a recurrent problem of Sétien's. Griezmann's isolation didn't help at all. Deployed as a striker, Griezmann missed an important chance. Whilst Griezmann was part of these mobile players who made sense for Sétien, he's never been a proper nine. And whether it is in a 4-4-2, a 4-3-3, or a 3-5-2, he can't play as a lone striker. Instead, he prefers to create. Leo was usually the one to do so, though the Argentinian lately spends more time on the right handside. This could explain his goal drought, as he needs to be involved in the game. Not 20 anymore, he finds himself unable to run as much before. With Griezmann and Messi isolated, the lack of goals was unsurprising.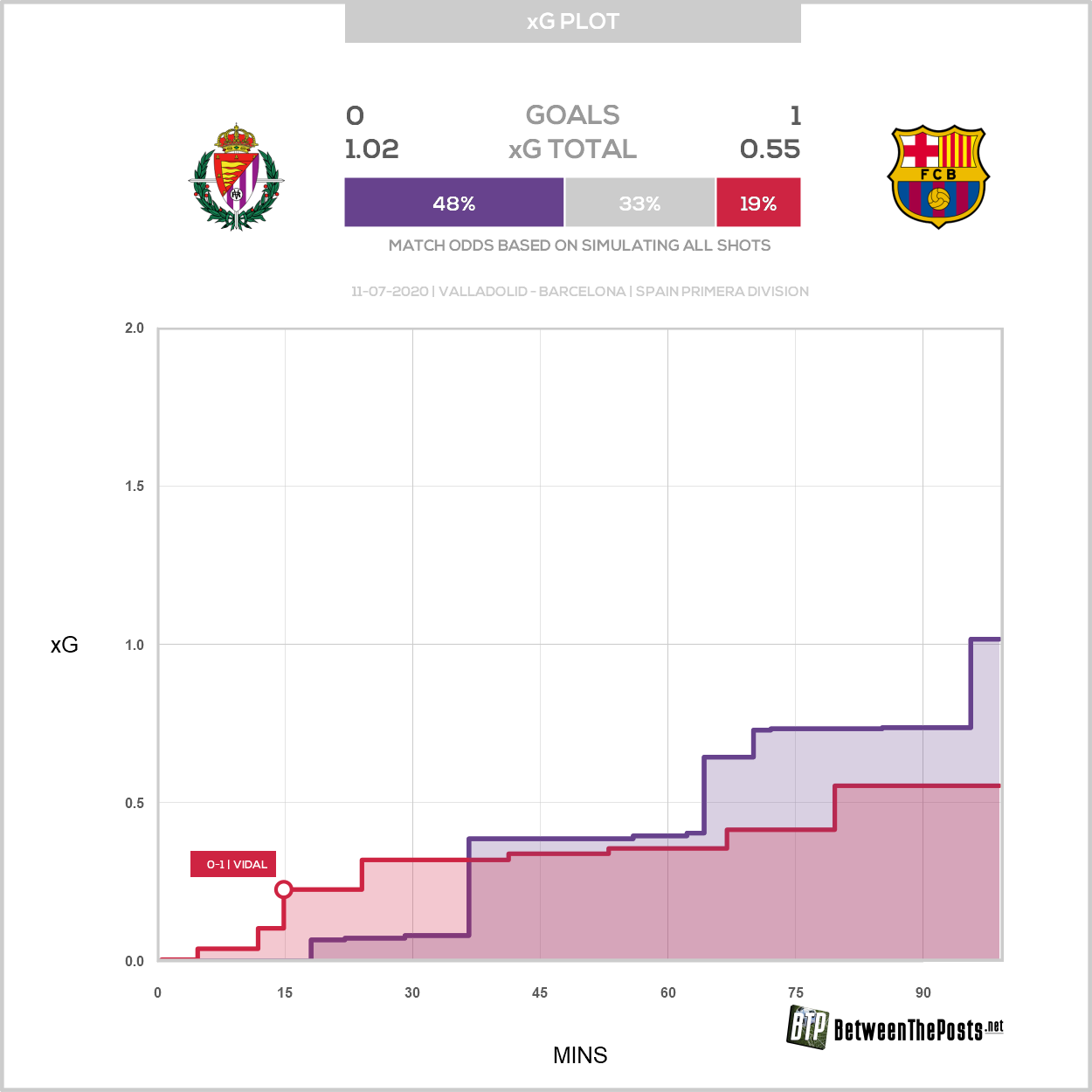 The second half was the other version of Barcelona. Tired players unable to run, a sloppy Suarez, defensive sloppiness. All of these led to Barcelona lacking to take advantage of Valladolid, who ended with a higher xG than Barcelona(1,06-0,55). The match furthermore confirmed the fear of a two sided Barcelona, which cannot allow to win the UCL.