The morale is low after losing at home to the promoted Osasuna. Nonetheless,it's the last league game of Barcelona this season, vs Alavés, just before the agony will finish with the UCL. For Sétien, it's a must win. A loss or a draw failing to convince Bartomeu could mean it could be his last game. Sétien's continuity would therefore be shorter than Martinez, a shame for Quiqué for sure. Therefore, Sétien will seek to win, to hopefully regain support from the board and hopefully from the locker room, though the latter seems impossible.
Current form
Last 5 Deportivo Alavés matches: LLLDW
D.Alavés-Granada: 0-2
R.Valladolid-D.Alavés: 1-0
R.Madrid-D.Alavés: 2-0
D.Alavés-Getafe: 0-0
R.Betis-D.Alavés: 1-2
League stats: 15th|39 pts|-20
Alavés have struggled throughout the season, but haven't been in fear of relegation. 15th, there isn't much to play for them just like for us. Just like us, they'll have to deal with a couple of absences including Pacheco, Gutierrez(Doubtful) & Navarro. They only score 0.9G/game whilst conceding 1.5G/game. However, they shouldn't be underestimated considering their very own Lucas Perez had scored against us earlier this season. They've also added Aleix Vidal from Sevilla to their squad.
Last 5 Barça matches: DWWWL
Barça-Atlético: 2-2
Villarreal-Barça: 1-4
Barça-Espanyol: 1-0
R.Valladolid-Barça: 0-1
Barça-Osasuna: 1-2
League stats: 2nd|79 pts|+43
Barcelona, on the other hand, have also nothing to play for. There's the UCl in August with very little hope, whether from Messi or the culés. Quique has to do without Dembele, Umtiti & Griezmann, injured. Even worse, Quique cannot count on Piqué, Firpo and Rakitic who are suspended following the 5th yellow card. It's a free fall, from playing badly but still winning the last games to losing at home against Osasuna .The motivation is at its lowest as this 19/20 season appears to be trophyless day by day. For Barcelona, it's only important to get some confidence.For Sétien it's to win in order to avoid his dismissal before the end of this season.
SQUAD LIST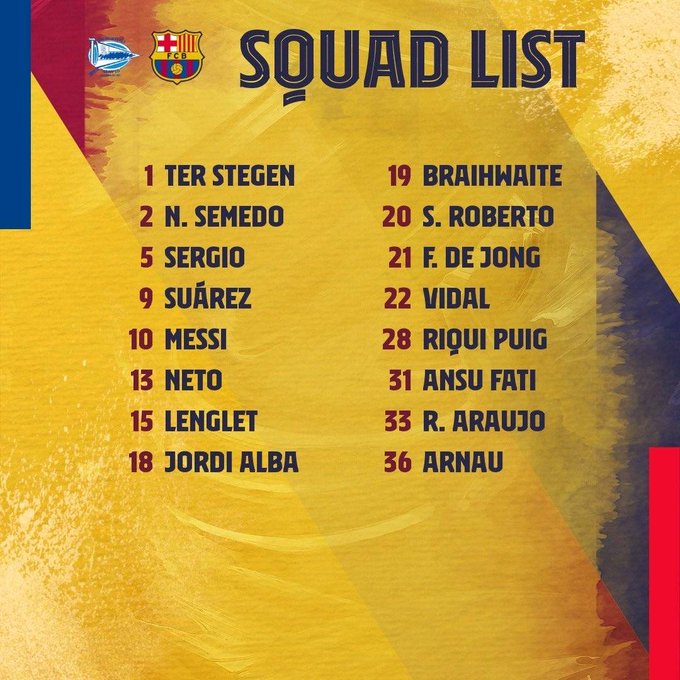 As reported by @fansjavimiguel , Arthur doesn't make the squad list and hasn't played since his transfer has been official. A sad end as we truly don't deserve him, sadly. Rakitić is suspended which leaves us with four midfielders, exceptionally.
Neto could apparently play, which I wouldn't mind since we have nothing to lose. Pique is suspended meaning we should expect a Araujo-Lenglet duo. Firpo is suspended, reason why he's out.
There are no surprises. Only 16 men proving the lack of squad depth once again. I'm hoping to see Puig and Frenkie. Tonight is really about confidence, if anything.