Last match felt like yesterday. And now here we are, three days later, with another match. Also the first match at home post-corona, empty seats at the Camp Nou will welcome Léganes. Last 'test' before we face serious competition against the likes of Sevilla, Bilbao & Atletico.
Last 5 Léganes matches: DLDWL
Léganes-Betis: 0-0
C.Vigo-Léganes: 1-0
Léganes-D.Alavés: 1-1
Villarreal-Léganes: 1-2
Léganes-R.Valladolid: 1-2
Position in the league: 19th
Pts: 23
GD: -19
What a nightmare has this season been for Léganes! Already struggling as they were fighting against relegation, Barça snatched away one of their main goalscorers: Martin Braithwaite. Even worse, they even lost recently against Celta Vigo, who are only a few points ahead of them. This season has been about survival and it hasn't been too good.
Last 5 Barça matches: WDLWW
Barça-Eibar: 5-0
Napoli-Barça: 1-1
R.Madrid-Barça: 2-0
Barça-R.Sociedad: 1-0
Mallorca-Barça: 0-4
Position in the league: 1st
Pts: 61
GD: +36
Barça have restarted well with a convincing result and display at Mallorca. Boostin morale was what we needed and what we did. This is another must win like every game as Madrid won as well against Eibar. Nonetheless, we shouldn't take the win for granted. Last 'easy' match before the storm for Setien's men.
Last 5 encounters: WLWWW
I'm going for a confident result. We've convinced at Mallorca and we have to continue to convince tomorrow to be mentally a 100% to meet Sevilla.
S Q U A D L I S T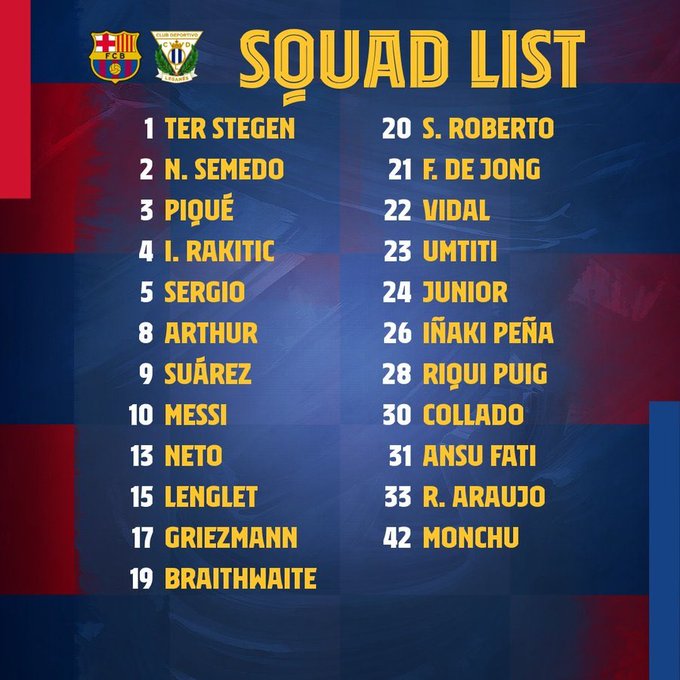 Here we go! The cadence is after, with a match every third day. There's isn't much to say;Jordi Alba is suspended after his 5th yellow card last Saturday, probably intentional in order to make sure to feature against Devil next match.
Other than that, Lenglet is back. I expected the duo Piqué-Lenglet to start, but who knows? I also hope the likes of Puig & Arthur will get more playtime as this is the last 'easy' fixture before facing serious competitors with the likes of Sevilla, Bilbao, Atletico: It's the last 'preparation game' as well as the first post-corona game at home, in an empty Camp Nou
Nonetheless, here's the squad list against Léganes at the camp nou. No surprises and everything is fine.