We're back! At last, our beloved Barça is back, with a match vs Mallorca. And there's nothing like Barça that can fill the joy in our hearts. It's also the first time we play at 22:00 this season, one of the first changes post-corona. Our first opponent? Mallorca. Away. Without fans, we will see whether we perform better away. And it also means two ex-teammates could meet each other: Ansu Fati & Takefuso Kubo.
Last 5 Mallorca matches: LWDLW
Espanyol-Mallorca: 1-0(A)
Mallorca-D.Alavés: 1-0(H)
R.Betis-Mallorca: 3-3(A)
Mallorca-Getafe: 0-1(H)
Eibar-Mallorca: 1-2(A)
Position in the League: 18th
Pts: 25
Goals difference: -16
Not all is well in Mallorca. Promoted, they've struggled for a while as they are now just in between relegation and maintaince. They are one point away from Celta and only two points in front of Léganes. At home, they will surely try to make things hard for us.
–
Last 5 Barça matches: WWDLW
Barça-Getafe: 2-1(H)•League
Barça-Eibar: 5-0(H)•League
Napoli-Barça: 1-1(A)•UCL
R.Madrid-Barça: 2-0(A)•League
Barça-R.Sociedad: 1-0(H)•League
Position in the League: 1st
Pts: 58
Goals difference: +32
With a now fitter squad, Barça will have now to convince. A two horse race with Madrid with every third day a match means very little margin for error. Only two points separe the archrivals. Travelling to Mallorca won't be the easiest and is a must win, no matter who plays. Every single point matters!
Last 5 encounters: WWWWW
S Q U A D L I S T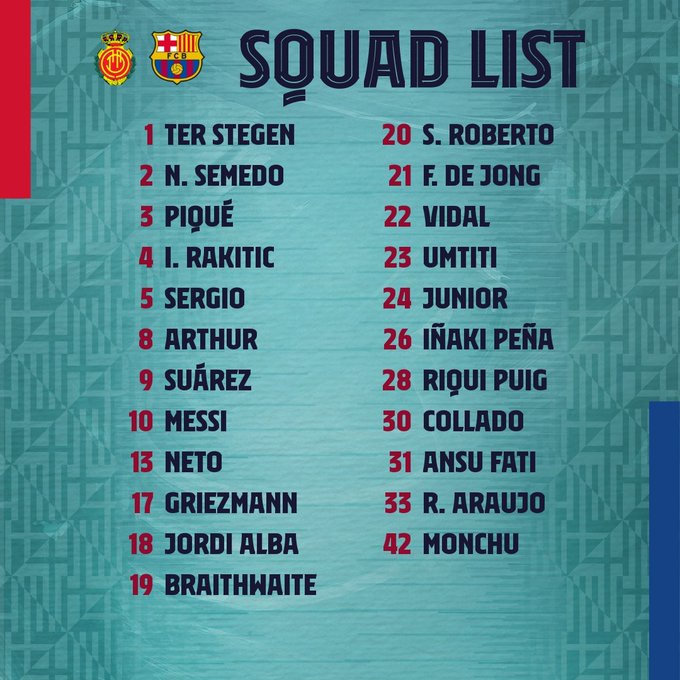 Here goes our first post-corona squad list! Quick reminder: 23 are now called up instead of 18, due to the new 5 subs rule. With that said, Setien has an almost complete squad. The only absent are Démbele, injured until August, while Lenglet won't travel as he is suspended after a fifth yellow card.
This has led to Araujo being called up, while Umtiti should be okay-Seeing Araujo subbed on wouldn't be a surprise considering Umtiti's physical issues.
On another note, more la Masians have been called up: Puig, Peña, Collado, Araujo..And Monchu as well! He had been injured for two weeks but managed to make the squad list. However, I doubt he will get playtime, though anything could change this. We shall see whether Setien will stick to his promise and play those that have been called up.
Finally, we have a big choice upfront. Collado will either be a midfielder or a winger, while a fit Suarez is finally available to Setien for the first time. The Cantabrian coach really has a lot of options for tomorrow, and he shouldn't hesitate to take advantage of the 5 subs rule.
I am not too confident as I don't know how we will play post-corona, but I believe we will win. Nonetheless, the list looks exciting to me. In my team I trust. Excited!
---
What are your keys for Barça vs Mallorca? Write them in the comment section below.