Must win. Tonight Barça are set to face Athletic Bilbao, who are no easy opponents. They knocked us out of the Copa Del Rey. However, more importantly, the win is important to show we aren't giving up on La Liga. After just gaining the temporary lead after we slipped and Madrid won against Sociedad, it's time to bounce back after two full games.
Last 5 A.Bilbao matches: LWDDW
Granada-A.Bilbao: 2-1(A)•CdR
R.Valladolid-A.Bilbao: 1-4(A)•LL
A.Bilbao-A.Madrid: 1-1(H)•LL
Eibar-A.Bilbao: 2-2(A)•LL
A.Bilbao-R.Betis: 1-0(H)•LL
Position in the league: 9th
Pts: 42
GD: +7
Bilbao are no easy task, however we are at least at home. We haven't beaten for four matches already, and perhaps it's time to change that. They managed to nullify Atletico, knock us out of the CdR: It will be a tough task to get all the three points.
Last 5 Barcelona matches: LWWWD
R.Madrid-Barça: 2-0(A)
Barça-R.Sociedad: 1-0(H)
Mallorca-Barça: 0-4(A)
Barça-Léganes: 2-0(H)
Sevilla-Barça: 0-0(A)
Position in the league: 2nd
Pts: 65
GD: +38
Finals. Every game matters, all three points. And we have to win every single one and pray Madrid slips, which we want control. We may not win, but let's at least play better. Without Frenkie, it will be complicated. The race is tougher than ever!
Squad List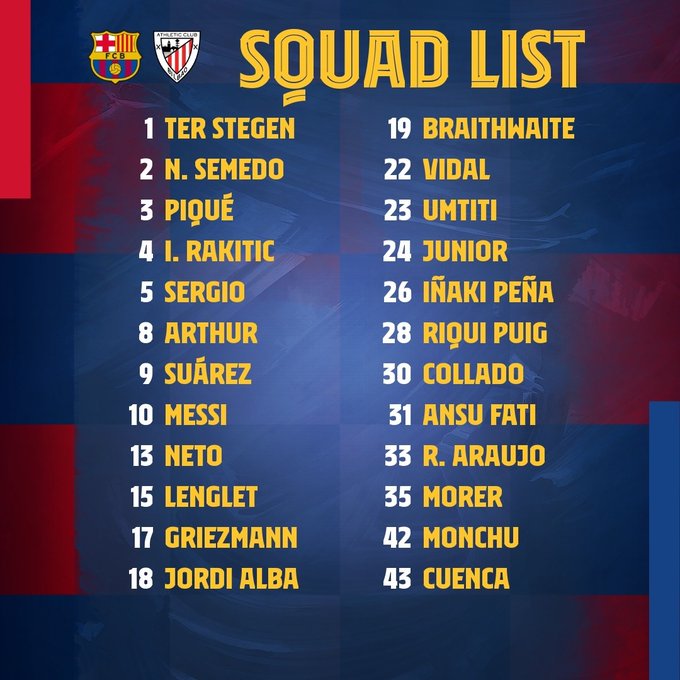 SURPRISE! Following the confirmed injuries of both Frenkie De Jong & Sergi Roberto, Sétien has decided to include Cuenca as well as Dani Morer, who hadn't been included for a while. Thus, this means we're playing with 9(!) defenders. Morer is surely called up as a backup for Semedo should anything happen, while Cuenca's inclusions comes as a surprise to me.
Nonetheless congrats boys @jorgecuenca22 @danimorer_official !
Other than this, we have 6 midfielders available, without any surprise inclusion. The only thing I'm asking for is to not see (again) the Busquets-Rakitić-Vidal midfield, unhealthy for my eyes and for results as well. I doubt Monchu could get playtime but at least Puig Has to feature a minimum of 20-30′ for me.
In the forward line, nothing too special. Should Messi play more than 50′, it's no doubt to me he should be COMPLETELY rested against Vigo, not even 10′. We need him fit against Athletic. Suarez shouldnt Play much either, as he can't play the 90′, as seen last Friday. Ansu should get a chances, Collado perhaps as well. ¡Vamos!