After a shameful win at Ibiza, we turn back to the league: While we're leading, we have to win against Valencia at the Mestalla, a big test for Setien. They are very hard to beat there.
How have both teams done lately?
Valencia's last 5 matches: DWLLW
R.Valladolid – Valencia: 1-1(A)•League
Valencia – Eibar: 1-0(H)•League
Valencia – R.Madrid: 1-3(H)•Supercup
Mallorca – Valencia: 4-1(A)•League
Logrones – Valencia: 0-1(A)•CdR
Position in the league: 7th
GD: +1
Pts: 31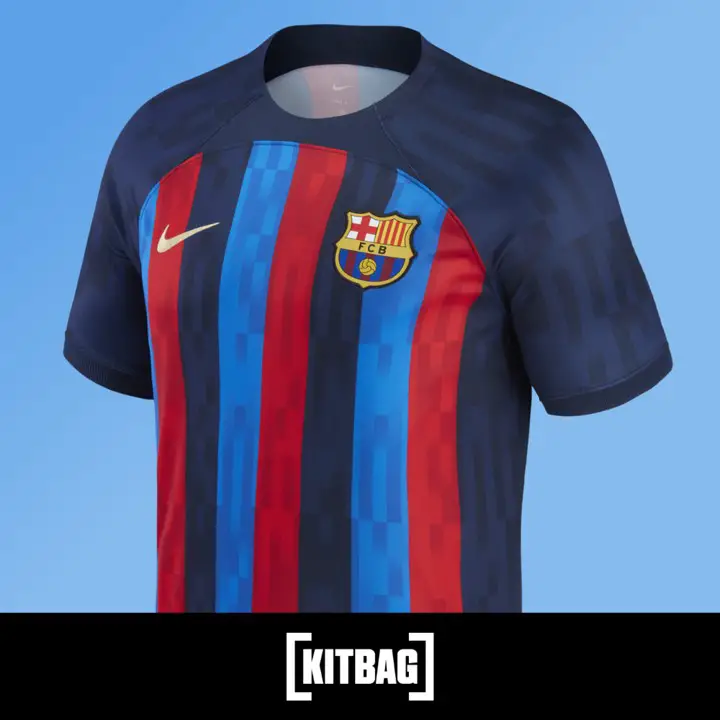 Not a too good run for them. Forward Rodrigo Moreno has been linked with us recently-However, they haven't had a too good run lately. A shock loss against Mallorca earns them only the 7th place, while they usually end up in the top 5.
However, they are dangerous at the Mestalla: They dominated 'Los Blancos' and drew recently. Not an opponent we can take lightly.
Last 5 Barça matches: WDLWW
Barça – D.Alavés: 4-1(H). League
Barça – Espanyol: 2-2(H). League
Barça – Atletico: 1-2. Spanish Super Cup
Barça – Granada: 1-0(H). League
Ibiza UD – Barça: 1-2(A). CdR
Position in the league: 1st
GD: +27
Pts: 43
The Catalans have been more succesful than Valencia,however, Ernesto Valverde has been sacked after Atletis win. Which brought a breathe of fresh air with former Betis manager Quique Setien. Since then, the Blaugranas won against Granada, while they went forward in the CdR as they won against Ibiza, despite a poor & decieving display.
Head to head last 5: WLDDW
Barça – Valencia: 5-2(H) 14.09.19. League
Barça – Valencia: 1-2(H) 25.05.19. CdR
Barça – Valencia: 2-2(H) 02.02.19. League
Valencia – Barça: 1-1(A) 07.11.18. League
Barça – Valencia: 2-1(H)•14.04.18. League
Not too convincing games against them lately, except the last one. We ought to do better, as we can't afford to draw or lose-as we neck on neck with R.Madrid .
S Q U A D L I S T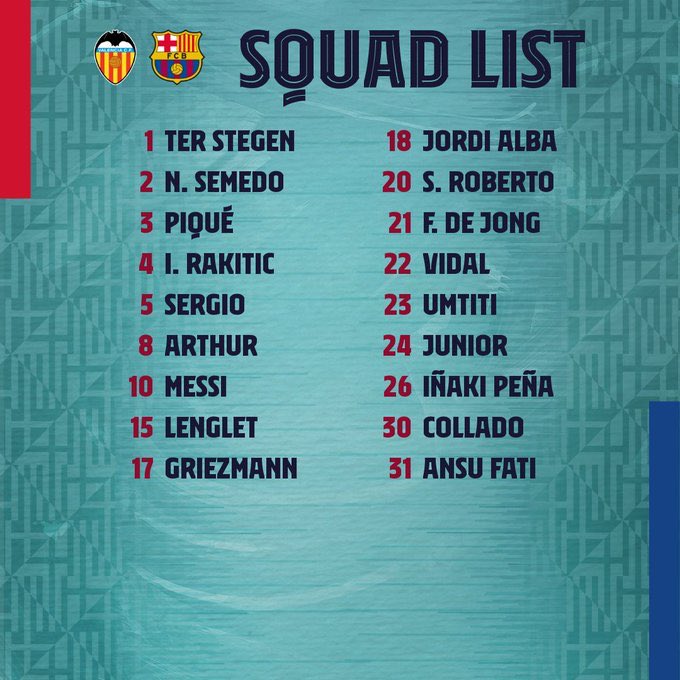 Suarez & Dembele are injured, while Riqui Puig is apparently ill-which gives Collado his first call up. I doubt he'll play, but if he does, we'll be happy to see Alex play with the first real-life Puig, he's too good for the Segunda B.
Wague on the other side, has been left out for technical reasons, Perez as well. Iñaki gets called up as a consequence of Neto's injury. However, I doubt he'll play with Ter Stegen's presence. The good news are that we may finally witness our beloved Busi-Arthur-Frenkie midfield, which hasn't been played for a while as Arthur was injured. As said before, I'm fine with Collado too. I guess Lenglet & Pique will be the CB duo. Wague has to wait as I guess that Setien wants to first determine Semedo. I've heard Monchu has trained with the first team too, but he'll wait for the call up, I guess.
The big question is what our attacking trio will be: Fati-Griezmann-Messi? Or Collado-Griezzmann-Messi? No clue. The other question will also be whether Setien will use a back three against Granada again, or will he employ a normal 4-3-3, formation we're used too.
I'm happy that Setien regularly calls up youngsters. Tomorrow will be a big test.