FC Barcelona travelled to the islands today to face off against UD Ibiza. The match did not turn out to be how many Barcelona supporters envisioned. Before the match, many players from the island club said they were going to make it difficult for Barcelona. And they fulfilled their promise. Messi, Pique and Busquets did not travel with the squad as they were rested for this mid-week fixture. Setien opted for a more attacking side, playing a 3-1-4-2 formation which Ibiza countered quite easily.
It was Ibiza that struck first. With Pep Cabelle's shot from the middle of the box deflected into the back of the net. Ibiza help their ground as the small club frustrated Barcelona. Moreover, Barcelona ended the half with over 80% possession, no shots on goal and down 1-0. Barcelona were lucky to only be down by one goal. The referee called back Ibiza's second goal, rightly so, due to a foul before the goal occured. Furthermore, minutes after, Ibiza struck the post and Neto had to make a reaction save to keep Barcelona in the match.
In the second half, the tide began to change. Ibiza did not pose as much of a threat as they did in the first half of the match. Once again Barcelona controlled possession but could not find a way to get on the scoresheet. In the 72nd minute, a perfectly weighted through ball from De Jong. He left Griezmann wih a clear opportunity to equalize, and he did just that. The Frenchman pulled Barcelona level. In stoppage time, it was Greizmann who scored the dagger to end Ibiza's chance of knocking out the Spanish giants.
Bottom line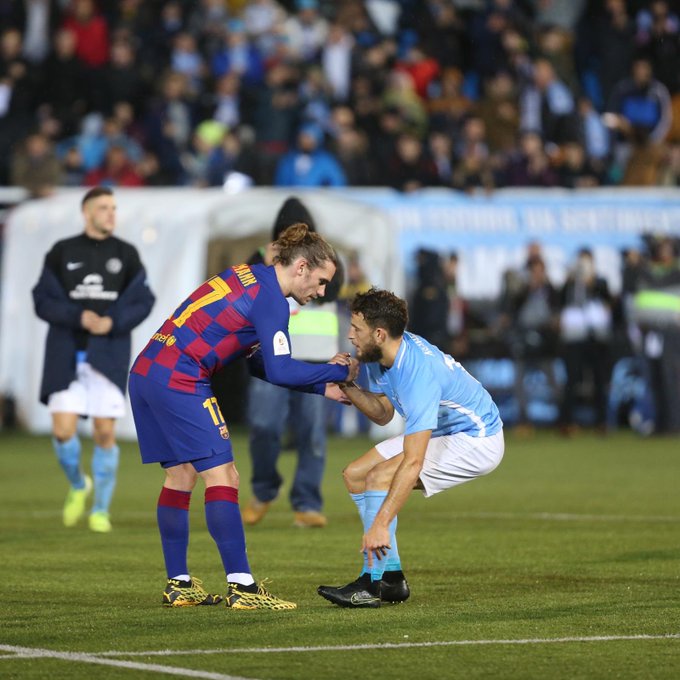 There are not many positives or negatives to take away from this match considering it was a round of 32 match I the Copa Del Rey. The negative analysis is obviously the fact that Barcelona started slow and struggled to threaten the opposition's goal. The positive analysis is that Greizmann scored a brace late on and Barcelona should be happy that he is stepping up in Suarez's absence. With key players missing from the squad and considering it is only Setien's second match in charge, Barcelona will be happy they are advancing in the competition even though it was by a very thin margin.