Today is a day full of excitement, as Barcelona presented the new leader of the team – Quique Setien. The coach looked excited, and full of ambition to begin working at his new job. Here's the quotes from his presentation, brough to you by Barcacentre.
---
Quique Setién: "I wouldn't have imagined being here in my best dreams. It's a very special day for me. Yesterday I was walking with cows in the village and today I am training the best players in the world…
I value Valverde's work very much, I value his way of being and his principles. I will try to get in touch with him, there are many things about his work that will go well with us." Furthermore, Setien said: "I want to thank him for leaving me a team that is leader of La Liga. "
About his goals, Setien looks like he knows where he's going: "My aim is to win everything: La Liga, the Champions League and the Copa."
The new coach describes who he is
"I am a person of convictions, I marked a way of life and so will I continue. I have very clear ideas, I listen to everyone but it's difficult to get the things that I am convinced of out of my head. Training the best player in the world, Messi… I'm still not fully aware of what I'm experiencing.
My relationship with Messi, Piqué, Busquets? I'm sure it will be very good but everyone has to have their place."
From a tactical aspect
Quique Setién: "In recent years Barça players have made me enjoy football a lot. I am absolutely convinced that I can convey my way of playing football to the players. I come with enormous energy, I am absolutely clear of what Barcelona is.
This club has an extraordinary squad. I don't know all the players in depth. All the youth players will come to train, to see them. "
However, Setien warned the players that "No one can relax. I have no problem giving prominence to the youth players. If they do well and get minutes, it's because they deserve it."
Furthermore, the new coach said that "there is a very important player who is injured(Suarez). But we have to think about what we do have."
"System of the game? The most important thing is the philosophy. Maybe we will a change to the 4-3-3 sometimes."
---
The part of Bartomeu in the presentation
In UK, most common
top online casinos in United Kingdom
 Means of payment is a Bank transfer. Even with the best Real money Casinos this is not offered, however, always. A suitable and safe Alternative provides a range of Instant Banking service providers is. The provider giropay count, Trustly, especially in the Benelux region common iDEAL, as well as the meanwhile, the Swedish group Klarna belonging to the Instant Bank transfer. It is precisely the latter service has the German market as a good Alternative for the cashless Payment is established. Instant Banking your share your Account data to the service provider, the for you the particular The transaction executes. In contrast to a normal Bank transfer the trader gets Instant Banking immediately, a Deposit confirmation.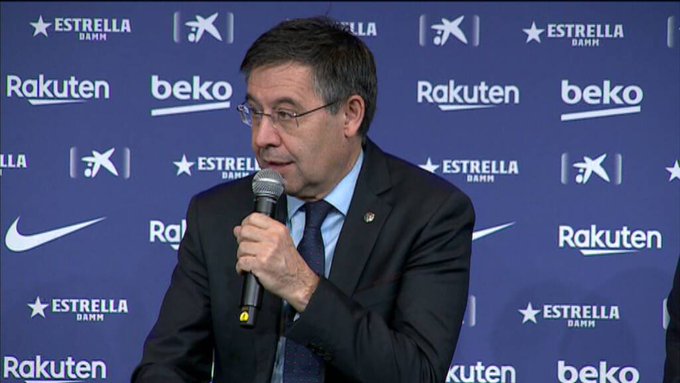 First, President Bartomeu started with thanking the former and the new coaches: "Thanks to Quique for accepting the challenge of training Barça and we would like to thank Ernesto Valverde for everything he has done for us."
Bartomeu then explained the ideas behind the decision to hire Setién: "It's a pleasure for you to be here, Quique. Setién has a coaching approach that matches the idea of ​​Barça. A coach who looks after the game and the style. We know that Setién is a big Cruyff fan and that's why it was ideal for him to come.
The technical team has talked to many coaches for a long time, no name had come to light until now, the club worked with discretion. Now a name has come out."
Furthermore, Bartomeu had some final words about our former coach: "Thanks again to Ernesto Valverde. There is an excellent relationship. Everyone speaks wonders of him.
This morning I have seen Valverde, we have given each other a big hug. I have also spoken with the players, they are professionals. Yesterday Abidal and Planess proposed the name of Setién."
---
That concludes the presentation of Quique Setien as the new coach of FCBarcelona. We would like to thank our friends at Barcacentre for translating those interesting quotes.