Since joining Bayern back in 2014, Robert Lewandowski has increased his expected goals (xG) total each season. In this campaign, he is averaging a staggering 1.0 xG every 90 minutes. Put simply, the chances Lewandowski attempts are worth over one goal every game.
The timing of his movement creates space between him and oppositional opponents, enabling him to attack with the ball when it arrives in the threatening areas near the penalty box
Whenever the ball is been passed to him, he expertly creates striking chances, adjusting his body to create finishing angles
And as well the below image (UCL) highlights the locations of the shots taken of XG, (Shots taken, Goals scores) 
One of Lewandoski's best qualities is his run-in between defenders. The is often seen making quick runs on the defender's blind side
His hold-up play is top-notch as he can receive the ball, inviting his teammates in joining the attack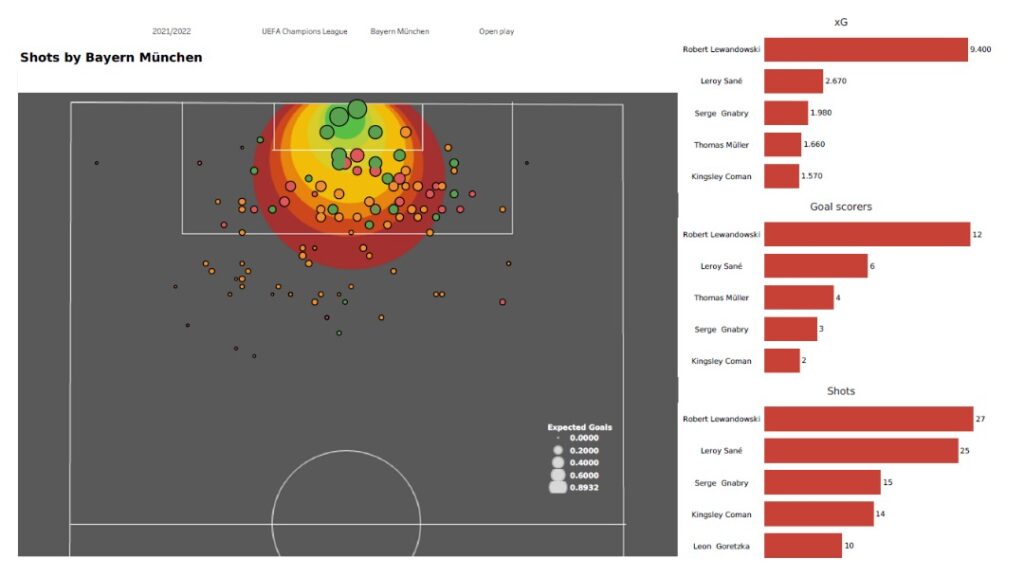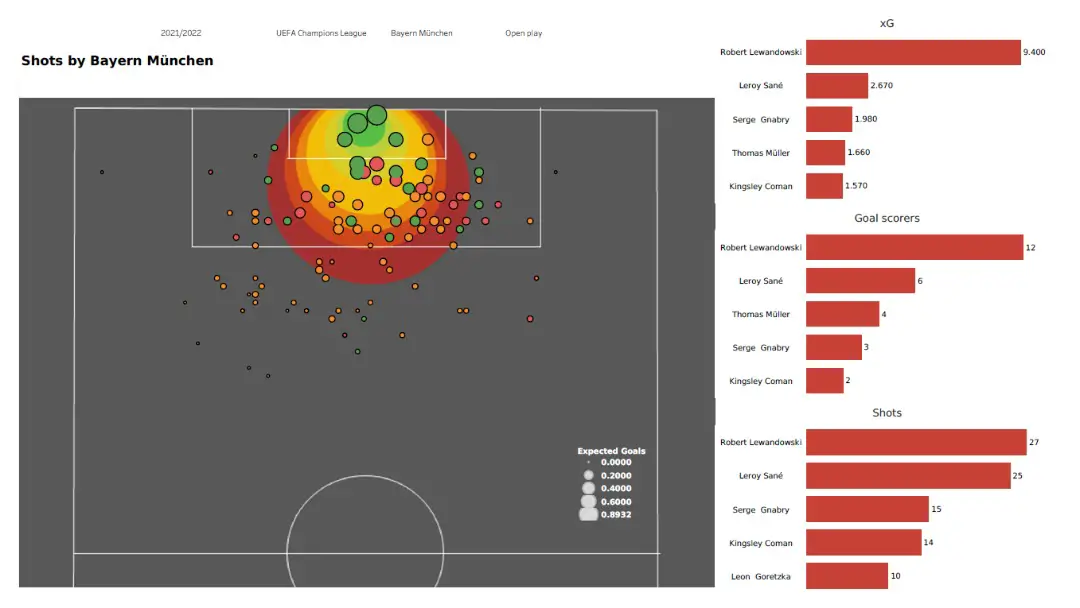 Positioning
The main takeaway from the heatmap below shows that Lewandowski has a substantial existence in front of the rivals goal post and his activeness in the half spaces on the left-hand flank and also the right wing
Lewa shows his brilliance in finding spaces and even against a low block defence.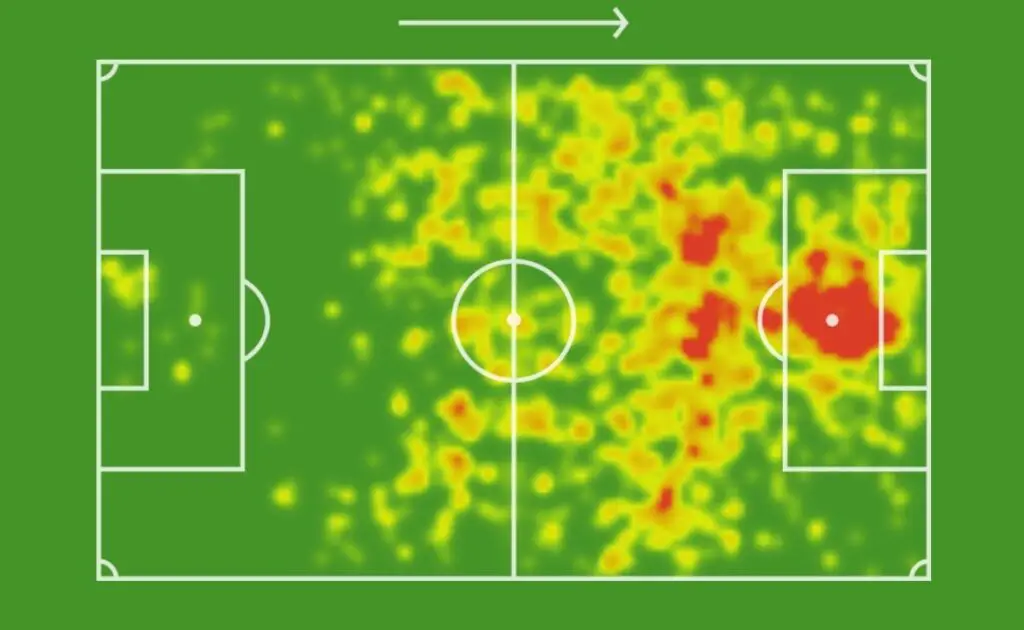 In Flicks preferred 4-2-3-1, Lewandowski has utilised key areas over the last 50 games played 
Including his average match rating on the specific position, haven played 47matches as a forward and 3 matches as an attacking midfielder
In a nutshell, the image simply shows the key areas Lewandowski executes his ball-playing activities on the pitch
The 33yr-old has an extensive presence in front of an oppositional goal. 
Predatory Instinct
The predatory instinct is what defines a lethal striker. (Baddest Striker), Lewandowski has proven to have that predatory instinct. Going behind the ball after every shot taken by his teammate, preparing himself for a rebound off a save or if the ball strikes the post so that he can finish the opportunity and snap the foe off guard exhibition that he plays with that impulse and has the hunger to score.
Well Timed Movements In The Box
Lewandowski in the list of strikes didn't make it to the top cause be scored more tap-ins, but people don't understand what it takes to be a brilliant reader of the game, getting into the post in scoring tap-ins
People often criticise such…
…which is awful.
Reading spaces is what makes a striker deadly. He possesses a striker's instinct which enables him to score its tap-ins and is one of the most crucial skills of a striker.
This is needy of Aubameyang from Xavi and with Lewa in the picture, no more.
First Touch And Finishing Ability
Lewandowski is lean, strongly agile, blessed with two bewitchingly soft feet and capable of scoring from anywhere within 20 yards of the opposition goal
His first touch and finishing make a compelling case to be regarded as the outstanding No 9 of his generation. At age 33, he still has plenty of goals left in the tanks and one of the reasons Xavi made his signing for a 4years contract
He will continue to hone a scoring ability at Barcelona that only a handful of strikers in each generation possess.
Heading Ability
Xavi's play tends to be more possessive, but when playing a pretty good defensive opponent that's a nut, you see few crosses from the wide areas to the boxes&corners
Lewandowski has an excellent heading ability and the best header of the ball in world football
Putting into his heading ability, his brilliant movement into the box gives him an edge to be available to make the finishing
He's always in the box ready to pounce onto the cross provided from any position of the field
Passing Ability
Lewandowski is a decent passer of the ball in the box and outside too, his short/long passing ability is elite and one he presents, and his ability to progressively ball in an opposing rival is top notch
Something that interests Xavi, based on his style of play
Indeed, while Lewandoski has registered only three assists in his latest Bundesliga season, we can use expected assist (xA) to analyse how many assists Lewandowski should have based on the quality of his passes
His open play passes in the recent league season were worth six…
…assists, so he was unfortunate not to have three more assists to add to his total of four
Lewandowski has massively improved his creative abilities over the past 3 years. He works with the team, creates chances for his teammates and is heavily involved in a build-up play.
Injury Records
In an era in which the game is played at an increasingly furious pace and with fixtures every three or four days, not to mention the strain of frequent travel, it is understandable that many players suffer muscular injuries due to fatigue, BUT NOT LEWY
To put that into perspective, Bayern legends Franz Beckenbauer (12 seasons) and Gerd Müller (10) eclipsed Lewandowski's current haul, but in the 1970s, before arch professionalism was the norm in the game, the field comprised of 22 super-athletes. Today, only Hoffenheim's…
…Oliver Baumann has managed to match Lewandowski's tally of nine consecutive seasons with 30 games played, and he's a goalkeeper.
Note: Lewandowski has never gotten injured for more than a month, just crazy.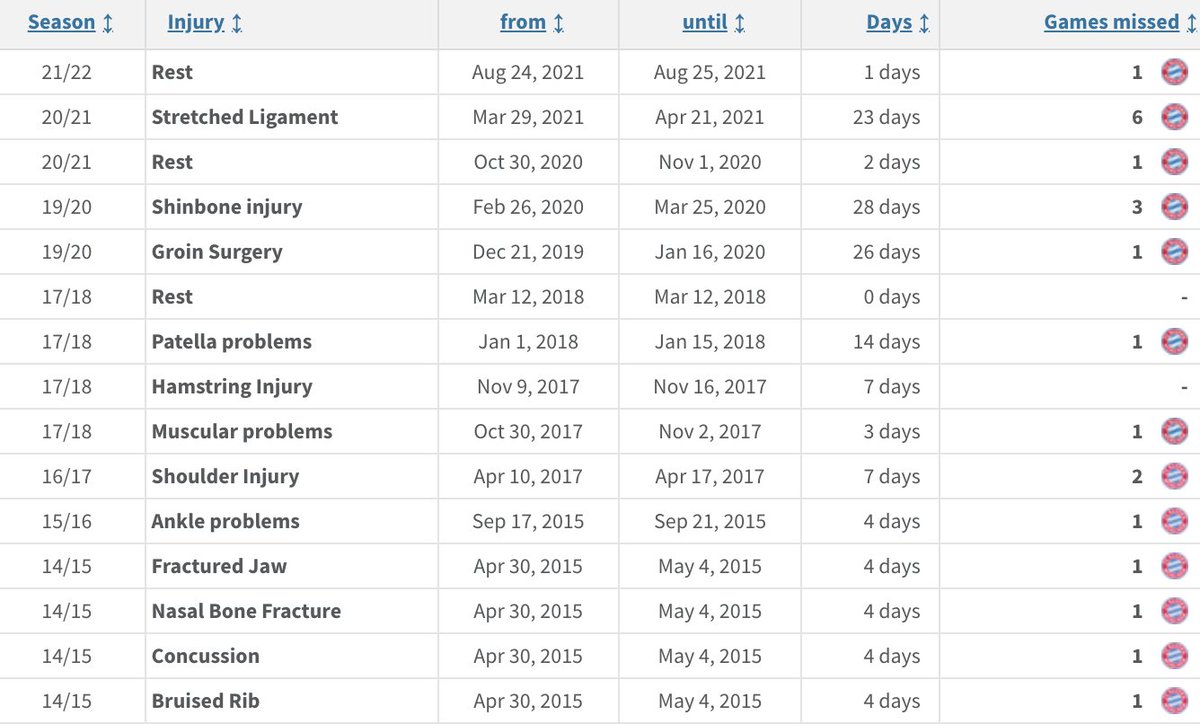 – Strengths
Finishing
Long shots
Headed attempts
Holding on to the ball
Passing
Through ball
Dribbling
– Weaknesses
Defensive contribution
Conclusion
Xavi signed a fashioned No. 9 who is always hungry for goals. His dominance in the air and the movement around the boxes are top-notch.
Yet the one prospect that separated him from traditional strikers is his physical abilities on the pitch
Lewa's tactical awareness and ability to score aggressively and coldly way will make a difference in Xavi's Barcelona, one of the key men we need at the forward who also has the numbers to back themself as one of the greatest strikers in football.
Source: @AbeBuma