Coming off a gritty draw against Eintracht Frankfurt, Barca was presented with another tough task. Winning away against relegation candidate Levante. That might not sound like a tough ask at first glance. But in reality, it is, especially recently for Barca.
In their last five games at the Ciutat de Valencia, Barca hasn't fared too well. They've managed only one win, while losing three times and drawing once. No game is easy in La Liga, but for Barca, they've found it especially difficult to walk away with three points whenever they've traveled away to Levante.
That's why a quick start was necessary today. Not only to exorcise past demons at this specific stadium. But to show they're ready to finish the campaign strong.
But unfortunately for Barca, a fast start wasn't what they received tonight. Instead, they were met with the same struggles they showcased during the club's last match against Frankfurt.
First half
Barca was met with a plethora of struggles in the first half against Levante.
From the jump, Levante challenged the Blaugrana with an intensity they failed to match in the early stages. Barca's midfield was repeatedly marked very tightly, which allowed Levante to prepare for any ensuing counterattack in case Barca lost possession in the final third.
Because the midfield couldn't match Levante's pressing, the attack as a whole couldn't create the amount of chances Xavi would like.
This led to a stagnant attack, one that resembled more of boredom instead of the usual excitement we've become so accustomed to seeing over the last month and some change.
Once the lack of chances began to pile up, you got the sense that it was only a matter of time until Levante started to make some of their own.
And that they did.
Levante handles the first half
After an early Levante chance was denied — one that came as a result of a Dani Alves giveaway in the back line — the Valencian club began to turn up the pressure.
Counterattack after counterattack. Levante looked more threatening when each one passed. Just after 26 minutes had been played, it looked like Levante's attacking threat almost delivered the game's opening tally.
Luis Morales dribbled past Barca's defense with almost zero resistance. He then walked into the middle of Barca's penalty area. Then delivered a booming shot that was initially saved by Marc-Andre Ter Stegen.
But the threat wasn't over. The saved shot still managed to roll itself towards a now open Barca net. Hope was lost in terms of preventing an opening goal. But luckily for Barca, Eric Garcia came to the rescue by heroically clearing the ball off the line at the last possible moment.
After Garcia's well timed clearance, there wasn't a lot of notable action throughout the remainder of the first half.
The opening half then came to a close, with Barca looking rather sluggish.
The second half would give Barca a chance to come out firing. They needed to do so, as they couldn't afford to drop points in the race for a Champions League spot.
But unluckily for them, they didn't get the memo.
Second half
After a forgettable first half, Barca's second half appeared to be leaning towards becoming its counterpart.
Levante strikes first
Five minutes into the second half, Levante was awarded a penalty after Alves' arm caught the face of a Levante attacker.
It was a rather harsh decision by the referee. But the penalty stood nonetheless. After a brief protest by Barca, Morales stepped up to take the penalty.
If he converted, it would send Barca into a bit of a frenzy given their current situation in La Liga. If it was saved, the score would remain nil-nil, and Barca would be able to escape without conceding an unnecessary early goal.
Unfortunately for Barca, the former occurred, as Morales stepped up and sent the shot in the opposite direction of a diving Ter Stegen.
1-0 Levante.
The hosts were feeling confident, and rightfully so. They were attacking Barca with every ounce of power they had. And it was paying off big time for the Valencian club.
It was now up to Barca to tighten up, and put forth an effort to improve their play.
Ter Stegen comes up huge
But just four minutes later, Barca was sent to the edge again. As they conceded another penalty, this time due to an Eric Garcia handball.
A 1-0 deficit isn't ideal. But it's still a manageable one because of the quality Barca possesses, even on a bad day.
However, a 2-0 deficit is a different story. Even with all the quality Barca has, coming back from a 2-0 deficit away from home is almost like asking a newborn to walk on their own two feet.
As Roger Marti walked to the spot, the only thing that could save Barca were the hands and feet of Ter Stegen. Barca needed him to deliver a clutch save. One that could turn the tides of the match in an instant.
After a few stomach hurdling minutes, Barca got the answer they needed.
Ter Stegen chose the right way to dive. As he saved Marti's penalty and kept the score 1-0.
Once Ter Stegen's moment concluded, Xavi opted for some changes. Gavi came on for Frenkie De Jong — who had a decent match despite the circumstances — while Pedri replaced Nico Gonzalez — who looked painfully average once again.
Many hoped these changes would provide Barca's much needed spark. Pedri in particular, due to his recent late match theatrics against Sevilla at the Camp Nou.
But despite recent form and the obvious talent, no one could've expected the impact these two subs would make on the rest of the match.
In a literal sense.
Aubameyang & Dembele's moment
The teenage sensations would have to wait to make their own mark however. As it was Barca's two front line mainstays that gave Barca their first goal of the game.
Ousmane Dembele found himself isolated on the right wing. After surveying his options for a few seconds, he decided on one.
Pierre-Emerick Aubameyang.
Dembele lifted a left footed cross towards Aubameyang. Who guided a powerful header past the arms of Daniel Cardenas to level the score at 1-1.
It was game on.
With the competition high between the two sides, it felt like anyone's game at that point. Barca had began to find more high danger chances in the attack. But Levante remained steady, ready to pounce on the counterattack like they had done so many times before in the first half.
Gavi and Pedri's sensational combination makes it 2-1
Just four minutes later, Gavi and Pedri combined to make some magic.
Gavi made a run on the right flank, once that included some fantastic dribbling and a sudden burst of pace. The 17 year old then dribbled into Levante's penalty area without much resistance.
As he entered the box, Gavi didn't have too many options. Two Barca players were being marked in the box, and a simple pass to either of those options seemed impossible.
But Gavi did have one last option. Pedri was standing just inside the penalty area, waiting to be given the ball.
Gavi recognized it, gave Pedri a slip of a pass, and relied on the most recent Golden Boy winner to make the situation work.
Pedri then fired a nice first touch shot, sent it past the arms of Cardenas, and gave Barca their first lead of the night.
Once the score was leveled, the only piece of business left on Barca's agenda was to defend. Pedri and Gavi supplied the club with brilliance and a goal that broke the deadlock. Defending that lead was the only way Pedri's goal could be appreciated.
Clement Lenglet's error leads to heartbreak
But the team ran into a bit of a problem after 82 minutes had been played. Clement Lenglet — who had been subbed on due to Dani Alves' fitness issue — committed a boneheaded foul to give Levante their third penalty of the night.
This time, the penalty was much clearer. As Lenglet stepped on the foot of Dani Gomez while the attacker was making his way across Barca's penalty area..
Just as Barca was on the verge of securing a win, they were on the verge of surrendering it. All within the blink of an eye.
Like Levante's second penalty, Barca needed Ter Stegen to deliver a clutch save once again. But like Levante's first penalty, Ter Stegen watched as the shot was driven to the opposite side he dived towards.
2-2, all even.
Things looked dire.
If Barca dropped points, it wouldn't be the end of the world. But it would take away a key games in hand advantage the club has over its Spanish rivals at the moment.
To avoid this, Xavi took a leap of faith and decided to sub on Luuk De Jong. A player that has played sparingly, but has scored plenty of recent late game goals when the club has called upon him.
Luuk De Jong's late match heroics make another appearance
Luckily for Xavi, De Jong responded to Xavi's wish.
Jordi Alba provided a gorgeous cross for De Jong, who made a decent run himself. The Dutchman then sent a well placed header towards the bottom left corner of the net.
Cardenas could do nothing but watch, as De Jong's header went into the back of the net, and stunned the Levante fans.
3-2 Barca.
It was a clutch goal by De Jong, a theme he's become known for ever since Xavi's arrival in Barca. The goal gave Barca the last lead change of the night, while also giving them a well deserved three points on the road.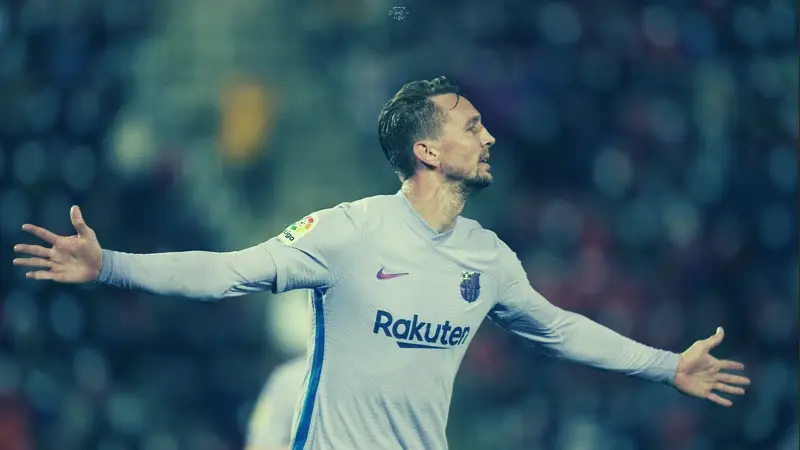 With that, the match ended sooner after.
Barca is going to fly home with another three points, and confidence ahead of their Europa League match on Thursday. And while they probably would've liked the match to sail more smoothly, the result is all that matters right now for Barca.
Great match, great win.
Final word
This was an up and down match for Barca.
The lows were prevalent and came early on. But the highs remained in the end, something any Barca fan would love to take home at this point in the campaign.
With three more points secured, Barca is now level on points with Sevilla once again. They jump right back up to second on the La Liga table with a game in hand.
The outlook appears healthy for Barca. Now it's up to them to deliver.
Barca's next match
The club's next match is on Thursday at the Camp Nou against Eintracht Frankfurt. This is the second leg of their quarterfinal in the Europa League.
See you all then!