After what was a very tricky game on Thursday. Against a very good Frankfurt side. Our focus now turns to a huge game in La Liga. Later this evening, we travel away to relegation fighting Levante. A team that may not be in the best of form, but one that always causes us problems. For the most part, Levante have had a tough season so far. They're a team low on confidence and spirit. Regardless of their shortcomings, they always seem turn up against us. Especially at home.  Which is why we can't underestimate them.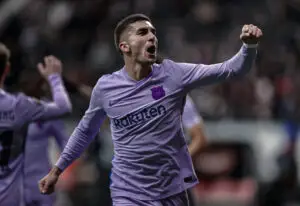 Since the return from the international break, we've been slowly building back some momentum. The last two games have seen us start off slow, but really improve by the end of the matches. We're hoping to start off well tonight against a tricky Levante team. Considering both Sevilla and Real Betis were able to get 3 points in their respective games. And the fact that Mallorca surpassingly beat Atletico Madrid. A positive result for us tonight is absolutely vital.
The main man to keep an eye on:
Like I touched on previously, games against Levante are always tricky. Despite their current position in the table. They are always able to turn up against us. Regardless of the fact they're fighting relegation. We can expect a very tough and tricky game later tonight. The home crowd will be fully behind them. There are also a number of players we'll have to keep an eye out for during the game. Most notably, Levante's talisman, Morales. El comandante is always an absolute pest against Barça. Much like Iñaki Williams is for Atheltic. And Aspas is for Celta Vigo.  Morales is one of those players, despite of his own team's struggles. He always makes life difficult for us. Whenever we face them.
Levante's form:
 As for Levante as a team, this season has been a struggle for them. They currently find themselves second from bottom in 19th place. Throughout the 30 games they've played so far this season. They've only managed to pick up 4 wins. Losing 16 and drawing 10 in the process. In terms of their numbers. Levante have scored a total of 33 goals and conceded 58 goals. Which is exactly double the amount of goals Barça have conceded. In their last 5 games, they've picked up 2 wins, 2 losses and a solitary draw. The most recent loss came away against Osasuna, where they fell to a 3-1 defeat. However something to keep in mind is the result of their last game. A 2-0 win against Villarreal. At their home ground. 
Team prediction: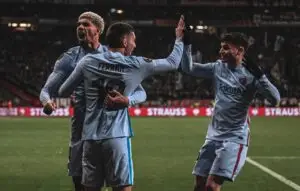 As far as the team lineup goes, I think Xavi will go with the strongest lineup available. One thing we have to keep in mind though is rest and rotation. Players like Ferran, Pedri and Busquets have played a lot of minutes so far. Out of them all Pedri is the one who has been used the most. Purely because of how important he is for us. So he could have a little bit of a rest tonight. Looking forward to our deciding game in the Europa League on Thursday. Pique and Memphis are both out with respective injuries. The injury to pique is a massive blow. He's been an absolute rock ever since Xavi came home. In his place it's most likely going to be Eric Garcia, who had a phenomenal game on Thursday. And on,y seems to be getting better and better after each game. He'll partner Araujo in defence, with Jordi Alba and Dani Alves. Dest is almost ready to come back, but this game comes a little too soon for him. 
In midfield, I have a funny feeling that Pedri will be rested for tonight's game. Meaning Gavi will most likely come in to replace him. It's going to be exciting to see him partner with Frenkie de Jong in the centre of midfield. As far as the attack goes, I think things will be relatively the same as our last game. Adama unfortunately couldn't get into the game against Frankfurt. Dembele came on and completely changed the game. So he will most probably return to the starting lineup. In a trident with Ferran and Aubameyang. Two of our winter signings who have been incredible since their arrival. It's going to be tricky. But we're hoping for a good reaction after the Frankfurt game. 
Visca BARÇA! 
My prediction
Ter stegen 
Dani Alves- Araujo- Eric- Alba 
Frenkie- Busquets- Gavi
Dembele- Aubameyang- Ferran