After what feels like an eternity, finally, Xavi-ball is back! Tonight at 9pm local time, Xavi's Barça will be coming up vs the team currently in Second Place, Sevilla. The first game back from an international break is always an uncertain one. But we go into this game with very good vibes. In and around the club right now. After an incredible 4-0 win in El Clasico. There is a lot of excitement and optimism around the team. But we still need to continue working.
Join our Matchday Chat on Sportening. Download the app for free here
Sevilla has been rock solid for the majority of the season. And are in second place for a reason. They have fell off in form a little recently. But they are still going to be a big test for us. Like a lot of teams in La Liga. Regardless of their recent form, they always seem to turn up against Barça. Sevilla is one of those teams, which is why we can't take their previous games for granted.  What makes this game even more important is its impact on the league table. With a good result tonight, we can jump into second place. And after both Atleti and Real Madrid won yesterday, it's important we follow in the same way. It is expected to be an almost fully packed Camp Nou. And we're going to need all the support to get us through this one. 
A brief look at our opponents
As I touched on previously, Sevilla started the season off really well. Performed with consistency and intensity, whilst remaining rock solid. They're always a tricky team to score against, especially under Lopetegui. However, recently, their form has taken a turn for the worse. Not only domestically, but in Europe too. Having been knocked out of the Europa league by West Ham.
They also find themselves winless in their last 3 games, dropping points in 4 out of 5 games. In fact, their last win came 3 games ago. In the Seville derby. A narrow  2-1 victory against Real Betis. One thing that has been a major problem for them has definitely been attack. They just simply haven't been scoring enough goals. Rafa Mir and En-Nesyri haven't really been at their best. And when Papu gomez isn't playing. They really struggle to create a lot of chances. To compare the two sides. In the last 3 league games, Lopetegui's side have scored once.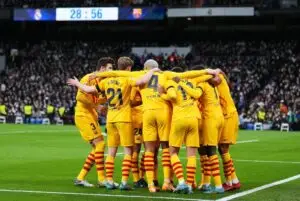 When you put that against how many goals Barça have scored, it's a clear, clear difference. In our last 3 league games, we've racked up a total of 10 goals. Winning our last 2 with a 4 goal margin, whilst also keeping a clean sheet in both too. Were also on a 13 game unbeaten run, winning all of our last 5 league games. For me, that hasn't been the most impressive thing. The best thing about all these games, is the clear evolution of the team. There's a clear style, a clear identity in this team right now. And that's all thanks to the incredible work of our coach, Xavi Hernandez. We're going to be hoping to continue this exciting run, with a positive result against Sevilla.
Possible Lineup: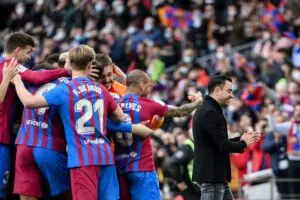 One huge piece of news from the international break, was the return of our little Prince. Our number 10, Ansu Fati finally returned to training. Of course tonight's game comes a little too soon for him. But soon, he will be back in the squad, which is a massive boost for us. He's a highly important player for the team and his clinical, ice cold nature in front of goal has been missed. Seeing Ansu play again is exciting, but unfortunately he won't be there against Sevilla. Another player who is still on the sidelines is Sergiño Dest. He'll soon be available once he recovers from injury. But his return is still a couple of weeks away. Apart from that, there isn't any other absentees or suspensions.
Almost full squad
 So Xavi has a full selection to choose from. Ter Stegen will remain in goal. And will be looking for his third consecutive league clean sheet. Araujo started at RB against Real Madrid. And played brilliantly there. Especially considering it's not natural position for him. I think he'll remain in the starting lineup, but he'll be back at centre back. With Dani Alves at Right back. Jordi Alba has been spectacular this year and he'll at Left back with Pique slotting in next to Araujo. In midfield, we could see one regular starter being rested. Looking forward to the game against Frankfurt on Thursday. That player could be Frenkie De Jong. He also played a lot in the international break. So a rest might do him good. If that's the case, We could expect to see a midfield of Pedri, Gavi and Busquets. Which would be incredible to watch.
 In attack, I think it pretty much picks itself. Aubameyang has been exceptional ever since he arrived. Xavi has also brought the best out of Dembele. With Ferran Torres slowly racking up the goals. Adama can come off the bench and make an impact too later in the game. But the trident of Ferran, Aubameyang and Dembele is our best lineup. 
It's going to be a tricky game, but all that matters is grabbing a positive result.
Visca BARÇA! 
My prediction:
Ter stegen 
Dani Alves- Araujo- Pique- Alba 
Gavi- Busquets- Pedri
Dembele- Aubameyang- Ferran