I'm still lost for words after that performance. The way we dominated Real Madrid from minute 1. At the Santiago Bernabeu. It was just beautiful. Every single player played their part in what was a spectacular performance. A 4-0 win for Barça in El Clasico. Our first win for 3 years! Let's get straight to it and jump into the player ratings for yesterdays emphatic win!  
I won't be rating any of the substitutes. The majority of them were only on for about 10 or so minutes. So it would be unfair to rate them on such a small time  period. Having said that. I feel like everyone who did come on, had a positive impact. Especially the midfield changes of Nico and Gavi.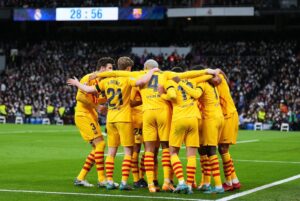 Defence
Marc Andre Ter Stegen:
If we're being honest. Ter stegen didn't really have much to do tonight. That was mainly thanks to the rock solid defence he had in-front of him. As well as the effort from the whole team. When he was called into action, he came on top. Notably, making a smart save from an early Valverde shot. His distribution was excellent which was great to see. Sometimes in big games, especially recently. He has looked nervy. But yesterday, he looked assured, comfortable and confident. And deserved that clean sheet. Solid performance from Marc. He gets a 9/10
Ronald Araujo:
What was a understandable surprise at first. Seeing him deployed as a right back. Araujo yesterday night was nothing short of spectacular. Considering he was playing out of position, he performed brilliantly. First touch was great. Did well going forward, seeing as he is a centre back. He kept up well with Vinicius junior. And was a leader in the defence. He capped off a great night with a headed goal too. This man is so important for us right now. Fast, strong, aggressive and assured. Araujo is simply a different class! His passing and distribution was very good aswell. Perfect match from Ronald. So he gets a 10/10.
Eric Garcia:
Much the same as Ronald, Eric was sublime last night. Kept up well with the threat of Vinicius and Rodrygo in behind. His passing range was just exceptional. And his will to carry the ball out of defence helped us so much. He followed up an impressive performance in Turkey. With an even better one yesterday. Eric gets a 9/10 from me! 
Gerard Pique:
I don't care how stupid this sounds. But Pique, along with Araujo, is one of the best defenders in world football right now. We've been saying it ever since Xavi took over. But this man has been nothing short of incredible in recent months. And he carried that on again last night. Fearless in defence and an absolute rock. Our leader at the back. He kept everything organised. And is a huge role model for our young defenders. When you consider the amount of pain he plays through for the badge. His age and the fact that he is up against players half his age. What he is doing right now is unreal! 10/10
Jordi Alba:
Anther player that has been spectacular ever since Xavi Joined. And last night was no exception. He was solid in defence and fantastic going forward. Like he always is. His one touch passing on the left hand side. And his combinations with the attack and midfield. Were just amazing. He got us out of tight situations and set us up for the attack. And should've assisted Aubameyang's hat trick. A great match once again from Jordi. 9/10.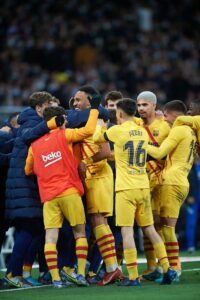 Midfield
Sergio Busquets:
A player that has been so disrespected in months gone by. But another veteran who has rolled back the years under Xavi so far. Busi was absolutely sublime yesterday night. He travelled the most out of any Barça player. Recovered so many balls. Set the tempo for the whole game. And how can I forget to mention those wonderful passes. We've said before. But along with Leo Messi, Busi is going to be impossible to replace. And yesterdays performance proved it even more. Flawless. 10/10
Frenkie De Jong
De Jong was majestic last night. Along with Busi and Pedri. He was a constant threat going forward. Making runs into the box and winning balls back quickly. His passing was crisp and accurate. He never looked like he was going to lose the ball. Which gave an element of calmness to the whole team. He always made the right decision. There's nothing I feel he did wrong. So just like his midfield partner, he gets a 10/10. 
Pedri:
One word: Magical. Just magical. I'm still lost for words at how young he is. He's 19 years old. Was playing his first El Clasico at the Bernabeu. And he just looked completely unfazed. Every touch, every pass was so slick. He was running rings around Real Madrid last night. Pedri is just magical. It's not normal for a teenager to be playing like this. What a player we've got on our hands here. The midfield 3 of Frenkie, Busi and Pedri dominated that game. They were all flawless. Pedri deservedly gets a 10/10.
Attack
Ousmanne Dembele:
Xavi is keeping to his word. He is slowly turning Dembele into one of the best wingers in world football. His recent form has been sublime. And he carried that on yesterday night. Assisting both of the opening goals. A beautiful cross set up Aubameyang. Followed by an accurate corner kick. Leaving Araujo to head it home for 2-0. His decision making was excellent. Although he did give away a lot of passes near the end of his match. I'm putting that more down to tiredness. He was a constant threat on that right hand side. He's a completely different player now under Xavi. And we're finally starting to see the real Ousmanne Dembele. We desperately need him to renew his contract. Especially if Xavi can keep making him perform like this. An almost flawless performance. 9/10.
Ferran Torres:
Yet again, another impressive performance from Ferran. And yet another game where he's scoring. That's now 3 successive La Liga games with his name on the scoresheet. Scoring a brace last weekend. And he should've had another one this time around. Ferran finished off in top fashion after a lovely bit of play from Aubameyang. His movement and intelligence off the ball is second to none. And came away from the game with a beautiful assist too. He probably should've had a hat trick. Ferran gets a 9/10 from me! 
Pierre Emerick Aubameyang
We got this man for free in January. For nothing. Absolutely nothing. And what a remarkable piece of business that was. A brace for Aubameyang in the 4-0 win on his first ever El Clasico. And if we're honest, he should've finished the game with the match ball. He was a pest for the Madrid defenders. Popping up everywhere in the attack. His movement and linkup play was excellent. And his finishing was just pure class. He also assisted our third goal of the night. Meaning that he left the game with 2 goals and an assist. Just a reminder that we got this guy for FREE. Wow. Sublime performance from Auba. And a deserved 10/10 rating!