Following up from another exciting and enjoyable performance on the  weekend against Valencia, Barça now travel away to Naples for the second leg  of our Europa League play off game vs Napoli. The first leg ended 1-1 at the camp nou.  Looking back on the game, we should've definitely scored a lot more goals  than we registered. The second half performance deserved it and it would've  put us in a much favorable position for this game. However, in a sense,  maybe going away to Napoli without a lead is a good thing. We have  experienced in the past that we're not exactly great at keeping hold of a  lead.
Both teams will have to come out and play, so neither side will be  sitting back for the whole game. Also, there is no advantage for an away goal  so it is as if we are playing a 0-0 game. Everything is up for grabs, and we  have to ensure we are clinical with our finishing. We proved on Sunday  against Valencia that we can be. 6 shots, 6 on target, 4 goals. Clinical. We  just have to do that on a much bigger stage. It's going to be a tricky game, in  a very difficult stadium, but a positive outcome tonight is crucial!
Lessons learnt from last week
In terms of our opponent, they are and have been one of the strongest teams  in Europe this season. Despite both teams being in the europa league, this  encounter feels more like a champions league game. Last week at the Camp  Nou, they initially made things tricky for us, but I don't think we saw the best  version of Napoli. They left a lot of space in behind, they were sloppy on the  ball. And by far the biggest thing I discovered from the game, was that we  seem to be a fitter team than them. Once it got to the 70th minute mark, the  Italian side were struggling to keep up with our constant pressure.
The big  difference this time around is that they're going to be spurred on by their  home crowd, which will make things more difficult for us. One thing to be  optimistic about though is that so far under Xavi, our away form has  improved a lot. Away against Napoli is a big test for us, but if we can perform  anything like how we did last week. In the second half especially, then we'll  have a good chance at grabbing a good result.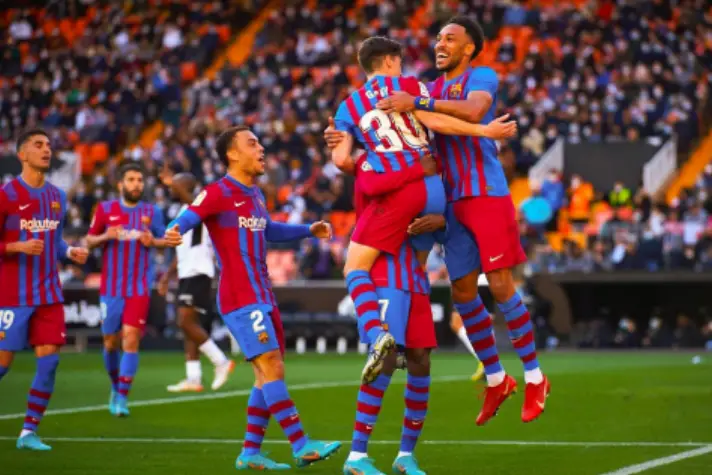 Defensively, we have to ensure we are tight at the back. Against them last  week, their one goal came from a lapse in concentration in the box. Ter  stegen dealt well with the initial shot, but we weren't able to close the  rebound down quick enough, which put us behind in the game early on. Like  I always say, scoring first is vital. Whoever scores first will dictate how the  rest of the game goes. We need to ensure that that team is us! One other  thing to be wary of is our control of the game during the last few minutes.  Against Valencia on the weekend, despite leading them by 2 goals.
There  was still a feeling that we could concede late on and possibly drop points. If  it wasn't for Pedri's golazo, then those last few minutes would've been a lot  tougher. When we're chasing a goal, we are pretty good at keeping the  intensity up in the final minutes. But when we are holding onto something,  the final 15-20 minutes are always difficult to watch. Which is something we  need to improve on. But that will of course come over time. 
Predicted Lineup
In terms of the lineup for tonight's game, there may be one or two rotations.  But I don't expect a lot to change from the team we saw against Valencia.  Alba had a fantastic game so he'll be at Left Back. Although we haven't got  much choice either way. Dest was also really impressive against Valencia  and earned praise from Xavi. So he throughly deserves to start against 
Napoli, after starting on the bench in the first leg. Pique is all ready to return  to the starting lineup too and Araujo is fully fit aswell which is a massive  boost for this game. Pedri was of course rested for 60 minutes against  Valencia, but I can see him returning back to the starting eleven. Quite  frankly he has been world class since returning from injury.
And you notice  when he's no in the midfield. His creativity and ability to control the tempo of  the game is vital for the way we play. Frenkie and Busquets will also  probably start alongside him. The one big change I can see coming is the  rotation of Ferran Torres. He's played every single minute since arriving from  Man City, recovering from a foot injury and covid. He's been brilliant so far  and was very unlucky last week against Napoli, so I can see him getting a  well earned rest tonight.
To keep him fresh for our upcoming games. In his  place, I think Gavi will return as the inverted left winger. Which is a position  he plays very well in. After a great hat trick on the weekend, Auba will keep  his place. The only question is who out of Dembele or Adama will start on  the right hand side. Personally, I think it will be Dembele. He has performed  really well recently. Made a great cameo last week and played a part in most  of the goals on Sunday. So he deserves to keep his place. 
Regardless of the lineup, a win VS Napoli is all Barça are concerned about. It's going to be  tricky, but all we can do is hope the team turns up again on a big occasion! 
Visca BARÇA!  
My prediction  
Ter stegen  
Dest – Araujo – Pique – Alba  
Frenkie – Busquets – Pedri  
Dembele – Aubameyang – Gavi