Xavi Hernandez's Barcelona side has often shown two vastly different sides of play.
At times, Barcelona looks clinical in the attack. The link up play looks comparable to the vintage times of Barca's past, build up moving forward is littered with crisp passes and intelligent decision making, and finishing is made as easy as ever because Barca's rapid, yet thoughtful play style provides easy tap in finishes.
It's been a different story defensively, mostly due to the lack of competent availability within the squad. But when Barca's attack is clicking on all cylinders, a great weight seemingly lifts off the shoulders of the back line.
However, when things aren't going right for Xavi's side, the entire foundations looks dead-set on collapsing. The midfield can't advance forward and create scoring opportunities. Finishing appears more difficult than usual for Barca's men on the front lines. The defense crumbles and cracks in the foundation are more apparent than ever.
You get the point, right?
It's why Barca's race for a top four spot in La Liga has continued to yo-yo between optimism and shocking amounts of pessimism. There's simply been a lack of true consistency week in and week out.
That's why Barca's crucial La Liga fixture against Valencia, wasn't looked upon with a lot of positivity. Especially after Barca left a lot to be desired after their disappointing 1-1 draw to Napoli just three days prior.
Although, in spite of their recent disappointment at the Camp Nou, Barca seemingly erased any previous doubt, and laid a thunderous boom on their Spanish counterparts on Sunday.
Due mostly to a fantastic first half that set the tone for the rest of the match.
A first half of dreams
After a steady 15 minutes of play — and few danger moments — Barcelona finally struck gold.
After a beautiful long pass by Jordi Alba, Pierre Emerick-Aubameyang finally arrived onto the scene in Barca colors. He struck the ball with the inside of his right foot, and made it fly right past the left side of Giorgi Mamardashvili.
Aubameyang's finish oozed with class, and it showed a glimpse of what this attack could look like with a legit finisher in the middle.
The second goal was more beautiful than the first. Frenkie De Jong was given a tap in opportunity after some beautiful link up play between Sergio Busquets, Sergino Dest, Jordi Alba, and Ousmane Dembele. The goal screamed vintage Barcelona, from the timing of the runs on the flank, all the way to the finishing presentation.
The third goal came as a result of more decent link up play. This time the action mostly came from Dembele and Dest. They both connected outside the box on efficient, successive passes. Before Dembele found Pablo Gavi inside the box on the right flank. Gavi then gave a excellent delivery to Aubameyang, who was left with a simple tap in finish.
Once the first half ended, things were looking good for Barca.
They were controlling the tempo of the game. The cracks in the defense hadn't been pried open just yet. And the attack was clinically putting away the chances that fell upon their laps.
All Barca had to do was play sound defensively in the second half, and another three points would be theirs.
But as we've seen often this season, the simple can turn into the impossible at times for Barca.
Second half woes
As the final set of 45 minutes began, it was clear Valencia wasn't going to take defeat while lying down.
Valencia came out of the gate with a blistering attack. They were hounding Barca's back line with pressure. They forced mistakes in the back end, which then led to chances they hadn't received in the first half. It was a vastly different Valencia side, one that threatened Barca's lead seemingly by the minute.
After a goal from Carlos Soler, it appeared Barca was on the cusp of collapsing once again.
But all worries were extinguished, after a stunning display from one of Barca's many young talents in the midfield.
The fourth goal came was created by a simple, yet cracking display from Pedri. He received a pass from outside the box, and sent a buzzing shot past the arms of Mamardashvili. It was nothing like the link up play we saw earlier. But it was a sublime goal that once again, came from one of the new era golden boys at Barcelona.
**UPDATE: Credit for the fourth goal has now been given with Aubameyang, his third of the match.**
The goal didn't just give Barca their three goal lead back either. It quieted a raucous crowd at the Mestalla, and restored order.
After that stunning moment, Barca took control of the tempo, and cruised their way towards another important three points. The second half wasn't as clean as the first, but Barca did just enough to hold off Valencia's counterattack, and leave Valencia satisfied with a 4-1 result.
A final word
The win away in Valencia once again showed how inconsistent Barca can be. They can have their moments of brilliance, like their half half today. They can also have moments of pandemonium, like their second half performance today.
The good thing is, Barca is steadily beginning to play more like their dominant selves. Not just in collective halves either, but throughout full 90 minute matches. Which is a development Xavi has been wanting to see ever since began to witness the glimpses of excellence within his squad.
If Barca can start rounding off consecutive matches while maintaining their newfound form, then they're going to be dangerous moving forward. And if they can stay dangerous, then a top four finish in La Liga might become more of a guarantee than a mere possibility.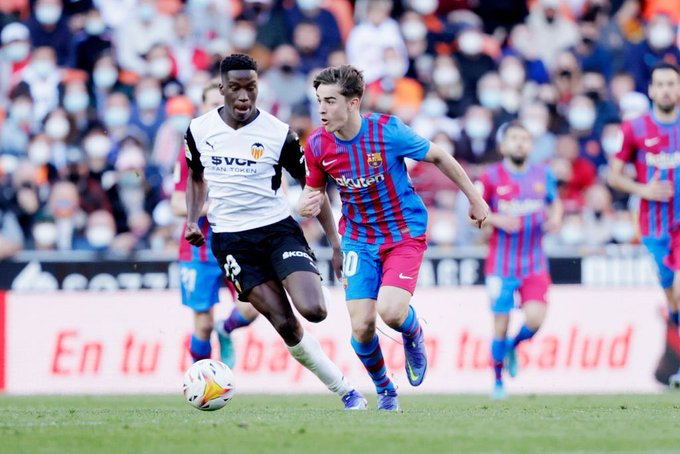 Next up on the docket
Barca's next match is the final leg of their Europa League clash with Napoli. It'll be played in Naples at the Diego Armando Maradona.
See you all then!