Following on from our 3-0 midweek defeat against Bayern Munich in the champions  league. Barça return to the Camp Nou to face Granada in our 4th La Liga game of the  season. Having not played in the league for several weeks now, this game comes at a  very uncertain time for the team. Which isn't exactly anything new, as it always seems  things are uncertain at Barça. Playing on the last day of the Matchday means that we are  2 games behind the rest of the league, so we need to begin racking up some points. 
Ronald Koeman's job also seems to be under a lot of pressure, after the defeat to Bayern.  And considering we play 3 times in 7 days, this week could be important to see what  happens with our coach. The results but most importantly the way the team plays will be  under intense scrutiny. So especially for Koeman's sake, this team has to perform much  better than what we've seen recently. We are struggling with a lot of important injuries,  but that doesn't mean we should just settle for mediocrity. At Barça, the levels are high  every game. No matter the opponent. Us fans want to see a big improvement this week.  Our coach's future depends on it. 
How have they started the season? 
Granada started the season in a very disappointing kind of way. They haven't won  any of their opening 4 la liga games. Drawing against Villarreal and Valencia. Followed up  with a 4-0 loss to newly-promoted side Rayo Vallecano. With their most recent result  coming as a loss against Betis, 2-1 the game finished. They sit 17th in the league, 1 point in front of Celta Vigo. Although their start to the season has been very underwhelming, partly down to the fact that they've got a new coach at the helm.
Much  like many teams in their position, when they're up against Barça, form goes out the  window. It's a game that we should be winning, considering their recent form. But it is  definitely not a game we should be taking lightly. As we all know, teams like Granada can put up a fight when coming to face Barça at the Camp Nou. 
Recent Results  
The most recent resultof Barça against Granada came near the end of last season at the Camp  Nou. Losing 2-1 at home in the process, that day is remembered as the day where we  threw away our chances of winning La Liga. It was an absolutely shocking performance  from the team. And considering that it was at home too, that's what makes the defeat  even worse. Our 2 away games against them last season were ironically some of our best  performances.
The first coming in La Liga, where Messi and Greizmann shined. Both  scoring Braces and helping us win 4-0 on the day. However, most probably one of our  most memorable performances from all of last season came in the Copa Del Rey. Losing  2-0 leading up to injury time. It seemed as if Barça were about to get knocked out of the  Copa Del Rey in an embarrassing way. That was until Lionel Messi, Jordi Alba and  Greizmann turned on the magic. 2 late goals in injury time took the game to extra time.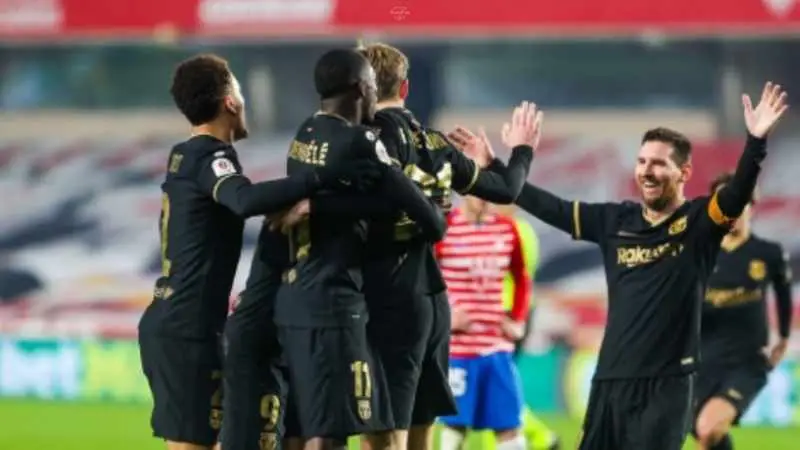 Where in the end, we went on to win the game 5-3, coming back from 2-0 down in regulation time. It was a fantastic, nerve wracking performance. Which gave us fans a lot  of excitement for the rest of the season. We showed fighting spirit and a winning mentality  which helped us go on to win the Copa.  
Bottom line
Tomorrow is going to be a fairly tricky game. Like i said, although Granada aren't in the best form right now. It's still a game that we can't take lightly. And considering we are a  few games behind everyone else, we have to start racking up the points and chasing  down the rest of the pack. Fans are back at the camp Nou and we're going to need their  full support tomorrow night! 
Visca El Barça!