Barcelona could once rely on Lionel Messi. A flick, a dribble, a goal: One was enough to let Barcelona survive a tad bit longer. Whether fans are already to accept the new messy area is another question. There's little doubt that most fans were afraid of Bayern München. The teams hasn't changed much since the dramatic 8-2 exist in Lisbon, on either side. For the better or for the worse, the old ghosts were set to meet up again.
Different levels from the first minute
When Bayern were ready to face their opponents, nobody showed up. Julian Nagelsmann had even detailed Barcelona's system, accurately, reciting his poem to the presser. Journalists were impressed: Speechless, they didn't know what to do. What had happened? Others appreciated these rare precious moments when a manager openly talked about tactics in detail. Rare are the coaches to do so: Nagelsmann was not the first, as Pep Guardiola, Thomas Tuchel or Marcelo Bielsa had done it before. Fans quickly contrasted the German's presser with Koeman's, visibly less enthusiastic about the encounter. One appeared confident: The other wished these 90′ were already over without much damage. Koeman knew the damages of the 8-2. The scars had left open wounds that were still susceptible to salt, unprotected. Fans suddenly remembered Laporta's saying dating from few months ago: "We will not allow such a thing to happen again".
It happened again. The result might have been reduced from 8-2 to 3-0, tears were flowing across many faces. Not Bayern's. Barcelona's wound has been filled with salt. Again. Most fans were still in a burn-out phase. They were sick. It had been more than one manager. Valverde, Sétien, and now, Koeman. Two of them had been the authors of two shambolic defeats: Roma and Anfield for the first, Lisbon for the second, Paris and Bayern for the last one. 'Koeman Out' banners were seen across the Camp Nou. Tensions continued, as fans shouted with anger.
Koeman and Laporta
Tensions that began before the match. Laporta's relations with Koeman weren't that of a casual handshake. It was not the first time the two were reluctant two work together. Already last season had Koeman's agency caused troubles in his rocky relationship with Barcelona's president. Laporta would have fired him, if circumstances allowed it. Finance and a lack of available managers however did not. Joan Laporta decided to stick with Koeman for another season: They had only worked together for a few months, as Joan only assume office since March: It was perhaps to early to fire him.
Fans however express their discontent. Though Koeman's Barcelona won the Copa Del Rey last season, his proposals on the pitch were deemed insufficient by many. Several cases, as Pjanic's, Riqui's or even Collado's were dismissed unfairly according to many. As of today, neither of them have played this season. Instead, the likes of Nico, Gavi, and Yusuf Demir are preferred today. Though fans remain thankful to Koeman for featuring some younger players in his plans (i.e Araujo, Mingueza, Pedri), many remain discontent when it comes to Koeman's management with the team's veterans (i.e Busquets, Piqué, Roberto). The latter was whistled: actions that were condemned by Gerard Piqué: As for the player, reports dispute whether the players was torn in tears after the game. Either way, the message had gone through: Fans are unhappy.
Changes made in the squad
Two key signings brought hope despite initially dividing the fanbase: Eric Garcia and Memphis Depay. If both impressed to some extent in the beginning of the 21-22 season, neither were sufficient for Barcelona to avoid the German machine rolling over the Camp Nou. The players felt uncomfortable. So did the fans, as banners translated their emotions. There was something wrong with Barcelona, Koeman and the Camp Nou. Where Bayern continued its Rock 'N Roll tunes it had played for the past season, Barcelona were holding back, listening to their inner Schindler's List as they waited to pass out. Fans could see it coming.
Eventually, the much-dreaded instance arrived. It was yet another shot, and it was none other than Thomas Müller. Though Marc-André Ter Stegen had guessed the trajectory correctly, the ball landed in his net as Eric Garcia had deflected the shot. It barely 30′ and Bayern had finally netted their first goal. Two were to follow, later in the game. Koeman's plan not only failed to entertain, but it failed to score on the scoresheet, too. Barcelona players stared at each other: Where could they reach out for help? They could only break through Bayern's walls of pressure on very rare instance. And when they did, Upamecano and the rest of Bayern's defense could prevent the incoming crosses. Mostly coming from the left as Memphis and Jordi Alba looked to find Araujo or even Luuk De Jong. But he never found them.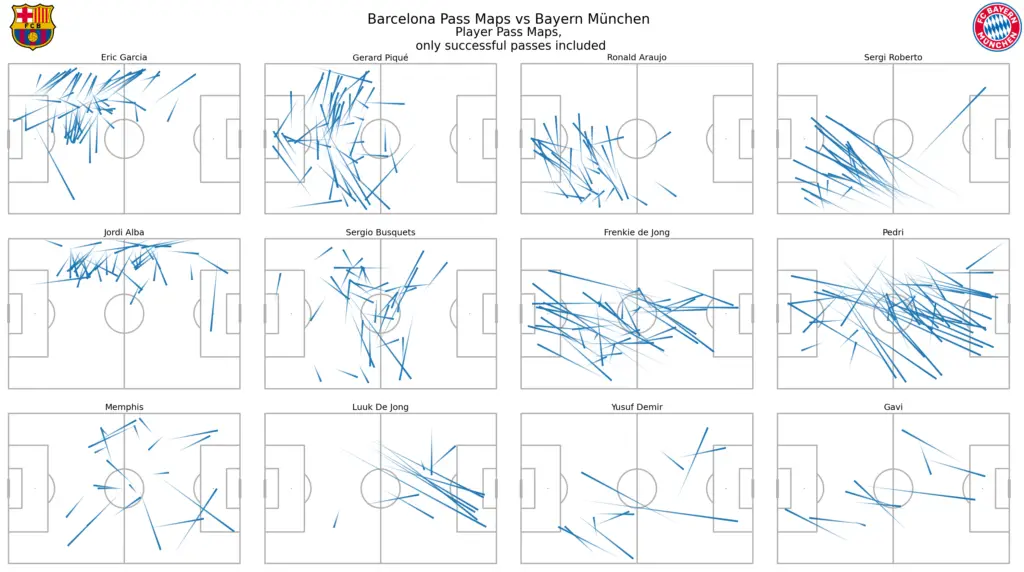 Different approach
Barcelona was about enjoying. Salir y disfrutar. But these times were over, since years. Barcelona took a U-turn: it wanted to draw. It was not there to win, not this night. The visitors quickly figured Barcelona's shape: Centered around three centre-backs, two wing-backs and Sergio Busquets attempting to intercept as many balls, Araujo stood as the last man to block Bayern's poor shots: Barcelona did not hide its plan.
Bayern had time. Plenty of time. In possession or without the ball, Bayern always seemed one step ahead of its opponent. When Barcelona were in a position to press Lewandowski and his partners, they stayed back. Most likely from instructions, Barcelona's back three stayed back, afraid a Rote could appear behind their back, ready to eliminate Ter Stegen. Instead, they preferred giving space in front, hoping they could pull a last-inch block to clear the ball.
When Barcelona pressed, Bayern found it easy to bypass it. An issue thas has prevailed since Koeman took over: As Davies received the ball, Die Roten always had a last-resort outlet to pass to. In most cases, Barcelona's midfield was dealt with easily as Pedri and de Jong's effort were rapidly cancelled. If they were willing to press, their teammates at the back of their half weren't. As a result, there were acres of spaces in Barcelona's midfield. Busquets was left with a lot of space to cover. Perhaps the worst situation he could find himself in. Without necessarily performing badly, Barcelona's legendary midfielder was quickly overwhelmed. He did not feel alone in this sentiment.
Didn't find a solution
Rare were the instances when Barcelona could break free from Bayern's press. Often did it involve the left, bar one mini-chance from Roberto in the first minute. Asides from this rare instance, rare were Barcelona's attacks from the right-wing. Or from the middle. Only the left-wing could in rare occasions break free thanks to Memphis Depay and Jordi Alba: They never found Luuk De Jong, rarely involved.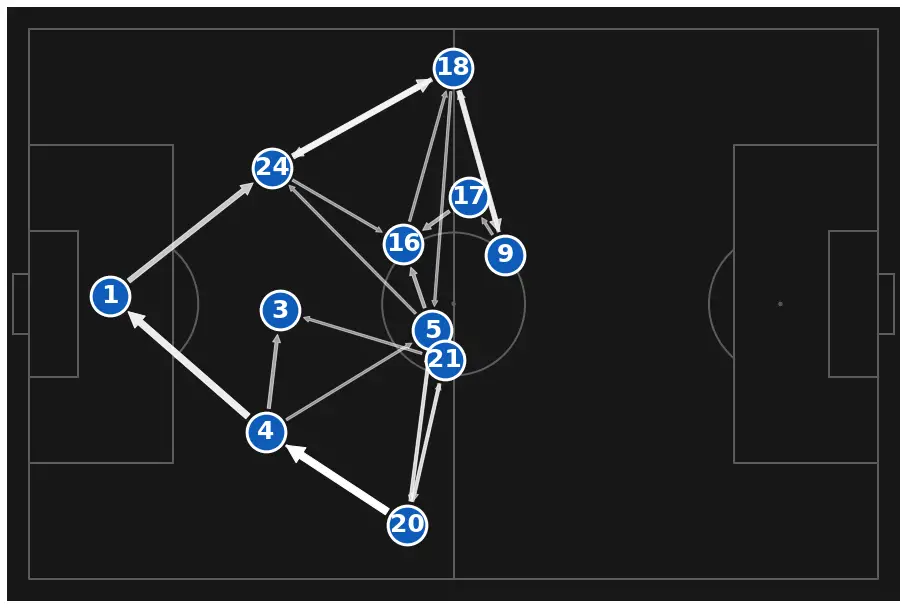 Blaming players felt hard, almost impossible. A relief, a spark of joy when substitutions were announced, as Gavi and Baldé impressed. The former already caught eyes in the pre-season: the latter enjoyed his first debut, providing a necessary alternative to a fever-struck and later injured Jordi Alba. Now injury for three weeks, Alba will have to Alejandro Baldé from the stands, assuming Ronald Koeman will now play him as his only remaining left-back. Demir also featured: despite a miss-placed pass that was the origin of Bayern's third goal, the general consensus remained positive for Barcelona's summer recruit. As the team's only right-winger available, many fans even wanted him to start: A wish not granted yet by Ronald Koeman.
Bottom line
Barcelona played against its will. It played a brand of counter-intuitive football it could not play. Inevitably, standing at the edge of the cliff, it fell apart. Though the scoreline felt light in comparison to the ideas proposed, Barcelona have a lot to build from the 3-0. Some younger players featured: More importantly, it is important to not point finger. The club needs its own Terms of Service: One that guarantees it will not reproduce these shameful displays. Losing is an issue: Failing to do it with honor is another. What fans requested was the latter: Neither conditions were met. Joan Laporta will have to rethink how long he will want to keep Ronaldo Koeman: His fate looks sealed as fans turned against him. The direction might be the next one.