Playing vs Athletic in Bilbao is always a difficult task for Barça, and the game yesterday was no exception. However, it was an important wake-up call for Koeman and his players. Question is – Did he listen to the alarming sounds or will we see more games like this. It's fair to say that Athletic Bilbao were the better team vs Barça, that failed to dominate the game. Moreover, the defense looked very bad.
However, there were some good points to take from the game. Let's start with them:
Good Points
Although it's just the start of the season, the signing of Memphis Depay looks like a 'Bingo' so far. After Leo Messi left, Memphis quickly turned out as the main force in the Blaugrana attack. Yesterday it felt like he was there all alone trying to score and assist. Moreover, other players ruined good chances he created. And yes I'm talking about the awful miss of Braithwaite in the first minutes. The game could develop a lot different if he scored that goal. But overall great performance for Memphis.
I was happy to see Yusuf Demir on his debut. Yeah, he was very nervous and had a difficult time in that tough stadium. But it was a very important experience for him. In the age of 18, Demir is the youngest foreign player to debut for Barcelona since… Leo Messi.
Ronald Araujo proved once again that he's our best defender. Yesterday he came on replacing injured Pique, and our defense improved. Moreover, he also scored a goal that the ref disallowed. With him our defense didn't turn into 90's Milan with Maldini and Baresi. However, with more experience and time together, Eric and Araujo can become a very solid defensive duo.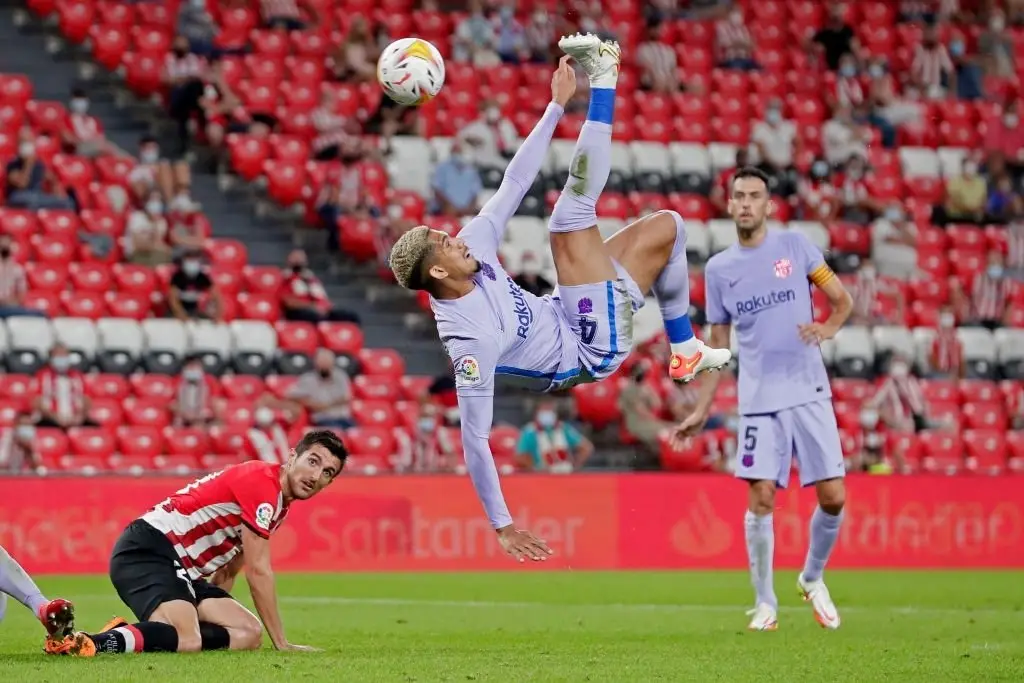 Last but not least, I would like to talk about Frenkie De Jong. It seems like every season he improves, and yesterday he was my Man of the Match. He saved a clear goal on defense, and minutes later almost scored a goal in the other way. Overall great performance for the Dutch midfielder.
Bad Points
Naturally, when we don't win there are some bad points that we should be aware of. Personally, I don't see a draw in San Mames as the worst result. But my personal concern is more about the way we played.
When I saw the starting lineup, I felt the chill in my body. Really, Koeman? Starting with Eric and Pique (Who wasn't 100% fit) vs one of the fastest teams in Spain is like a tactical suicide. And we saw from the first minute how our defense couldn't cope with the pace of the other team. This is exactly where a coach needs to adapt and make the necessary changes. You can't just play with the same 11 that won last game and think that the opponent won't learn how to take advantage of it. That's exactly the Plan B that I think Koeman lacks in order to be an elite coach.
Griezmann, oh Griezmann. In the start of the season he again looks lost. But now he doesn't have the excuse of "the shadow of Messi". It's his 3rd season in the club, and it's time he becomes a lot more dominant. With all due respect, we signed him to create and score goals, so him tackling and playing on defense is a nice bonus, nothing more.
Our thoughts and prayers with Eric Garcia and his family. He lost his grandfather and I guess it wasn't easy for him to hear that prior to the start of the game. Like all of our defense, he didn't look very good yesterday. He did receive a red card in the final seconds of the game, but it's fair to say "he took one for the team". If he wouldn't foul the opponent, it looked like a certain goal.
Bottom Line
Leaving points in the first away game of the season wasn't great. Moreover, Barça looked like the worse team in Bilbao. We have a lot of room to improve, and I really hope that Koeman will make the necessary adjustment so we could fight for any title.